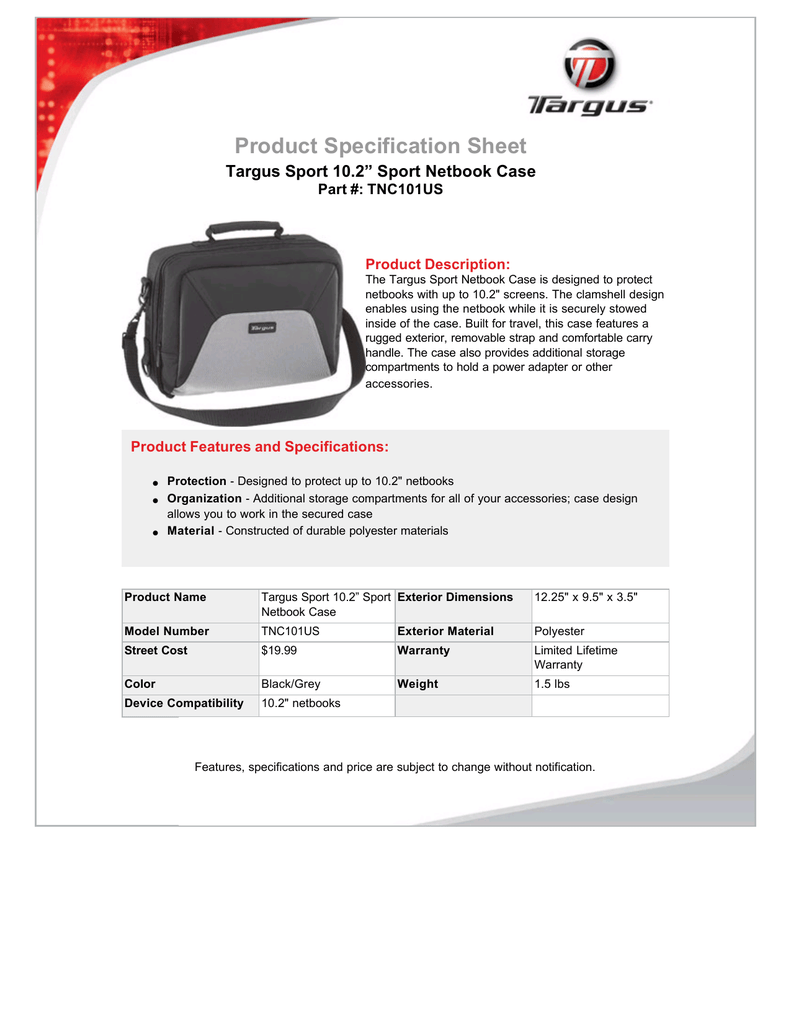 Product Specification Sheet
Targus Sport 10.2" Sport Netbook Case
Part #: TNC101US
Product Description:
The Targus Sport Netbook Case is designed to protect
netbooks with up to 10.2" screens. The clamshell design
enables using the netbook while it is securely stowed
inside of the case. Built for travel, this case features a
rugged exterior, removable strap and comfortable carry
handle. The case also provides additional storage
compartments to hold a power adapter or other
accessories.
Product Features and Specifications:
●
●
●
Protection - Designed to protect up to 10.2" netbooks
Organization - Additional storage compartments for all of your accessories; case design
allows you to work in the secured case
Material - Constructed of durable polyester materials
Product Name
Targus Sport 10.2" Sport Exterior Dimensions
Netbook Case
12.25" x 9.5" x 3.5"
Model Number
TNC101US
Exterior Material
Polyester
Street Cost
$19.99
Warranty
Limited Lifetime
Warranty
Color
Black/Grey
Weight
1.5 lbs
Device Compatibility
10.2" netbooks
Features, specifications and price are subject to change without notification.

* Your assessment is very important for improving the work of artificial intelligence, which forms the content of this project