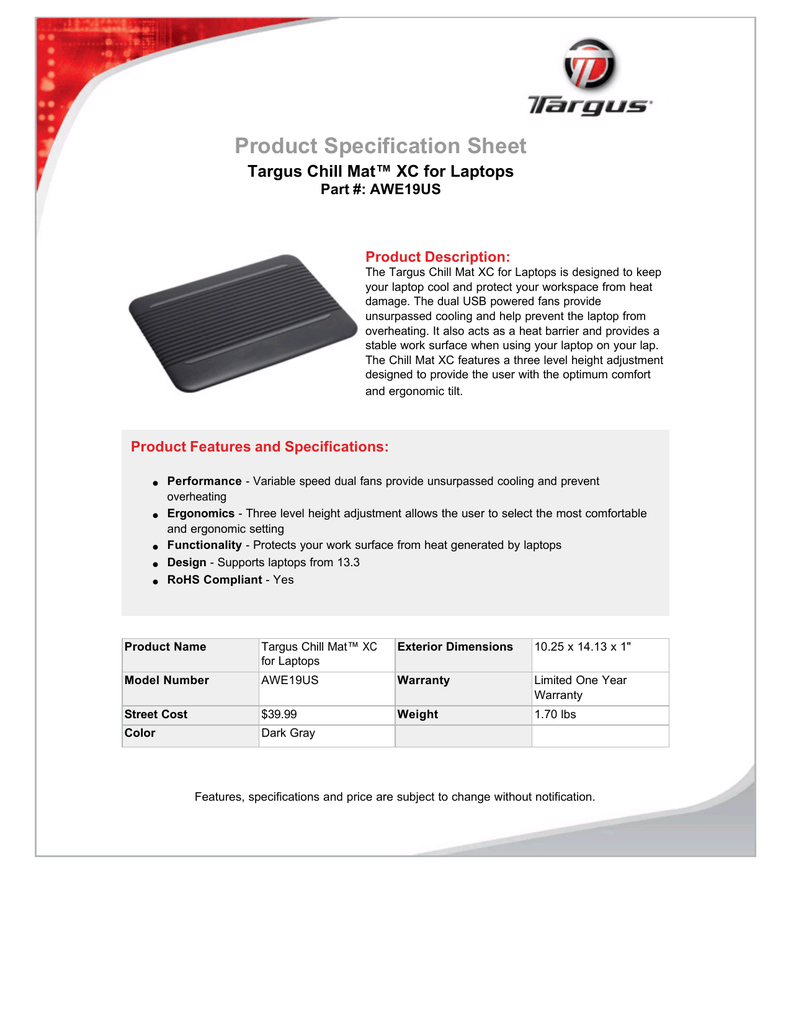 Product Specification Sheet
Targus Chill Mat™ XC for Laptops
Part #: AWE19US
Product Description:
The Targus Chill Mat XC for Laptops is designed to keep
your laptop cool and protect your workspace from heat
damage. The dual USB powered fans provide
unsurpassed cooling and help prevent the laptop from
overheating. It also acts as a heat barrier and provides a
stable work surface when using your laptop on your lap.
The Chill Mat XC features a three level height adjustment
designed to provide the user with the optimum comfort
and ergonomic tilt.
Product Features and Specifications:
●
●
●
●
●
Performance - Variable speed dual fans provide unsurpassed cooling and prevent
overheating
Ergonomics - Three level height adjustment allows the user to select the most comfortable
and ergonomic setting
Functionality - Protects your work surface from heat generated by laptops
Design - Supports laptops from 13.3
RoHS Compliant - Yes
Product Name
Targus Chill Mat™ XC
for Laptops
Exterior Dimensions
10.25 x 14.13 x 1"
Model Number
AWE19US
Warranty
Limited One Year
Warranty
Street Cost
$39.99
Weight
1.70 lbs
Color
Dark Gray
Features, specifications and price are subject to change without notification.

* Your assessment is very important for improving the work of artificial intelligence, which forms the content of this project