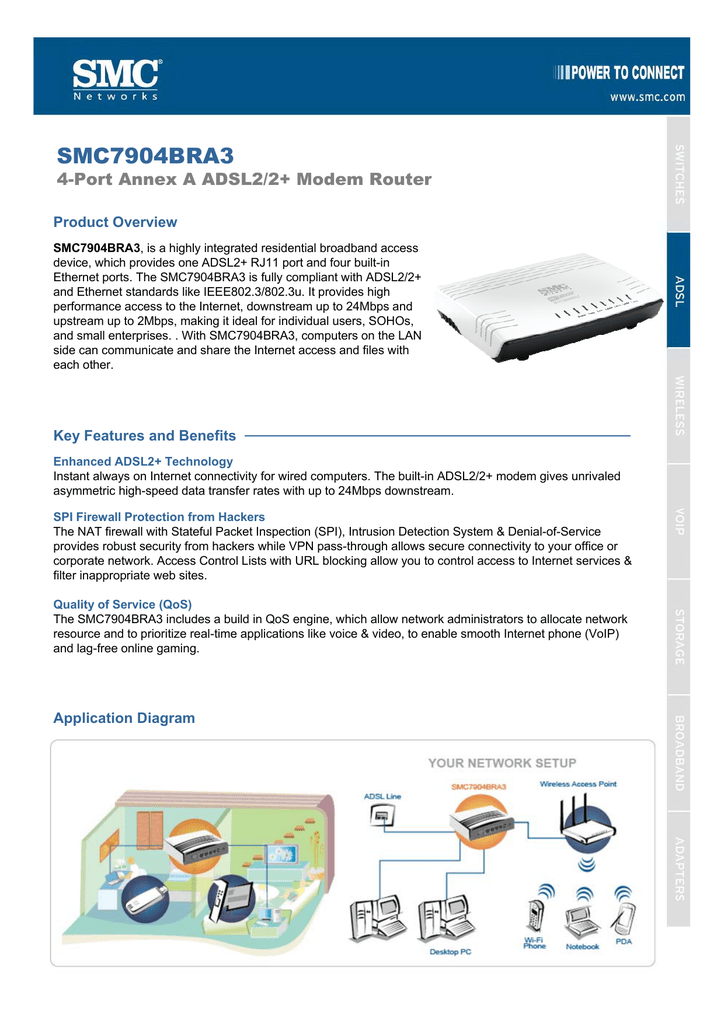 SMC7904BRA3
4-Port Annex A ADSL2/2+ Modem Router
Product Overview
SMC7904BRA3, is a highly integrated residential broadband access
device, which provides one ADSL2+ RJ11 port and four built-in
Ethernet ports. The SMC7904BRA3 is fully compliant with ADSL2/2+
and Ethernet standards like IEEE802.3/802.3u. It provides high
performance access to the Internet, downstream up to 24Mbps and
upstream up to 2Mbps, making it ideal for individual users, SOHOs,
and small enterprises. . With SMC7904BRA3, computers on the LAN
side can communicate and share the Internet access and files with
each other.
Key Features and Benefits
Enhanced ADSL2+ Technology
Instant always on Internet connectivity for wired computers. The built-in ADSL2/2+ modem gives unrivaled
asymmetric high-speed data transfer rates with up to 24Mbps downstream.
SPI Firewall Protection from Hackers
The NAT firewall with Stateful Packet Inspection (SPI), Intrusion Detection System & Denial-of-Service
provides robust security from hackers while VPN pass-through allows secure connectivity to your office or
corporate network. Access Control Lists with URL blocking allow you to control access to Internet services &
filter inappropriate web sites.
Quality of Service (QoS)
The SMC7904BRA3 includes a build in QoS engine, which allow network administrators to allocate network
resource and to prioritize real-time applications like voice & video, to enable smooth Internet phone (VoIP)
and lag-free online gaming.
Application Diagram
Features
Hardware
Physical Interface
• 1 RJ-11 Jack for ADSL Interface
• 4 RJ-45 Jacks for 10/100 Base-Tx Ethernet Ports
• 1 Reset Button
• 1 Power DC jack
• 1 Power On / Off Switch
LED Indicators
• Power/ Data/ Link/ LAN
SOFTWARE
ADSL Compliance
• ANSI T1.413 Issue 2
• G.992.1 (G.dmt) Annex A
• G.992.2 (G.lite) Annex A
• G.992.3 ADSL2 (G.dmt.bis) Annex A/J/K/L/M
• G.992.4 ADSL2 (G.lite.bis)
• G.992.5 ADSL2+ Annex A/M
ATM Features
• Support up to 8 ATM PVCs
• Supports ATM Forum UNI 3.1/4.0 PVC
• Supports UBR, CBR, and rt-VBR and nrt-VBR service classes
• Provides ATM layer functionality
• Support up to 8 PVCs – traffic shaping (CBR, UBR, rt/nrt-VBR)
• Supports PPPoA (RFC2364)
• Supports MPoA functionality (RFC2684)
• Supports IP over ATM (IPoA)
• Support ATM cell format ITU -T I.361
• Supports OAM F4/F5 loopback
PPP Functions
• Point-to-Point Protocol (RFC1661)
• PPP over ATM (RFC2364)
• PPP over Ethernet (RFC2516)
• User Authentication
- CHAP (RFC1994)
- PAP (RFC1334)
Bridge Features
• Ethernet bridging
• Support Transparent Bridging
- MAC address learning
- MAC address filtering and protocol filtering for up-link
Routing Features
• RIP v1 / v2
• Static routing
• PPP / PPPoE (RFC 2516)
• NAT with ALGs
• NAPT
• IGMP v1 / v2
• IGMP Proxy / snooping
• IPv4
• IP pass through
• Virtual Server port forwarding
VLAN Support
• PVC/VLAN Ethernet Port Mapping
• 8 VLANs supported
• VLAN pass-through
Security
• Stateful Packet Inspection (SPI)
• Management Access Control for WAN
• User authentication for PPP (PAP / CHAP)
• DDoS (Dynamic DoS) Protection
Management
• Acess Administration
• Web based Configuration - HTTP server
• System configuration backup and restore
• SNMP Support (V.1 and V.2C) – MIB I, MIB II (RFC1213)
• Firmware Upgrade Available by Web / TFTP
• Remote Firmware Upgradeable
• UPnP
• Easy Setup Wizard
• TR069 Remote Management Diagnostic and ATM loop back
QoS
• IP ToS function (RFC 1349)
• 802.1p bit remarking
• Traffic classification by port, 802.1p , ToS and DSCP
Firewall
• NAT
• DMZ
• Filtering – IP Filtering, MAC Filtering, URL Filtering
• ACL (Access Control List)
• VPN (IPSec,PPTP,L2TP) pass-through
Dimension
• (L)132*(W)90*(H)33.5mm
Operating Environment
• 0° C ~ 40° C/ 32° F ~ 104° F
• 10% ~ 80% Non-condensing
Certifications
• FCC Class B
• CE Mark
• RoHS compliant
Warranty
• Please check www.smc.com for the warranty
terms in your country/region.
Contact
North America
20 Mason, Irvine,
CA 92618, U.S.A
1-800-SMC-4YOU
24/7 Technical Support
Europe/Africa
Fructuos Gelabert 6-8
08970 Sant Joan Despi
Barcelona, Spain
Check www.smc.com for your local country contact
information
©2009 SMC Networks. Barricade® is a registered
trademark of SMC Networks. Other trademarks or
registered trademarks are the property of their
respective owners. Information is subject to change
without notice. All rights reserved.

* Your assessment is very important for improving the work of artificial intelligence, which forms the content of this project