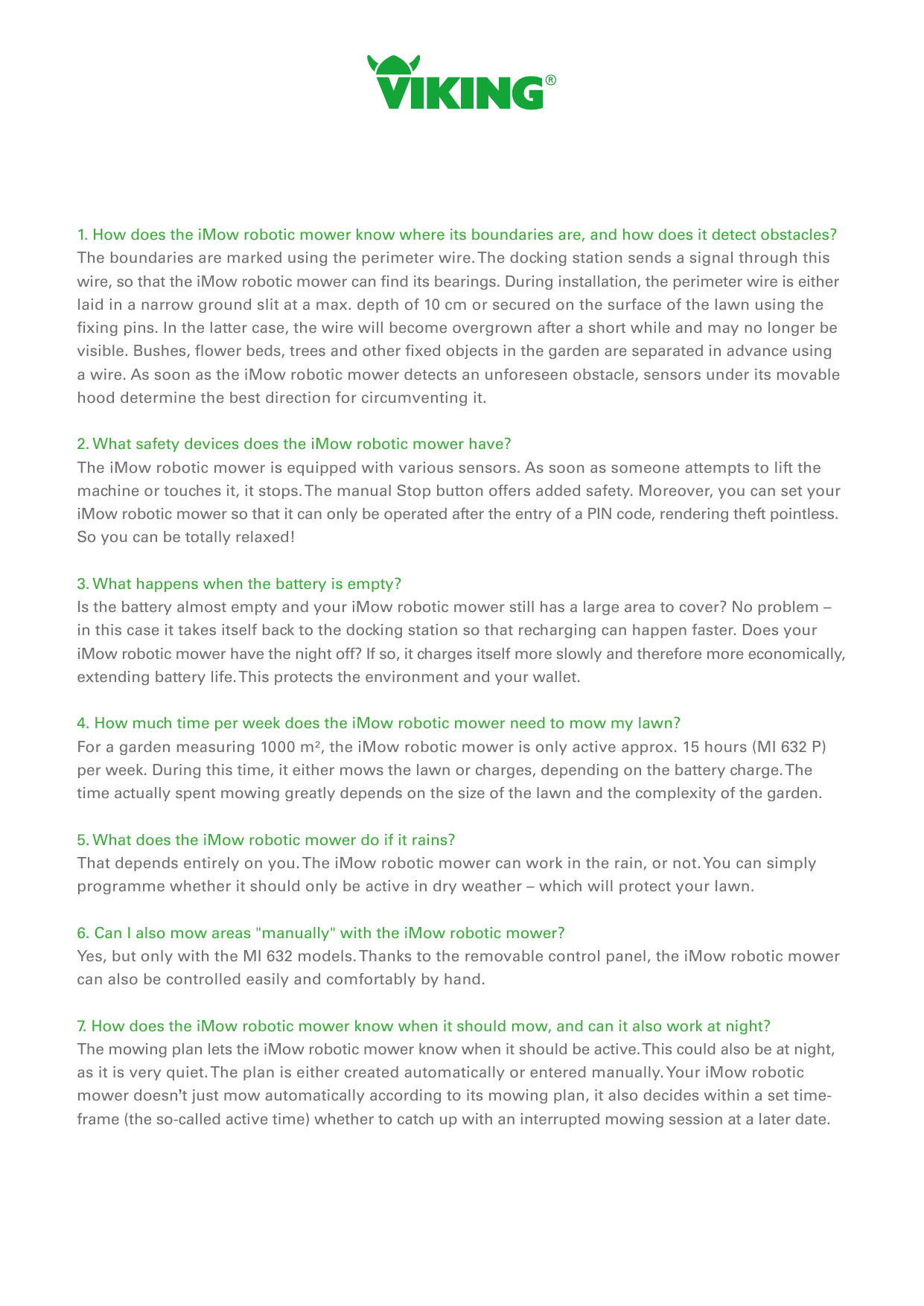 1. How does the iMow robotic mower know where its boundaries are, and how does it detect obstacles?
The boundaries are marked using the perimeter wire. The docking station sends a signal through this
wire, so that the iMow robotic mower can find its bearings. During installation, the perimeter wire is either
laid in a narrow ground slit at a max. depth of 10 cm or secured on the surface of the lawn using the
fixing pins. In the latter case, the wire will become overgrown after a short while and may no longer be
visible. Bushes, flower beds, trees and other fixed objects in the garden are separated in advance using
a wire. As soon as the iMow robotic mower detects an unforeseen obstacle, sensors under its movable
hood determine the best direction for circumventing it.
2. What safety devices does the iMow robotic mower have?
The iMow robotic mower is equipped with various sensors. As soon as someone attempts to lift the
machine or touches it, it stops. The manual Stop button offers added safety. Moreover, you can set your
iMow robotic mower so that it can only be operated after the entry of a PIN code, rendering theft pointless.
So you can be totally relaxed!
3. What happens when the battery is empty?
Is the battery almost empty and your iMow robotic mower still has a large area to cover? No problem –
in this case it takes itself back to the docking station so that recharging can happen faster. Does your
iMow robotic mower have the night off? If so, it charges itself more slowly and therefore more economically,
extending battery life. This protects the environment and your wallet.
4. How much time per week does the iMow robotic mower need to mow my lawn?
For a garden measuring 1000 m², the iMow robotic mower is only active approx. 15 hours (MI 632 P)
per week. During this time, it either mows the lawn or charges, depending on the battery charge. The
time actually spent mowing greatly depends on the size of the lawn and the complexity of the garden.
5. What does the iMow robotic mower do if it rains?
That depends entirely on you. The iMow robotic mower can work in the rain, or not. You can simply
programme whether it should only be active in dry weather – which will protect your lawn.
6. Can I also mow areas "manually" with the iMow robotic mower?
Yes, but only with the MI 632 models. Thanks to the removable control panel, the iMow robotic mower
can also be controlled easily and comfortably by hand.
7. How does the iMow robotic mower know when it should mow, and can it also work at night?
The mowing plan lets the iMow robotic mower know when it should be active. This could also be at night,
as it is very quiet. The plan is either created automatically or entered manually. Your iMow robotic
mower doesn't just mow automatically according to its mowing plan, it also decides within a set timeframe (the so-called active time) whether to catch up with an interrupted mowing session at a later date.
8. Is the iMow robotic mower suitable for all gardens? Can it handle slopes, for instance?
No problem! The iMow robotic mower can easily manage slopes of up to 45% (MI 632). The iMow robotic
mower is altogether a real workhorse and can handle areas measuring up to around 4,000 m², depending
on the lawn. If your lawn has lots of corners, we'll be happy to help you find the ideal solution.
9. What happens to the clippings?
The iMow robotic mower is a mulching mower and doesn't need a grass catcher box. With mulching
technology, special blades shred the grass blades so finely that the clippings can be used to deliver nutrients
to the soil. This provides you with an excellent fertiliser for your lawn and means less work for you.
10. Does the iMow robotic mower follow controlled paths?
It navigates randomly, so that the grass is cut more often and from several sides, which helps to create
a beautiful lawn. This pretty much ensures that difficult areas potentially harmful to the iMow cannot
be reached.
11. Can the iMow robotic mower also mow lawn edges neatly?
It can. Soft edges (patios, paths, etc. at ground level) are surrounded by the perimeter wire to produce
perfectly neat results. For hard edges such as walls, raised patios, etc., the iMow robotic mower is installed
in such a way that it can always travel along edges closely but safely.
12. Can the C models mow a particular desired area?
Yes, this is no problem for the MI 632 C and MI 632 PC models. Simply assign your machine various
priority zones, to which it should pay special attention. On the C models, which are equipped with GPS
sensors, you can not only assign precise areas to these zones, but also have them mowed with priority
within a particular timeframe.
13. Is the iMow robotic mower difficult to programme?
No, quite the contrary. Programming is intuitive and self-explanatory, thanks in no small part to the
detailed description and simple navigation on the large and therefore very clear display. Alternatively, if
you get on well with a smartphone, you can also use it to programme your iMow robotic mower!
14. After installation, how much time and money will I need to spend on it?
Virtually none! But your iMow robotic mower will be very pleased if you read the messages on the display
and clean the mowing deck at regular intervals.
15.How long does the iMow robotic mower last?
As with all our products, we exclusively use high-quality materials for our iMow robotic mower, to
ensure an optimum mowing performance and long service life. Of course, this does depend to some
extent on operating periods and the working environment – i.e. your garden. And despite every precaution, your iMow robotic mower cannot be completely spared from wear and tear. It will tell you, for
example, when the blades need replacing – after 200 working hours, at the latest.
However, our fundamental assumption is that you are sure to be very happy with your iMow robotic
mower for several years.