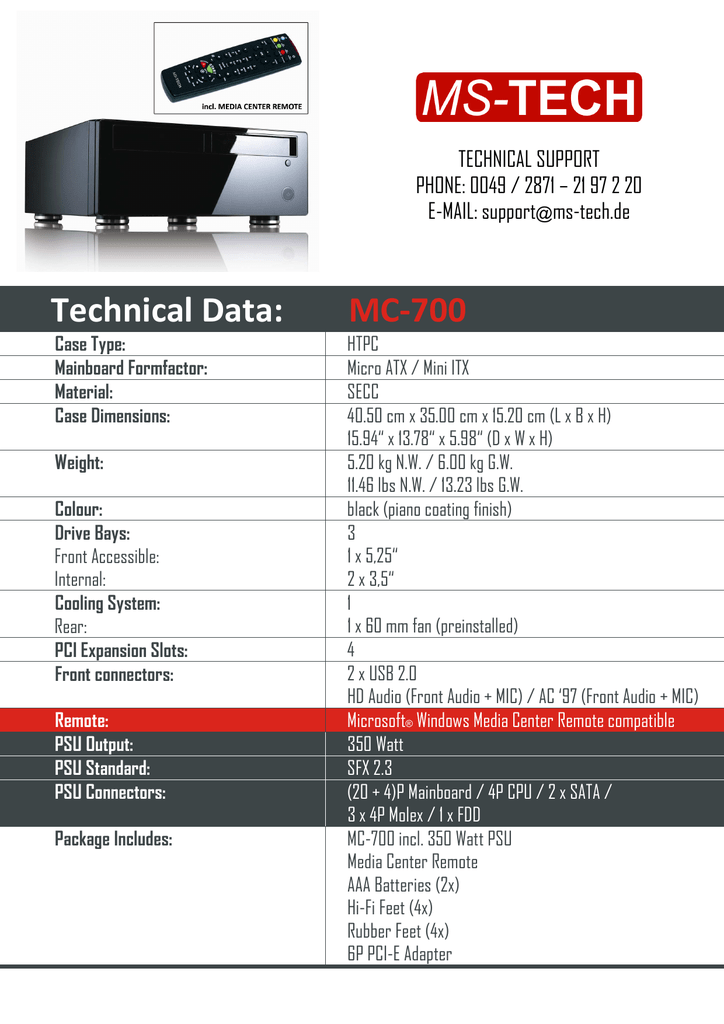 TECHNICAL SUPPORT
PHONE: 0049 / 2871 – 21 97 2 20
E-MAIL: support@ms-tech.de
Technical Data:
MC-700
Case Type:
Mainboard Formfactor:
Material:
Case Dimensions:
HTPC
Micro ATX / Mini ITX
SECC
40.50 cm x 35.00 cm x 15.20 cm (L x B x H)
15.94" x 13.78" x 5.98" (D x W x H)
5.20 kg N.W. / 6.00 kg G.W.
11.46 lbs N.W. / 13.23 lbs G.W.
black (piano coating finish)
3
1 x 5,25"
2 x 3,5"
1
1 x 60 mm fan (preinstalled)
4
2 x USB 2.0
HD Audio (Front Audio + MIC) / AC '97 (Front Audio + MIC)
Microsoft® Windows Media Center Remote compatible
350 Watt
SFX 2.3
(20 + 4)P Mainboard / 4P CPU / 2 x SATA /
3 x 4P Molex / 1 x FDD
MC-700 incl. 350 Watt PSU
Media Center Remote
AAA Batteries (2x)
Hi-Fi Feet (4x)
Rubber Feet (4x)
6P PCI-E Adapter
Weight:
Colour:
Drive Bays:
Front Accessible:
Internal:
Cooling System:
Rear:
PCI Expansion Slots:
Front connectors:
Remote:
PSU Output:
PSU Standard:
PSU Connectors:
Package Includes:
Quantity per Pallet:
EAN-Number:
Power cable
MS-TECH warranty card
48
4039282820095
DISCLAIMER (ENGLISH): The illustrated product can vary in colour and quality from the original. By this datasheet you cannot raise a claim. Any recourse to courts of law is excluded. By using this
datasheet you agree to these terms. DISCLAIMER (DEUTSCH): Das abgebildete Produkt kann in Beschaffenheit und Farbgebung vom tatsächlichen Produkt abweichen. Durch dieses Datenblatt können keine
Ansprüche geltend gemacht werden. Der Rechtsweg ist ausgeschlossen. Wenn Sie dieses Datenblatt verwenden, stimmen Sie den Vereinbarungen zu.

* Your assessment is very important for improving the work of artificial intelligence, which forms the content of this project