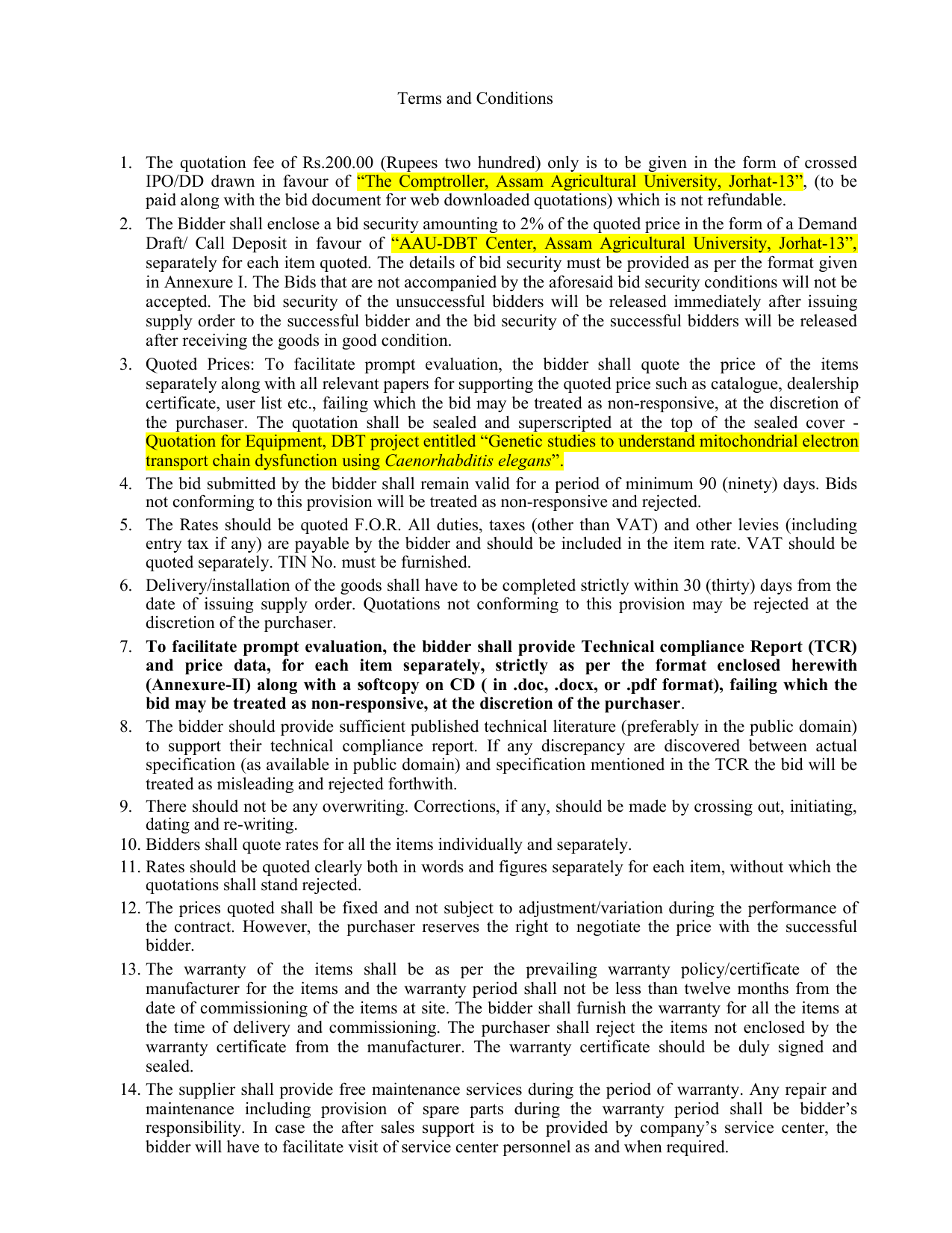 Terms and Conditions
1. The quotation fee of Rs.200.00 (Rupees two hundred) only is to be given in the form of crossed
IPO/DD drawn in favour of "The Comptroller, Assam Agricultural University, Jorhat-13", (to be
paid along with the bid document for web downloaded quotations) which is not refundable.
2. The Bidder shall enclose a bid security amounting to 2% of the quoted price in the form of a Demand
Draft/ Call Deposit in favour of "AAU-DBT Center, Assam Agricultural University, Jorhat-13",
separately for each item quoted. The details of bid security must be provided as per the format given
in Annexure I. The Bids that are not accompanied by the aforesaid bid security conditions will not be
accepted. The bid security of the unsuccessful bidders will be released immediately after issuing
supply order to the successful bidder and the bid security of the successful bidders will be released
after receiving the goods in good condition.
3. Quoted Prices: To facilitate prompt evaluation, the bidder shall quote the price of the items
separately along with all relevant papers for supporting the quoted price such as catalogue, dealership
certificate, user list etc., failing which the bid may be treated as non-responsive, at the discretion of
the purchaser. The quotation shall be sealed and superscripted at the top of the sealed cover Quotation for Equipment, DBT project entitled "Genetic studies to understand mitochondrial electron
transport chain dysfunction using Caenorhabditis elegans".
4. The bid submitted by the bidder shall remain valid for a period of minimum 90 (ninety) days. Bids
not conforming to this provision will be treated as non-responsive and rejected.
5. The Rates should be quoted F.O.R. All duties, taxes (other than VAT) and other levies (including
entry tax if any) are payable by the bidder and should be included in the item rate. VAT should be
quoted separately. TIN No. must be furnished.
6. Delivery/installation of the goods shall have to be completed strictly within 30 (thirty) days from the
date of issuing supply order. Quotations not conforming to this provision may be rejected at the
discretion of the purchaser.
7. To facilitate prompt evaluation, the bidder shall provide Technical compliance Report (TCR)
and price data, for each item separately, strictly as per the format enclosed herewith
(Annexure-II) along with a softcopy on CD ( in .doc, .docx, or .pdf format), failing which the
bid may be treated as non-responsive, at the discretion of the purchaser.
8. The bidder should provide sufficient published technical literature (preferably in the public domain)
to support their technical compliance report. If any discrepancy are discovered between actual
specification (as available in public domain) and specification mentioned in the TCR the bid will be
treated as misleading and rejected forthwith.
9. There should not be any overwriting. Corrections, if any, should be made by crossing out, initiating,
dating and re-writing.
10. Bidders shall quote rates for all the items individually and separately.
11. Rates should be quoted clearly both in words and figures separately for each item, without which the
quotations shall stand rejected.
12. The prices quoted shall be fixed and not subject to adjustment/variation during the performance of
the contract. However, the purchaser reserves the right to negotiate the price with the successful
bidder.
13. The warranty of the items shall be as per the prevailing warranty policy/certificate of the
manufacturer for the items and the warranty period shall not be less than twelve months from the
date of commissioning of the items at site. The bidder shall furnish the warranty for all the items at
the time of delivery and commissioning. The purchaser shall reject the items not enclosed by the
warranty certificate from the manufacturer. The warranty certificate should be duly signed and
sealed.
14. The supplier shall provide free maintenance services during the period of warranty. Any repair and
maintenance including provision of spare parts during the warranty period shall be bidder's
responsibility. In case the after sales support is to be provided by company's service center, the
bidder will have to facilitate visit of service center personnel as and when required.
15. Detailed specification with make, model, size, code no. catalogue no, name of manufacturer should
also be furnished. ISO certification must be furnished for the offered item wherever applicable.
16. Copies of S.S.I registration or such document may be produced with the quotation.
17. Attested copies of dealership certificate must be enclosed with the quotation.
18. Up-to-date Sales tax/VAT clearance certificate and Income Tax return of last two years (duly
attested) must be submitted along with the quotation.
19. Only CST to the firm outside the state and VAT to the local firms will be allowed and should be
shown separately in the quotation.
20. For imported equipment, the following terms & condition will apply:
a. For each equipment sight draft/ Letter of Credit as per terms and conditions acceptable
to Assam Agricultural University, whichever is convenient as per existing Rule &
Regulation of the Assam Agricultural University. The foreign draft will be prepared in
the currency of the Manufacturer and a photocopy of the same will be provided to the
supplier. After supply & installation of the equipment the actual DD will be handed
over.
b. The vendor must take responsibility of Customs clearing free of charge and arrange
onward transportation to destination. The department will provide necessary
documentation for the same within 10 (ten) days of receiving valid request from the
vendor. The university will not bear any demurrage charges under any circumstances.
The university will pay the concessional customs duty only at actual and provide the
vendor with DSIR and CDEC certificates for the same, request for which has to be
made well in advance.
21. Payment by A/C payee Cheque shall be made after receipt of the equipments in good condition
(installation and testing, wherever necessary). In case of imported equipment payment shall be made
by sight draft or opening L/C based on the proforma invoice and order acceptance letter from the
principals as mentioned earlier. Quotations (for indigenous equipment) having any other conditions
for payment, viz. advance payment/payment through bank shall not be entertained.
22. Wherever the laws and regulations require deduction of taxes at the source of payment, the purchaser
shall affect such deduction from the payment due to the supplier, the remittance of amounts so
deducted and issuance certificate for such deductions shall be made by the purchase as per the laws
and regulation in force.
23. The quotations will be opened on the day of last date of submission at 2-00PM in the office of the
DBT-AAU Center, AAU, Jorhat-13. The bidder or his authorized representative may attend the bid
opening. Except price, no other details will be announced during the opening. In case of public
holiday, bandh or unforeseeable occurrences not allowing opening of bids on the stipulated day, the
same will be opened on the next possible working day at the same hour.
24. Every page of the original bidding document purchased from the purchaser is to be signed by the
bidder indicating their acceptance of terms and conditions and returned with their quotation.
25. The purchaser reserves the right to accept or reject any quotation and to cancel the instant bidding
process and reject all quotations at any time prior to award of contract, without thereby incurring any
obligation to the affected bidder or bidders or any obligation to inform the affected bidders of the
grounds for the purchaser's action.
26. All the accessories required for full and proper functioning of the equipment should be included with
the unit price not as accessories such as Voltage stabilizer, Computer, software etc.
27. All the equipments are kept in the ambient temperature, if the equipment requires any specific
environment that should be mention in the technical specification part.
Centre Director
DBT- AAU Centre
AAU, Jorhat-13
Annexure-I
Format for EMD details
(EMD to be provided separately for each item)
Sl
No
Sl No of the Name of the
item (as per item quoted
bid
document)
Basic Price of
the item
(excluding taxes
& transportation
charges)
1
Price in
Indian Rupee
(for
imported
items at
prevailing
rate of
exchange)
Amount of
EMD (2%
of Basic
price)
Details of
EMD
submitted
including
amount and
validity
2
3
Annexure II
(To be provided separately for each item)
1.
2.
3.
4.
Sl.
No.
FORMAT FOR Technical Compliance Report & Price data
Sl No of the item (as per bid document):
Name of the item:
Manufacturer:
Make & Model:
Specification
asked for (strictly
as mentioned in
bid document)
Specification
Technical
offered
Compliance
(Corresponding to (Yes/No)
specification in bid
document)
Variation
if any
Details of Technical
literature supporting
the technical
compliance
(Suitably tagged)
Price data:
1. Price*:
2. Taxes and levies (VAT, CST etc for indigenous equipment and applicable rate of Customs duty
against DSIR certificate for imported items)
3. Installation:
4. Transportation:
5. Warranty:
6. Any other terms & condition
Signature & Seal of the bidder
* F.O.R.AAU Jorhat for indigenous equipment & CIP Kolkata for imported equipments
SPECIFICATIONS OF INSTRUMENTS for 2016-17:
SL NO
1
ITEM
SPECIFICATION
Research Macro
Zoom Fluorescent
Microscope
1. The microscope should have mono-zoom variable magnification system with a
zoom ratio of at least 1:16 or better with built-in aperture-iris diaphragm.
Stereo observation and bright fluorescence observation as well as imaging
should be possible with the system.
2. It should have a tilting Trinocular head that allows switching between
standard and stereo observation. The tilting trinocular head should have
variable tilting angle range of 0˚ to 20˚ or better. Light path distribution of
binocular 100%/Photo 100%. It should be possible for the user to switch 'ON'
or switch 'OFF' the stereo observation/effect.
3. The tilting Trinocular head should have paired 10X eyepieces with F.N. 22 or
higher and diopter adjustment in both eyepieces.
4. Focusing should be motorised and controllable by hand switch and the image
analysis software.
5. The objective should be Parfocal Plan Apochromat 2X with high N.A. of at
least 0.50 giving total magnification of up to 125X in combination with 10X
eyepieces. The objective should provide a superior resolution.
6. The system should be equipped with a stable stand with large base having a
pillar of at least 500mm height for the user to have a broad working space for
observing large specimens.
7. The microscope should have a standalone Cold-light dual interlock light guide
LED illumination with a life of 50,000 hours or more. Free adjustment of
position and angle, with enhanced rigidity for precise illumination in area of
interest should be possible.
8. Epi-fluorescence Attachment with 4-positions or higher fluorescence turret.
Mercury/Metal Halide light source of 100 watts or higher. Band pass
fluorescence filter sets for DAPI, GFP & RFP.
9. Colour Cooled CMOS Camera with high effective resolution or Dual Mode
Cooled CCD Camera for fluorescence and normal bright field imaging.
10. The image analysis software should be able to control all the functions of the
camera. The software should be capable of performing multidimensional
(XYZtλ) image acquisition, time-lapse at specified interval, colocalization,
High Dynamic Range imaging, live comparison, region and line measurement,
etc. Basic deconvolution and online deblur/deconvolution modules should be
quoted as standard. The software should be able to give in-focus images from
a Z stack. The software should have capability to separate spectrally
overlapping dyes and auto-fluorescence.
11. A branded computer system with i5 processor or better, 8 GB or higher RAM,
500 GB or higher HDD, Genuine Windows 10 64-bit OS, 19" or bigger TFT
Monitor, keyboard and mouse.
12. The microscope, camera and software should be from the same manufacturer
to ensure better system integration.
13. Bidders must provide the respective web links (of the manufacturer's website)
for the quoted microscope, camera and software for confirmation of
compliance to the specifications.
1.
2.
3.
4.
5.
6.
7.
8.
9.
10.
11.
12.
2
Benchtop
refrigerated
centrifuge
13.
14.
15.
16.
17.
18.
19.
20.
21.
22.
23.
3
- 80 °C Freezers
with box racks,
stablizer, CO2
backup
System should have max RCF of 20,913 x g or above
System should have max RPM of 14000 RPM
Acceleration time: 10s
Deacceleration time : 10s
Soft ramp function for adjustable for rotor acceleration and braking slowly
Timer should be of 30 s –99 min with continuous run function continuous
Noise level should be <55 dB
Wide temperature range from -9°C to + 40°C, which is modifiable during the
run operation.
System should able to store minimum 35 user define procedure.
System should able to switch display between rcf and rpm speed setting
Should have Short Spin Function
Should have At Set RPM" function - time count starts after reaching the set
rpm
Should have Fast Temp function - to start a temperature control run directly
Should have Fast Temp pro function - to start a temperature control run with
defined start time
System should have ECO Shut off Function to reduce energy
Should have Built in condensation drain to eliminate water condensation
System should have automatic rotor recognition and imbalance detection for
maximum operational safety
System should have Quick lock technology for quickly opening and closing
the rotor lid
System should have standby cooling function to hold temperature when
centrifuge is not in use.
System should have dynamic Compressor Control (DCC ) technology for
optimized cooling performance
System should have swing out bucket rotor with adapter for 15 ml conical
tubes 32 nos, and adapter for 50 ml conical tubes 16 nos , max speed of 4200
RPM and RCF of 3234 X g
System should be quoted with aerosol tight 30 X 1.5/2.0 ml rotor with max
RPM of 14000 and RCF of 20800
Should have Power supply: 230 V / 50-60 Hz
1. Vertical Freezer should have Microprocessor-controlled temperature facility
and alarms with non-volatile memory.
2. Capacity should have 400 Liters or above.
3. Freezer should have minimum 5 compartments and 4 adjustable-height
shelves, with 5 insulated inner doors.
4. Freezer should have Vent Plunger to prevent vacuum formation, Keyed lock,
polished 304L stainless steel interior, exterior : 18 gauge steel, 1.2 mm thick,
powder coated, scratch and rust resistant
5. Freezer should have programmable temperature range from – 500C to -860C, in
1°C increments, even at 320C ambient temperature.
6. Minimum Power Consumption.
7. Freezer should have the facility for Automatic Reset, Automatic Restart with
Non-Volatile memory, programmed Restart.
8. Freezer should have Hermetically-sealed two-stage cascade refrigeration
system with CFC, HCFC free refrigerants.
9. Freezer should have Password to prevent unauthorized changes.
10. System should be supplied with CO2 backup system with CO2 Cylinder and
cylinder stand.
11. Freezer should have CE Certified and UL Certified
12. Rack and Box should be supplied free of cost.
1.
2.
3.
4.
5.
6.
7.
8.
9.
4
Media dispenser
(Peristaltic pumps)
10.
11.
12.
13.
14.
15.
16.
17.
18.
19.
20.
21.
22.
Large display and clear user guidance with 6 navigational keys for fast setup
and use.
System parameters: language, display contrast, date and time.
Dose volume 0.1 ml – 9,999 ml.
Flow rate 0.6 ml/min–2.5 L/min (5 L/min with 2nd Pump Head).
Compact, lightweight and portable design for minimal space consumption and
maximal user friendliness.
Wide range of tubing sizes (1mm~8mm ID) with aspiration/ dispensing
stainless steel tube for precise dosing of millilitres to litres of various media,
buffers, etc.
Jagged, V-shaped tubing clamps on both sides of the pump head to guarantee
that the tubing does not slip when the rotor turns.
Memory for 20 dosing protocols for conveniently switching between different
applications. Program parameters can be protected with Access Code.
CUSTOMIZE mode for easy and efficient creation of personalized liquid
handling protocols without the use of PC.
Can program with 7 different step types, Repetitions between 1 – 999 or,
Cycles between 1 – 999 & Wait time between 1 sec – 10 hours.
Rotor turning direction can be changed between CW & ACW.
In-built program for coating of Petri dishes, density gradient tubes, serial
dilutions.
Pump mode to continuously pump a liquid instead of dispensing.
Comes with Pipette-tubing adapter which allows connection of different
serological pipettes, Pasteur pipettes or tips to silicone tubing.
Easy steps for Calibration.
CE certified.
RS-232 interface for connection with printer to document the dispensing
and pumpingperformed. Printing on paper occurs automatically when a
label printer is connected to the RS-232.
Can be connected a PC through the RS-232 (2) port, to generate an electronic
text file to document the dispensing and pumping performed.
AUX connection for controlling a second unit.
1 year warranty.
Optional Retort rod with filling arm.
Optional 2nd Pump Head to achieve the maximum flow-rate of 5L/min.