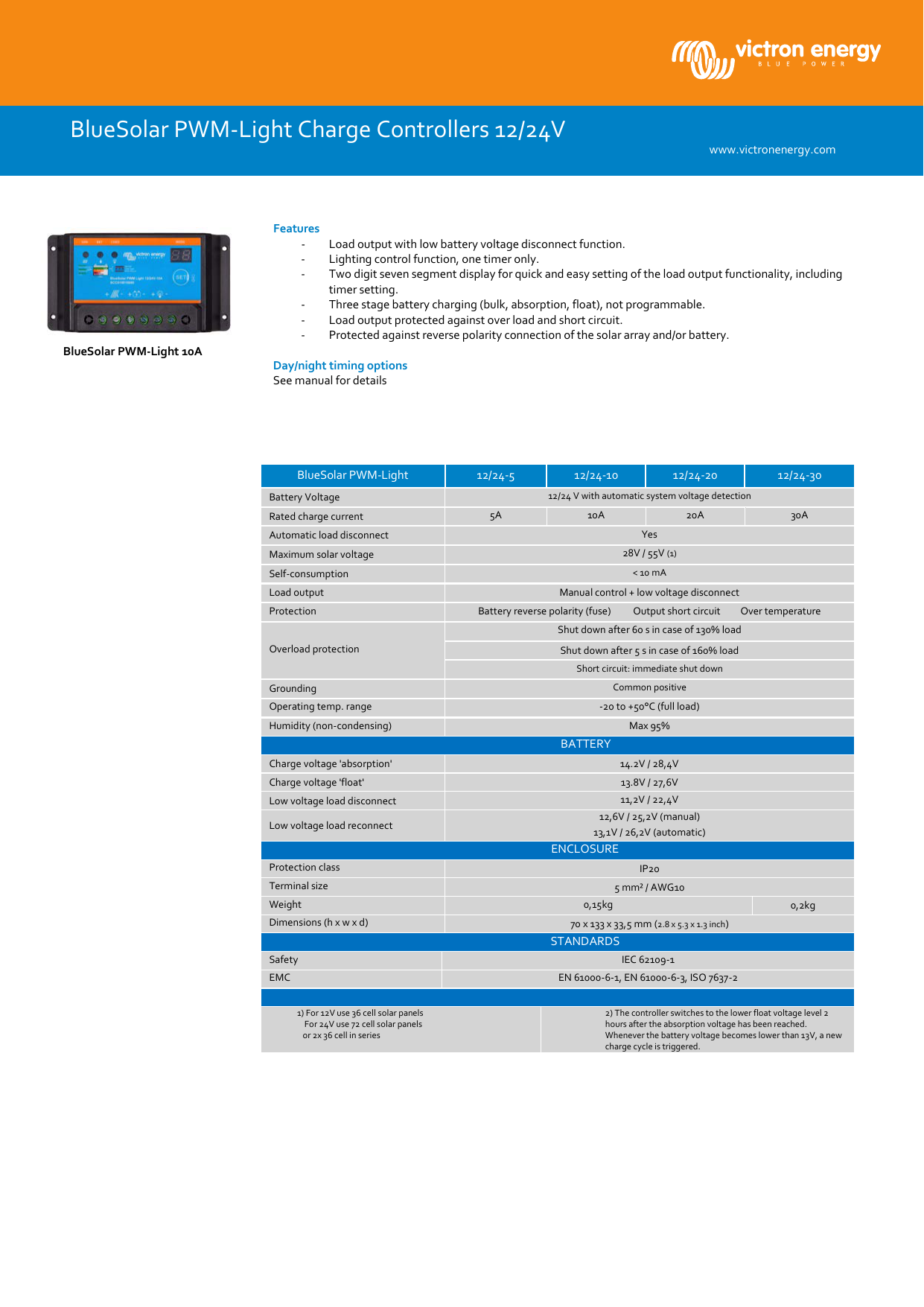 BlueSolar PWM-Light Charge Controllers 12/24V
www.victronenergy.com
Features
Load output with low battery voltage disconnect function.
Lighting control function, one timer only.
Two digit seven segment display for quick and easy setting of the load output functionality, including
timer setting.
Three stage battery charging (bulk, absorption, float), not programmable.
Load output protected against over load and short circuit.
Protected against reverse polarity connection of the solar array and/or battery.
BlueSolar PWM-Light 10A
Day/night timing options
See manual for details
BlueSolar PWM-Light
12/24-5
Rated charge current
12/24-10
5A
10A
20A
30A
28V / 55V (1)
Maximum solar voltage
< 10 mA
Self-consumption
Protection
12/24-30
Yes
Automatic load disconnect
Load output
12/24-20
12/24 V with automatic system voltage detection
Battery Voltage
Manual control + low voltage disconnect
Battery reverse polarity (fuse)
Output short circuit
Over temperature
Shut down after 60 s in case of 130% load
Overload protection
Shut down after 5 s in case of 160% load
Short circuit: immediate shut down
Common positive
Grounding
Operating temp. range
-20 to +50°C (full load)
Humidity (non-condensing)
Max 95%
BATTERY
Charge voltage 'absorption'
14.2V / 28,4V
Charge voltage 'float'
13.8V / 27,6V
Low voltage load disconnect
11,2V / 22,4V
Low voltage load reconnect
12,6V / 25,2V (manual)
13,1V / 26,2V (automatic)
ENCLOSURE
Protection class
IP20
Terminal size
Weight
Dimensions (h x w x d)
5 mm² / AWG10
0,15kg
0,2kg
70 x 133 x 33,5 mm (2.8 x 5.3 x 1.3 inch)
STANDARDS
Safety
EMC
IEC 62109-1
EN 61000-6-1, EN 61000-6-3, ISO 7637-2
1) For 12V use 36 cell solar panels
For 24V use 72 cell solar panels
or 2x 36 cell in series
2) The controller switches to the lower float voltage level 2
hours after the absorption voltage has been reached.
Whenever the battery voltage becomes lower than 13V, a new
charge cycle is triggered.

* Your assessment is very important for improving the work of artificial intelligence, which forms the content of this project