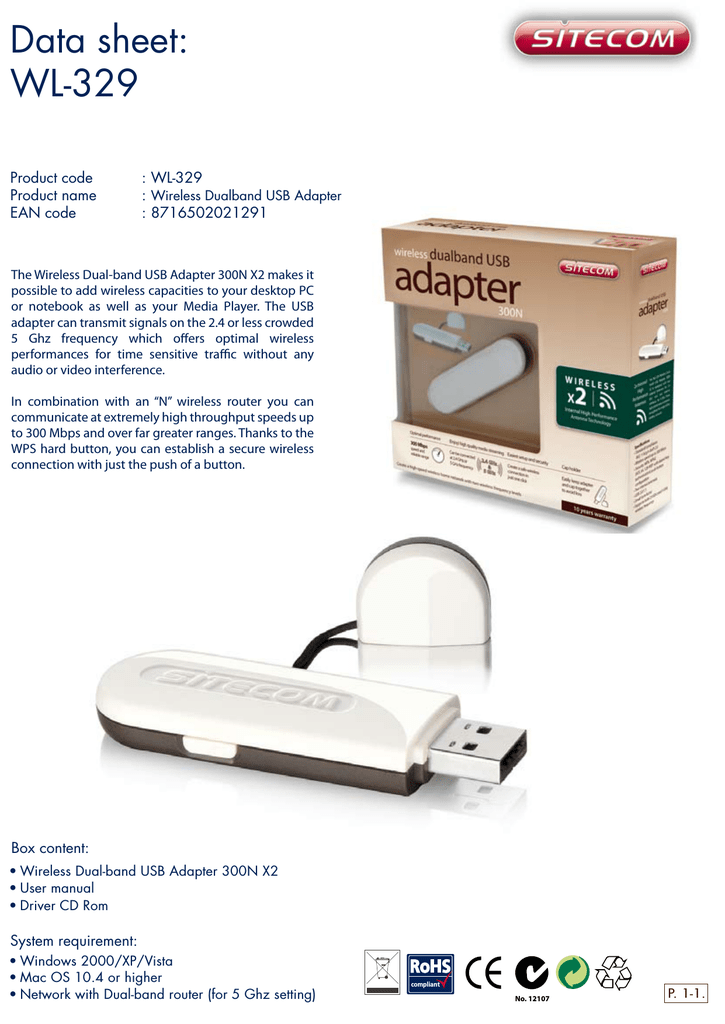 Data sheet:
WL-329
Product code
Product name
EAN code
: WL-329
: Wireless Dualband USB Adapter
: 8716502021291
The Wireless Dual-band USB Adapter 300N X2 makes it
possible to add wireless capacities to your desktop PC
or notebook as well as your Media Player. The USB
adapter can transmit signals on the 2.4 or less crowded
5 Ghz frequency which offers optimal wireless
performances for time sensitive traffic without any
audio or video interference.
In combination with an "N" wireless router you can
communicate at extremely high throughput speeds up
to 300 Mbps and over far greater ranges. Thanks to the
WPS hard button, you can establish a secure wireless
connection with just the push of a button.
Box content:
• Wireless Dual-band USB Adapter 300N X2
• User manual
• Driver CD Rom
System requirement:
• Windows 2000/XP/Vista
• Mac OS 10.4 or higher
• Network with Dual-band router (for 5 Ghz setting)
RoHS
compliant
No. 12107
P. 1-1.

* Your assessment is very important for improving the work of artificial intelligence, which forms the content of this project