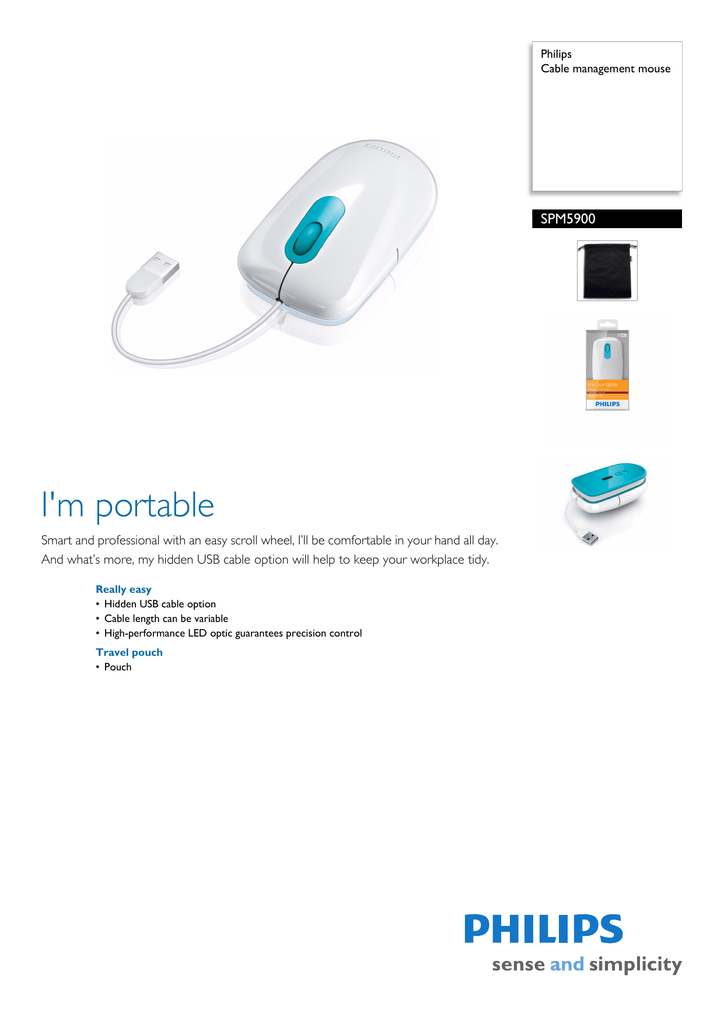 Philips
Cable management mouse
SPM5900
I'm portable
Smart and professional with an easy scroll wheel, I'll be comfortable in your hand all day.
And what's more, my hidden USB cable option will help to keep your workplace tidy.
Really easy
• Hidden USB cable option
• Cable length can be variable
• High-performance LED optic guarantees precision control
Travel pouch
• Pouch
SPM5900/10
Cable management mouse
Specifications
Connectivity
•
•
•
•
Plug and Play
Cable length: 600 mm
Interfacing: USB 1.1, USB 2.0
Wired
Control
• Scroll wheel
Cable management
Highlights
Sensor
• Optical
Hidden USB cable option
System Requirements
• Operating System: Microsoft Windows 2000,
Microsoft Windows ME, Microsoft Windows Vista,
Microsoft Windows XP
• Mac OS: Mac OS X 10.2.8 and above
• USB: Free USB port
•
• Hidden USB cable
The cable is stored inside the mouse
Cable length can be variable
Easy cable management helps organise messy cables
so you can have a tidy desk, and the cable length is
adjustable to suit your needs.
Precise optical sensor
Philips optical technology ensures extra accuracy and
responsiveness. You can work with it on most
surfaces, including wood, plastic or paper.
Issue date 2009-10-14
© 2009 Koninklijke Philips Electronics N.V.
All Rights reserved.
Version: 5.1.8
Specifications are subject to change without notice.
Trademarks are the property of Koninklijke Philips
Electronics N.V. or their respective owners.
12 NC: 8670 000 53846
EAN: 87 12581 48959 5
www.philips.com
* Windows logos are trademarks, or registered trademarks of
Microsoft Corporation in the United States and/or other countries.

* Your assessment is very important for improving the work of artificial intelligence, which forms the content of this project