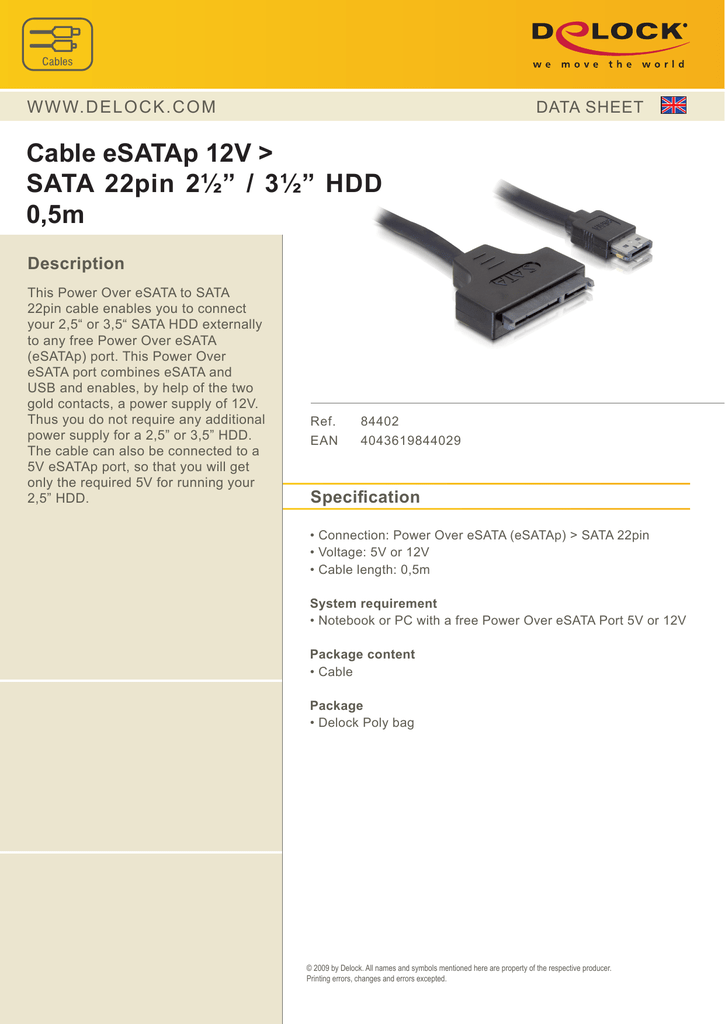 WWW. D E L O C K . C O M
DATA SHEET
Cable eSATAp 12V >
SATA 22pin 2½" / 3½" HDD
0,5m
Description
This Power Over eSATA to SATA
22pin cable enables you to connect
your 2,5" or 3,5" SATA HDD externally
to any free Power Over eSATA
(eSATAp) port. This Power Over
eSATA port combines eSATA and
USB and enables, by help of the two
gold contacts, a power supply of 12V.
Thus you do not require any additional
power supply for a 2,5" or 3,5" HDD.
The cable can also be connected to a
5V eSATAp port, so that you will get
only the required 5V for running your
2,5" HDD.
Ref.
84402
EAN
4043619844029
Specification
• Connection: Power Over eSATA (eSATAp) > SATA 22pin
• Voltage: 5V or 12V
• Cable length: 0,5m
System requirement
• Notebook or PC with a free Power Over eSATA Port 5V or 12V
Package content
• Cable
Package
• Delock Poly bag
© 2009 by Delock. All names and symbols mentioned here are property of the respective producer.
Printing errors, changes and errors excepted.

* Your assessment is very important for improving the work of artificial intelligence, which forms the content of this project