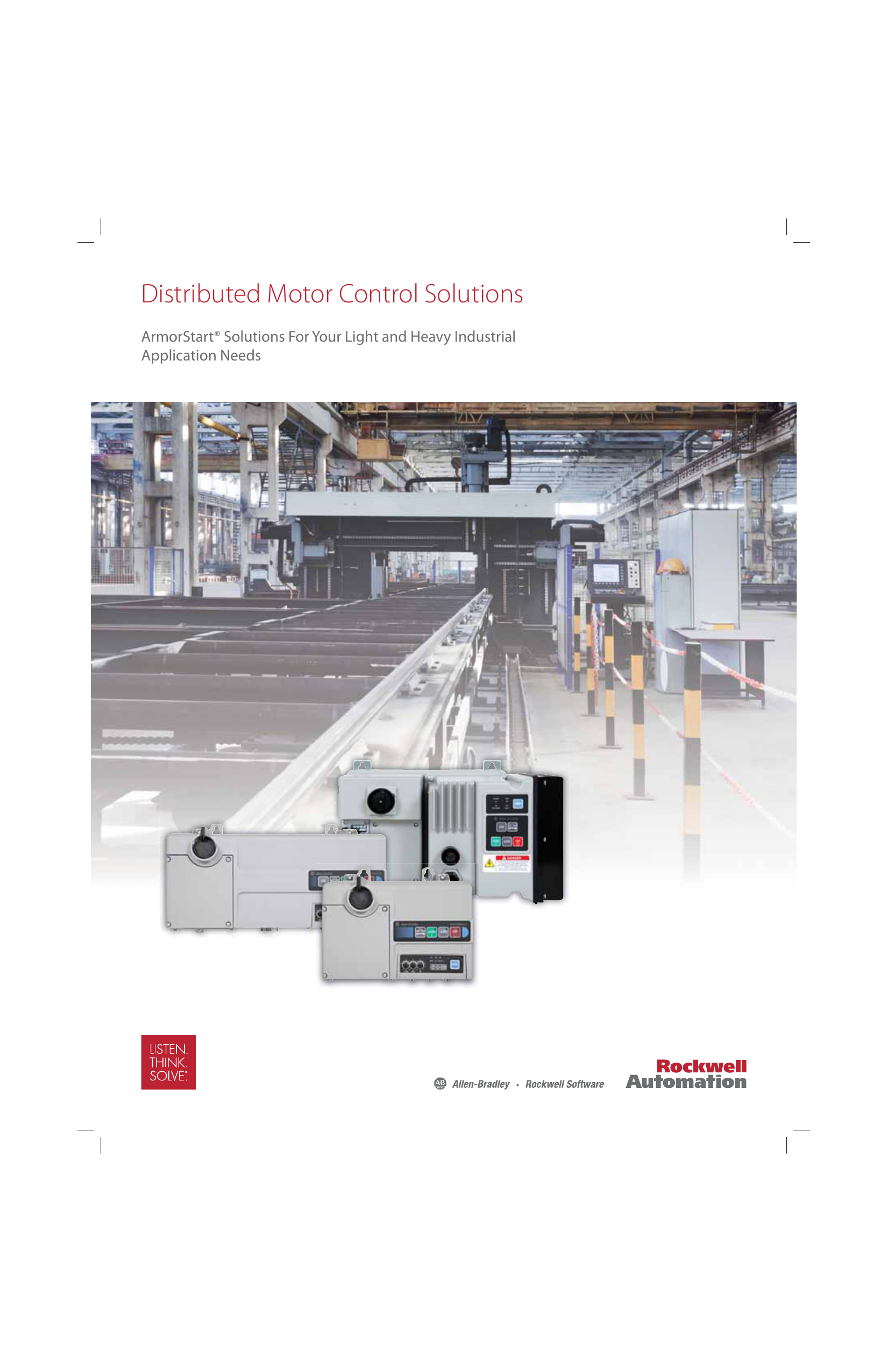 Distributed Motor Control Solutions
ArmorStart® Solutions For Your Light and Heavy Industrial
Application Needs
ADVANTAGES OF:
ON-MACHINE™ ARCHITECTURE
OEMS – INCREASE PRODUCTIVITY
1 Help build more machines, faster
2 Improve top line, cash flow,
lead-times and warranty costs
3 Help raise customer satisfaction with
more consistent ship dates
END-USERS – IMPROVE OVERALL
EQUIPMENT EFFECTIVENESS (OEE)
1 Excellent diagnostics with visible LEDs
2 Decrease mean time to repair
(MTTR) with quick cable replacement
3 No enclosure to open or keep closed
ADVANTAGES OF:
ARMORSTART DISTRIBUTED
MOTOR CONTROL
1 Reduce labor costs up to 30% with
easy installation
2 Decrease wiring up to 20% with quick
disconnect features
3 Seamless integration of information from
plant to enterprise
4 Scalable and flexible configuration
Labor Savings + Reduced Wiring + Premier
EtherNet/IP
2
Power Media
Add-On Profile (AOP)
ArmorStart LT
• EtherNet/IP™ and
DeviceNet available
• Device Level Ring (DLR) enabled
• DeviceLogix™ embedded
• Multiple programmable I/O
• Full-voltage and reverse starting
• Variable Frequency Drive (VFD)
Ideal Applications
•
•
•
•
Light industrial conveyors
Sortation systems
Material handling
Food and Beverage
ArmorStart
• EtherNet/IP and
DeviceNet available
• Device Level Ring (DLR) enabled
• DeviceLogix embedded
• Full-voltage and reverse starting
• Sensorless Vector Control (VFD)
Ideal Applications
•
•
•
•
Heavy industrial conveyors
Baggage handling
Food and Beverage
Automotive
ArmorStart DeviceNet™
Safety
• Suitable for safety applications
up to Safety Category 4 PL e
• Utilizes Guard I/O™ and
GuardLogix® Solution
• Full-voltage and reverse starting
• Sensorless Vector Control (VFD)
Ideal Applications
• Safety applications
• Heavy industrial conveyors
Integration = More Productivity and Faster Builds
Scan this QR code
with your smartphone
to go to the ArmorStart
family page.
Need a QR Code reader on
your phone? Visit the App Store
on your phone. Then point your
phone's camera at the QR code.
3
ON-MACHINE ETHERNET/IP SOLUTION
Real-Time Information
ControlLogix®
E-TAP
PanelView™ Component
OK
LINK 1
LINK 2
DEVICE
PORT
PanelView 300 Micro
!
1783-ETAP
00:00:BC:5B:BB:99
Etherent Address
EtherNet/IP
1
(front)
2
(rear)
F1
F2
F3
F4
ETHERNET
Device Level Ring ( DLR )
ArmorBlock®
-
+
ArmorStart®
ArmorStart LT
Control
3-Phase Power
Control
3-Phase
Power
Bulletin 294 Pictured
Bulletin 284 Pictured
At-Motor
Disconnect
At-Motor
Disconnect
Hand-Off-Auto
(Option)
Wiring
Access Door
Status, Diagnostics,
and Reset
Address
Switches
Network Connection
Power, Control, and
Motor Connection Six User Configurable
Status, Diagnostics,
and Reset
Hand-Off-Auto
(Option)
2 Outputs
4 Inputs
Source Brake
Connection
(Option)
Address
Switches
Network
Connection
Wiring Access Door
Dynamic Brake Connection (Option)
Motor Connection with
Supplied Motor Cable
4
ADD-ON PROFILE (AOP)
• Allows for faster response to
• Quick and more efficient
changing environments
• Delivers information with enhanced control
• Easy access to parameter, status,
and diagnostics
• Provides Premier Integration within
the architecture
TRANSPARENTCLOCK
Integrated Architecture™
PREMIERINTEGRATION
program development
• Automatic descriptive tag
generation for status, diagnostics,
and command information
• Help reduce mistakes and
programming time
• Single software configuration
• User-friendly interface
• Precision Time Protocol (IEEE 1588) Support
• Works within a distributed network of devices
• Synchronizes devices with varying
performance characteristics
ArmorStart LT with EtherNet/IP delivers true embedded
dual port switch technology, to support Linear or Device
Level Ring (DLR) topology.
DEVICELOGIX
• Standard feature at no additional cost
• Faster local I/O processing
• Helps improve control system performance
• Increase system reliability
• Increase system/machine modularity
BAND
Boolean And
Input 1
In 1
Out
Output A
In 2
Input 2
EMBEDDED WEB
SERVER SUPPORT
• Offers online status, diagnostic and
parameter configuration anywhere
• Receive email notification for faults and warnings
• No special software required, just a standard
Web browser
5
A COMPLETE ON-MACHINE SOLUTION
The ArmorStart family of distributed motor controllers is ideal for conveyor
and material handling applications, capturing your need for controlling
both light and heavy industrial solutions.
Heavy
Industrial
General
Material
Handling
Power Media
Safety
Safety
CONNECTING SOLUTIONS
ARMORCONNECT® CONTROL AND
THREE-PHASE POWER MEDIA
• Plug and play power solution
• Connects multiple ArmorStart controllers
• Reduced installation time
• Reduced wiring errors
INDUSTRIAL ETHERNET MEDIA
• Seamless connectivity
• Field-attachable connections
• Patchcord sets available
280E or 281E
Motor Branch
Circuit
Protection
Power Supply
24VDC
Bul 1606
284E
PLC
Ethernet Media
ArmorConnect
Control Power Media
E-Stop In
E-Stop Out
E-Stop Out
E-Stop*
ArmorConnect Three-Phase
Power Media
* A single channel E-Stop is pictured. It is necessary to perform a risk assessment and determine specific application requirements
6
Light – Heavy Industrial Solutions
ARMORSTARTSAFETY
The ArmorStart DeviceNet Safety version
provides an integrated On-Machine safety
solution. ArmorStart DeviceNet Safety
achieves Category 4 functionality by using
two internal safety contactors. The safety
I/O module is used to control and monitor
the safety contactors inside the ArmorStart.
RESET
OFF
"We were able to eliminate the complex wiring associated with the more
traditional approach, saving us valuable time and cost in wiring the
installation. The ArmorStart® is neatly tucked in underneath the conveyor
thus providing a much cleaner looking system."
– Polytron Inc.
7
ON-MACHINE ACCELERATOR
Scan this QR code with your
smartphone to go to the
On-Machine Accelerator
family page.
With these easy-to-use tools and templates, you can
concentrate on developing the unique features of your
On-Machine application – not on the routine tasks that
add to overhead costs.
Need a QR Code reader on
your phone? Visit the App
Store on your phone.
Then point your phone's
camera at the QR code.
ProposalWorks
eCADWorks
Create Proposals and Submittals
Product
Selection
Toolbox
CAD Drawings Source
Integrated
Architecture
Builder
Automation System Configurator
MCS Star
CrossWorks
UserDefined
Device
Design MCS Bus Systems
Competitive Cross Reference Program
Current
RailBuilder
Program Updater
Design DIN Mountable Systems
Rockwell Automation offers a breadth of quality Allen-Bradley® components to fit your specific needs.
In order to assist you with your component selection, we offer a variety of configuration and selection tools.
Local Distributor
Call 1.800.223.3354 to contact your local Distributor today.
http://www.rockwellautomation.com/distributor/
On-Line Product Directory
Our extensive product portfolio is designed to improve your processes through every stage of your
manufacturing cycle.
http://www.rockwellautomation.com/products/
Product Selection Toolbox
applying our products.
http://www.rockwellautomation.com/en/e-tools/
guration tools assist you in choosing and
Catalogs
nd an extensive selection of essential Allen-Bradley component products.
http://www.ab.com/catalogs/
Rockwell Automation, Inc. (NYSE:ROK), the world's largest company dedicated to industrial automation, makes its customers more
productive and the world more sustainable. Throughout the world, our flagship Allen-Bradley® and Rockwell Software® product
brands are recognized for innovation and excellence.
Follow ROKAutomation on Facebook & Twitter.
Connect with us on LinkedIn.
Allen-Bradley, ArmorBlock, ArmorConnect, ArmorStart, DeviceLogix, Guard I/O, GuardLogix, Integrated Architecture, MCS, On-Machine, Product Selection Toolbox, ProposalWorks, RailBuilder,
Rockwell Software are trademarks of Rockwell Automation Inc. DeviceNet and EtherNet/IP are trademarks of the Open DeviceNet Vendor Association. Trademarks not belonging to Rockwell Automation
are the properties of their respective companies.
Publication 280-BR001B-EN-P – January 2012
Supersedes 280-BR001A-EN-P - October 2007
Copyright ©2012 Rockwell Automation, Inc. All Rights Reserved. Printed in USA.

* Your assessment is very important for improving the work of artificial intelligence, which forms the content of this project