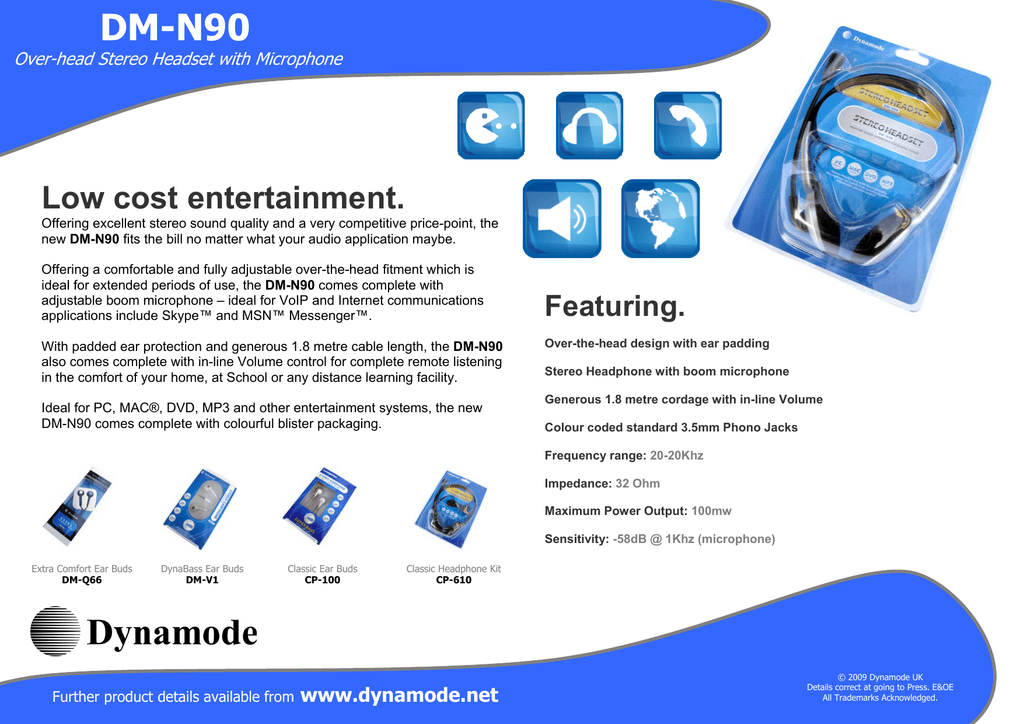 DM-N90
Over-head Stereo Headset with Microphone
Low cost entertainment.
Offering excellent stereo sound quality and a very competitive price-point, the
new DM-N90 fits the bill no matter what your audio application maybe.
Offering a comfortable and fully adjustable over-the-head fitment which is
ideal for extended periods of use, the DM-N90 comes complete with
adjustable boom microphone – ideal for VoIP and Internet communications
applications include Skype™ and MSN™ Messenger™.
With padded ear protection and generous 1.8 metre cable length, the DM-N90
also comes complete with in-line Volume control for complete remote listening
in the comfort of your home, at School or any distance learning facility.
Ideal for PC, MAC®, DVD, MP3 and other entertainment systems, the new
DM-N90 comes complete with colourful blister packaging.
Featuring.
Over-the-head design with ear padding
Stereo Headphone with boom microphone
Generous 1.8 metre cordage with in-line Volume
Colour coded standard 3.5mm Phono Jacks
Frequency range: 20-20Khz
Impedance: 32 Ohm
Maximum Power Output: 100mw
Sensitivity: -58dB @ 1Khz (microphone)
Extra Comfort Ear Buds
DM-Q66
DynaBass Ear Buds
DM-V1
Classic Ear Buds
CP-100
Further product details available from
Classic Headphone Kit
CP-610
www.dynamode.net
© 2009 Dynamode UK
Details correct at going to Press. E&OE
All Trademarks Acknowledged.

* Your assessment is very important for improving the work of artificial intelligence, which forms the content of this project