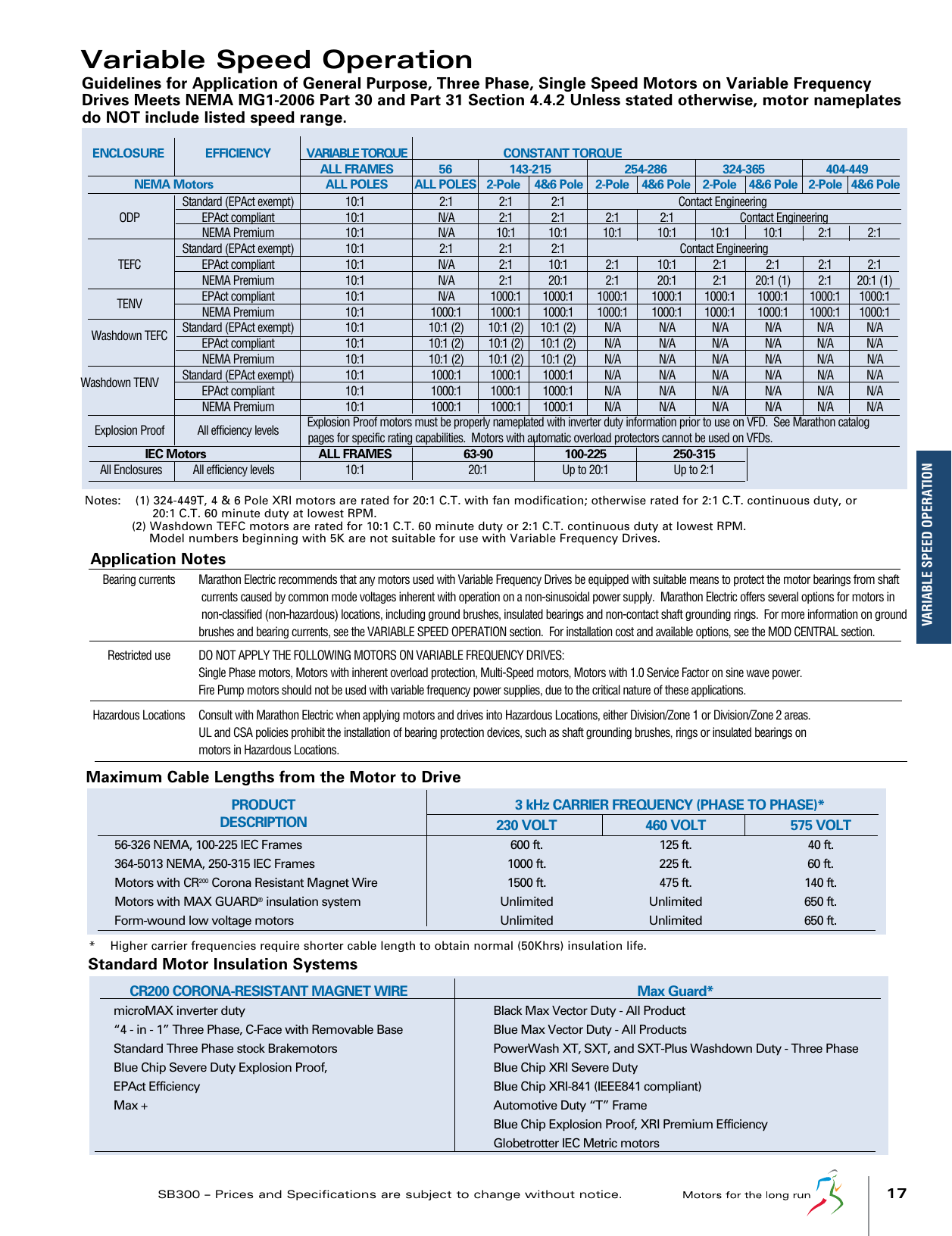 Variable Speed Operation
Guidelines for Application of General Purpose, Three Phase, Single Speed Motors on Variable Frequency
Drives Meets NEMA MG1-2006 Part 30 and Part 31 Section 4.4.2 Unless stated otherwise, motor nameplates
do NOT include listed speed range.
ENCLOSUREEFFICIENCY
VARIABLE TORQUECONSTANT TORQUE
ALL FRAMES
56 143-215
254-286
324-365
404-449
NEMA Motors
ALL POLES
ALL POLES 2-Pole4&6 Pole 2-Pole 4&6 Pole 2-Pole 4&6 Pole 2-Pole 4&6 Pole
Standard (EPAct exempt)
10:1
2:1
2:1
2:1 Contact Engineering
ODP
EPAct compliant
10:1
N/A
2:1
2:1
2:1
2:1 Contact Engineering
NEMA Premium
10:1
N/A 10:110:110:110:110:110:1 2:1 2:1
Standard (EPAct exempt)
10:1
2:1
2:1
2:1 Contact Engineering
TEFC
EPAct compliant
10:1
N/A
2:1
10:1
2:1
10:1
2:1
2:1
2:1
2:1
NEMA Premium
10:1
N/A
2:1
20:1
2:1
20:1
2:1
20:1 (1)
2:1
20:1 (1)
EPAct compliant
10:1
N/A 1000:11000:11000:11000:11000:11000:11000:11000:1
TENV
NEMA Premium 10:1
1000:1
1000:1 1000:1
1000:1
1000:1 1000:1 1000:1 1000:1 1000:1
Standard (EPAct exempt)
10:1
10:1 (2)
10:1 (2) 10:1 (2)
N/A
N/A
N/A
N/A
N/A
N/A
Washdown TEFC
EPAct compliant
10:1
10:1 (2)
10:1 (2) 10:1 (2)
N/A
N/A
N/A
N/A
N/A
N/A
NEMA Premium
10:1
10:1 (2)
10:1 (2) 10:1 (2)
N/A
N/A
N/A
N/A
N/A
N/A
Standard (EPAct exempt)
10:1
1000:1
1000:1 1000:1
N/A
N/A
N/A
N/A
N/A
N/A
Washdown TENV
EPAct compliant
10:1
1000:1
1000:1
1000:1
N/AN/AN/AN/AN/AN/A
NEMA Premium
10:1
1000:1
1000:1
1000:1
N/AN/AN/AN/AN/AN/A
Explosion Proof motors must be properly nameplated with inverter duty information prior to use on VFD. See Marathon catalog Explosion Proof
All efficiency levels
pages for specific rating capabilities. Motors with automatic overload protectors cannot be used on VFDs.
IEC Motors
ALL FRAMES
63-90
100-225
250-315 All Enclosures
All efficiency levels
10:1
20:1
Up to 20:1
Up to 2:1
Notes:
(1) 324-449T, 4 & 6 Pole XRI motors are rated for 20:1 C.T. with fan modification; otherwise rated for 2:1 C.T. continuous duty, or
20:1 C.T. 60 minute duty at lowest RPM.
(2) Washdown TEFC motors are rated for 10:1 C.T. 60 minute duty or 2:1 C.T. continuous duty at lowest RPM.
Model numbers beginning with 5K are not suitable for use with Variable Frequency Drives.
Application Notes
Bearing currentsMarathon Electric recommends that any motors used with Variable Frequency Drives be equipped with suitable means to protect the motor bearings from shaft
currents caused by common mode voltages inherent with operation on a non-sinusoidal power supply. Marathon Electric offers several options for motors in non-classified (non-hazardous) locations, including ground brushes, insulated bearings and non-contact shaft grounding rings. For more information on ground
brushes and bearing currents, see the VARIABLE SPEED OPERATION section. For installation cost and available options, see the MOD CENTRAL section.
Restricted use
DO NOT APPLY THE FOLLOWING MOTORS ON VARIABLE FREQUENCY DRIVES:
Single Phase motors, Motors with inherent overload protection, Multi-Speed motors, Motors with 1.0 Service Factor on sine wave power.
Fire Pump motors should not be used with variable frequency power supplies, due to the critical nature of these applications.
Hazardous LocationsConsult with Marathon Electric when applying motors and drives into Hazardous Locations, either Division/Zone 1 or Division/Zone 2 areas.
UL and CSA policies prohibit the installation of bearing protection devices, such as shaft grounding brushes, rings or insulated bearings on
motors in Hazardous Locations.
Maximum Cable Lengths from the Motor to Drive
PRODUCT
DESCRIPTION
56-326 NEMA, 100-225 IEC Frames
364-5013 NEMA, 250-315 IEC Frames
Motors with CR200 Corona Resistant Magnet Wire
Motors with MAX GUARD® insulation system
Form-wound low voltage motors
3 kHz CARRIER FREQUENCY (PHASE TO PHASE)*
230 VOLT
460 VOLT
575 VOLT
600 ft.
1000 ft.
1500 ft.
Unlimited
Unlimited
125 ft.
225 ft.
475 ft.
Unlimited
Unlimited
40 ft.
60 ft.
140 ft.
650 ft.
650 ft.
* Higher carrier frequencies require shorter cable length to obtain normal (50Khrs) insulation life.
Standard Motor Insulation Systems
CR200 Corona-Resistant magnet wire
microMAX inverter duty
"4 - in - 1" Three Phase, C-Face with Removable Base
Standard Three Phase stock Brakemotors
Blue Chip Severe Duty Explosion Proof,
EPAct Efficiency
Max +
Max Guard*
Black Max Vector Duty - All Product
Blue Max Vector Duty - All Products
PowerWash XT, SXT, and SXT-Plus Washdown Duty - Three Phase
Blue Chip XRI Severe Duty
Blue Chip XRI-841 (IEEE841 compliant)
Automotive Duty "T" Frame
Blue Chip Explosion Proof, XRI Premium Efficiency
Globetrotter IEC Metric motors
SB300 – Prices and Specifications are subject to change without notice.
17
VARIABLE SPEED OPERATION
Variable Speed Operation
VARIABLE SPEED INFORMATION
Marathon Electric Vector-Duty and Inverter-Duty motors,
unless otherwise stated, are rated for continuous operation
in a 40°C ambient and for altitudes up to 3300 feet (1000
meters) above sea level. Special application considerations,
such as high or low ambient, intermittent ratings, high
altitude, duty cycle rated, extended constant horsepower
range, special base speed, voltage or frequency, or any
other special requirements, should be reviewed by a
factory representative.
It is the responsibility of the startup personnel during
commissioning of the VFD/motor system to properly
tune the drive to the motor for the specific application.
The correct voltage boost and volts/hertz settings are
application dependent and unique to each motor design.
Procedures for these adjustments should be in your VFD
user manual. Many Vector Duty and Inverter Duty motors
in this catalog are equipped with thermostats; warranty
coverage may be denied if they are not properly utilized.
VARIABLE SPEED OPERATION
Power factor correction capacitors should
never be installed between the drive and
the motor.
INVERTER DUTY OR INVERTER RATED
"Inverter Duty" (often called "Inverter Rated") motors are
suitable for use with Variable Frequency Drives, as long as
operation is within the application guidelines published in
this catalog. In general, Marathon Electric's three phase,
general purpose, NEMA Design B motors are considered
"Inverter Duty", and meet or exceed the requirements of
NEMA MG1, Part 30. As required under Federal law, these
motors comply with EPAct efficiencies when operating
from utility power.
Many of Marathon's motor product lines have been
enhanced to facilitate reliable operation on today's variable
speed drives, including wider constant torque speed
range (up to 20:1) and improved insulation systems that
withstand voltage spikes common with variable frequency
operation.
Inverter Duty (Rated) motors are most often used in
10:1 speed range, variable torque or constant torque
applications. A vector control is usually required for
operation beyond 10:1 CT.
Refer to "Guidelines for Application of General Purpose,
Single Speed Three Phase Motors on Variable Frequency
Drives" in this section of this catalog for the allowable
speed range and cable length restrictions (from VFD to
motor). Additional detail regarding a specific product's
capabilities is available on its catalog page, or by consulting
your application engineer.
VECTOR DUTY – "Vector Duty" describes a class of
motors that are used in conjunction with Open- (without
encoder) or Closed-Loop (with encoder) Vector controls,
that provide enhanced performance under low speed
operating conditions, or in cases where torque (rather than
speed) must be controlled. "Vector Duty" motors can be
applied to Volts/Hertz (scalar) drives, as well.
Marathon Electric's "MAX" family, consisting of Blue
Max®, Black Max® and microMAX™ motors, have been
specifically designed for optimal operation on vector or
volts/hertz controls. These motors feature a wide constant
torque (up to 2000:1) and/or constant horsepower (up
to 4:1) speed range and are performance-matched to all
current technology IGBT drives. Vector Duty motors meet
or exceed the requirements of NEMA MG1, Part 31, and
are equipped with an enhanced insulation system (MAX
GUARD® or CR200) to provide many years of trouble-free
service. Consult the catalog page for each product's
capabilities and features. As these motors are specifically
designed for operation through an inverter, they are
exempt from EPAct legislation. Model numbers contain the
letter "H" in the "Electrical Type" field.
VARIABLE TORQUE LOADS – Applications include fans,
blowers and centrifugal pumps. Torque varies as the
square of the speed, and horsepower as the cube of the
speed. Operation below base speed significantly lightens
the load on the motor. While most variable torque
applications do not require the motor to operate below
half speed, the motor is fully capable of operation to zero
speed. Operation above base speed significantly adds to
the load on the motor; therefore, a factory representative
must review applications requiring variable torque above
base speed. Refer to the application chart found on page
14 for use of general purpose three phase motors on
variable frequency drives. Marathon's microMAX™, Black
Max® or Blue Max® motors are not necessarily required for
operation of variable torque loads. A bypass circuit is often
employed in Variable Torque applications. If this device is
intended to be used, selection of a NEMA Design B motor
is recommended, to withstand the inrush current during
across-the-line starting.
CONSTANT TORQUE LOADS – Applications include
conveyors, elevators, hoists, extruders, positive
displacement pumps, mixers and converting equipment.
Torque remains constant throughout the range of
operation, and extra care should be taken in the proper
application of motors, especially at very low speeds.
Most constant torque applications don't require operation
below 10:1 (i.e. 6 Hz operation on a 60 Hz motor), but an
increasing number of applications historically reserved for
servo and/or stepper systems are being served with motors
capable of operation beyond 20:1, up to 2000:1 (zero speed,
constant torque). Refer to the application chart found on
page 17 for use of general purpose three phase motors on
variable frequency drives.
Continued on next page.
18
SB300 – Prices and Specifications are subject to change without notice.
Variable Speed Operation
Applications requiring greater than 20:1 C.T. are ideal
for microMAX™, Black Max® or Blue Max® motors. These
motors provide full rated torque within their listed speed
range, without exceeding a Class F temperature rating
while under inverter power (many operate at Class B).
Ratings in this catalog have been developed, based on
extensive testing on IGBT inverters, set at a minimum 3
KHz (or equivalent) carrier frequency.
Vector Duty and Inverter Duty motors from Marathon
Electric are designed for operation at 150% of rated load for
one minute, up to the base speed of the motor (overload
capability declines to 100% as the motor reaches maximum
constant HP speed). These motors accommodate constant
horsepower operation to 1-1/2 to 2 times base speed,
subject to the motor's maximum safe mechanical speed
limit. Refer to the Maximum Safe Mechanical Speed
Chart, as well as the performance section for each motor's
capability.
Motors rated for zero RPM continuous duty (1000:1 or
2000:1) must be powered by vector drives to produce rated
torque without overheating. Optimum zero speed and lowspeed full torque performance may require a closed loop
vector drive (with encoder feedback).
CONSTANT HORSEPOWER LOADS – Applications include coil
winders, band saws, grinders, and turret lathes. Operation
requires the motor to deliver the same horsepower rating,
regardless of shaft speed. Torque increases at low speed and
decreases at higher speed. Most general purpose motors can
deliver constant horsepower up to 1 1/2 times base speed
(consult a factory representative to verify performance).
However, many constant HP applications require operation
to twice base speed, and some, such as coil winders, up to
4 times base speed. microMAX™, Black Max® and Blue Max®
motors are designed for 1 1/2 to 2 times base speed, and
the Wide CHP motors, found in Marathon's SB371 Catalog,
deliver up to 4 times constant horsepower performance.
BEARING CURRENTS – As stated in NEMA MG1-31.4.4.3, to
protect a motor from inverter-sourced shaft voltages, either
both bearings must be insulated or the motor shaft must
be effectively grounded. Marathon Electric offers several
effective means to protect the bearings from inverter sourced
EDM (electrical discharge machining). A Shaft Grounding
device is standard in Blue Max® motors, in frame sizes 444T
and larger. Insulating the motor bearings will not prevent
damage to bearings of a connected load, and insulated
couplings should be employed to protect the load. Adding a
ground brush to a motor with insulated bearings will divert
motor shaft currents and help protect the bearings of the
connected load. At this time, UL policy prohibits the use of
ground brushes or insulated bearings in Hazardous Locations
(Div 1 & 2, Zones 1, 2, 21 & 22).
MOTOR GROUNDING - Frames and accessories of all motors
must be grounded in accordance with the National Electric
Code (NEC) Article 430. Refer to NEC Article 250 for general
information on grounding. Proper grounding of inverterdriven motors is essential to protect personnel and livestock
from inverter-sourced common mode voltages, which may
reach hazardous levels on the frame of ungrounded or poorly
grounded motors.
LOW INPUT VOLTAGE – If, due to lower utility supply voltage,
the input voltage from the VFD to the motor is lower than the
motor's rated voltage, de-rating of the motor's base frequency,
horsepower, full load RPM, and constant HP RPM is required.
The revised values can be calculated by multiplying by the
ratio of the voltage change. For example, to operate a 460
volt motor from an inverter fed by 50 or 60 HZ, 400 volt utility
power, the multiplier is 400/460 or 0.87.
The VFD can be reprogrammed to match the new base
point values, allowing the motor to provide rated torque at
rated current from the new base speed down to its original
minimum Constant torque speed. The motor's CHP range will
begin at the new base frequency and will be shortened by the
same ratio as described above.
OVERSPEED CAPABILITY – Maximum safe mechanical speed
capability is a function of bearing size and type, lubrication,
rotor balancing technique and specifications, air gap,
enclosure, frame construction and connection to the driven
load. In addition, consideration must be given to ambient
noise levels, as operation above base speed will increase
motor noise and vibration, and reduce bearing life. Under
no circumstances should bearing hub temperature exceed
100°C. Belted loads should not exceed 60 Hz operating
RPM by more than 25% (NEMA "TS" shafts are not suitable
for belted loads). Due to external cooling fans, TEFC (and
Explosion Proof Fan Cooled) motors are limited to 4000
RPM maximum speed.
Marathon Electric, through extensive testing in our
state-of-the-art laboratory and in actual field experience,
has developed a number of high speed motors whose
maximum safe mechanical speed exceeds the values in
the table below. The following table depicts maximum
safe speed limits for continuous operation, directcoupled, non-explosion proof motors, and does not imply
constant horsepower capability. Please consult a factory
representative for requirements beyond those listed, or for
intermittent duty limits.
Maximum Safe Mechanical Speed Limits
(ODP, TENV, DPFV OR TEBC ENCLOSURES)
60 Hz base frequency
Frame Size
56-184
213-256
284-286
324-326
364-365
404-449
5000 Fr
6800 Fr
SB300 – Prices and Specifications are subject to change without notice.
2-Pole
7200
5400
5400
4000
4000
3600
N/A
N/A
4, 6 or 8-Pole
5400
4200
3600
3600
2800
2800
CALL
CALL
19
VARIABLE SPEED OPERATION
CONSTANT TORQUE LOADS (Cont'd.)
Variable Speed Operation
OTHER APPLICATION CONSIDERATION
For proper selection, the following should be considered:
• Horsepower or torque requirements at various speeds.
• Desired speed range of the load and motor.
• Acceleration and deceleration rate requirements of the
process being controlled.
• Starting requirements including the frequency of
starting and a description of the load (reflected inertia
at the motor, load torque during starting).
• Whether the application is a continuous process or
duty cycle of starts, stops and speed changes.
• A general description of the type of application including
the environment in which the VFD system components
must operate (determines motor enclosure and/or
explosion proof classification).
• D
escription of the available electrical power supply
and wiring.
• Special performance requirements, if any.
• Whether the drive will be configured with a by-pass
circuit. In case of its deployment, the motor will
operate like its fixed speed counterpart and may
require a NEMA B design which limits in-rush current,
or selection of a larger motor starter or other protective
circuitry.
• Load sharing
• Mounting and other mechanical considerations
Typical Temperature Rise Of Various Enclosures
VARIABLE SPEED OPERATION
20
SB300 – Prices and Specifications are subject to change without notice.