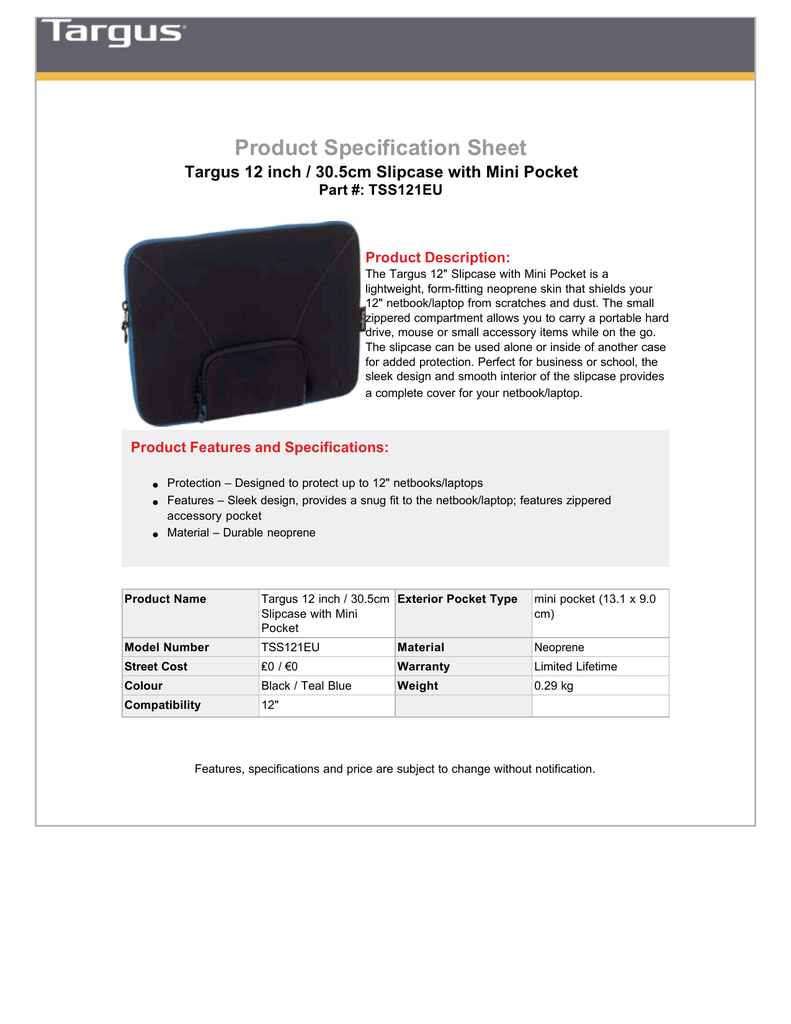 Product Specification Sheet
Targus 12 inch / 30.5cm Slipcase with Mini Pocket
Part #: TSS121EU
Product Description:
The Targus 12" Slipcase with Mini Pocket is a
lightweight, form-fitting neoprene skin that shields your
12" netbook/laptop from scratches and dust. The small
zippered compartment allows you to carry a portable hard
drive, mouse or small accessory items while on the go.
The slipcase can be used alone or inside of another case
for added protection. Perfect for business or school, the
sleek design and smooth interior of the slipcase provides
a complete cover for your netbook/laptop.
Product Features and Specifications:
●
●
●
Protection – Designed to protect up to 12" netbooks/laptops
Features – Sleek design, provides a snug fit to the netbook/laptop; features zippered
accessory pocket
Material – Durable neoprene
Product Name
Targus 12 inch / 30.5cm Exterior Pocket Type
Slipcase with Mini
Pocket
mini pocket (13.1 x 9.0
cm)
Model Number
TSS121EU
Material
Neoprene
Street Cost
₤0 / €0
Warranty
Limited Lifetime
Colour
Black / Teal Blue
Weight
0.29 kg
Compatibility
12"
Features, specifications and price are subject to change without notification.

* Your assessment is very important for improving the work of artificial intelligence, which forms the content of this project