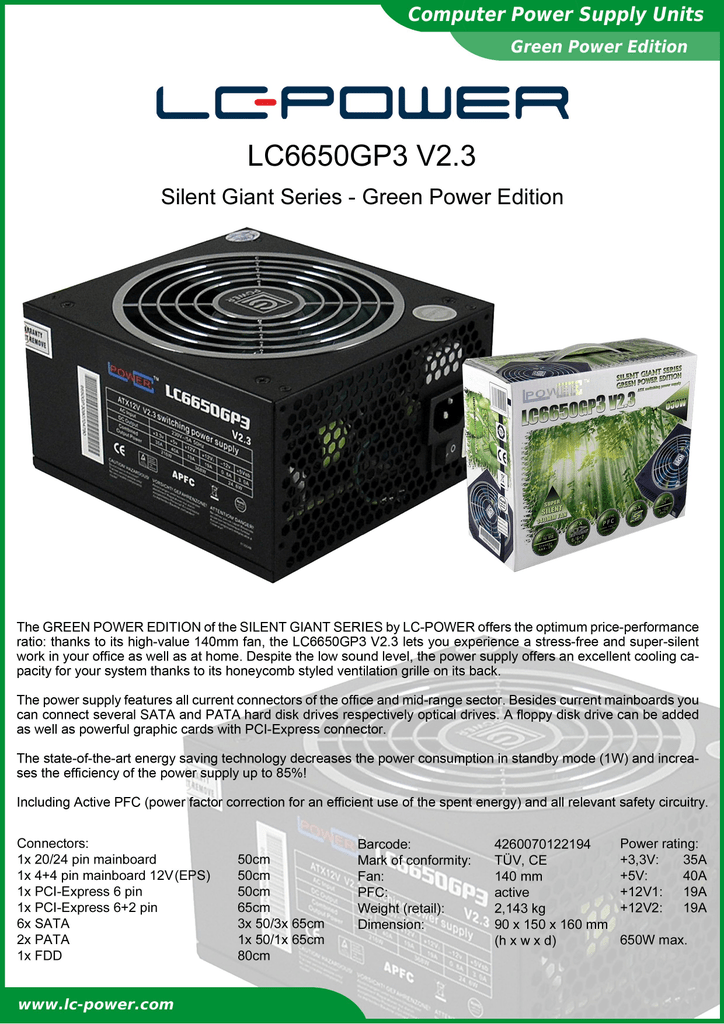 LC: CUE FR
LC6650GP3 V2.3
Silent Giant Series - Green Power Edition
The GREEN POWER EDITIÓN of the SILENT GIANT SERIES by LC-POWER offers the optimum price-performance
ratio: thanks to its high-value 140mm fan, the LC6650GP3 V2.3 lets you experience a stress-free and super-silent
work in your office as well as at home. Despite the low sound level, the power supply offers. an excellent cooling ca-
pacity for your system thanks to its honeycomb styled ventilation grille on its back.
The power supply features all current connectors of the office and mid-range sector. Besides current mainboards you
can connect several SATA and PATA hard disk drives respectively optical drives. A floppy disk drive can be added
as well as powerful graphic cards with PCI-Express connector.
The state-of-the-art energy saving technology decreases the power consumption in standby mode (1W) and increa-
ses the efficiency of the power supply up to 85%!
Including Active PFC (power factor correction for an efficient use of the spent energy) and all relevant safety circuitry.
Connectors:
1x 20/24 pin mainboard
1x 4+4 pin mainboard 12V (EPS)
1x PCI-Express 6 pin
1x PCI-Express 6+2 pin
6x SATA
2x PATA
1x FDD
50cm
50cm
50cm
65cm
3x 50/3x 65cm
1x 50/1x 65cm
80cm
Barcode:
Mark of conformity:
Fan:
PFC:
Weight (retail):
Dimension:
4260070122194
TUV, CE
140 mm
active
2,143 kg
90 x 150 x 160 mm
(hx w xd)
Power rating:
+3,3V: 35A
+5V: 40A
+12V1: 19A
+12V2: 19A
650W max.

* Your assessment is very important for improving the work of artificial intelligence, which forms the content of this project