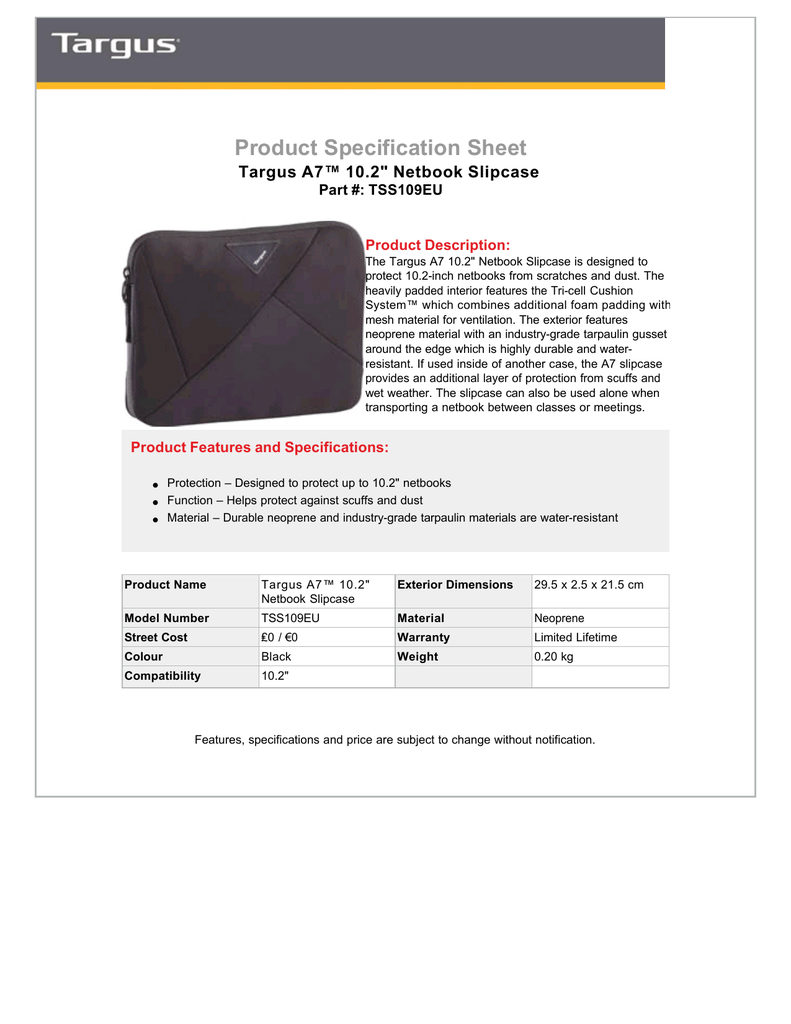 Product Specification Sheet
Targus A7™ 10.2" Netbook Slipcase
Part #: TSS109EU
Product Description:
The Targus A7 10.2" Netbook Slipcase is designed to
protect 10.2-inch netbooks from scratches and dust. The
heavily padded interior features the Tri-cell Cushion
System™ which combines additional foam padding with
mesh material for ventilation. The exterior features
neoprene material with an industry-grade tarpaulin gusset
around the edge which is highly durable and waterresistant. If used inside of another case, the A7 slipcase
provides an additional layer of protection from scuffs and
wet weather. The slipcase can also be used alone when
transporting a netbook between classes or meetings.
Product Features and Specifications:
●
●
●
Protection – Designed to protect up to 10.2" netbooks
Function – Helps protect against scuffs and dust
Material – Durable neoprene and industry-grade tarpaulin materials are water-resistant
Product Name
Targus A7™ 10.2"
Netbook Slipcase
Exterior Dimensions
29.5 x 2.5 x 21.5 cm
Model Number
TSS109EU
Material
Neoprene
Street Cost
₤0 / €0
Warranty
Limited Lifetime
Colour
Black
Weight
0.20 kg
Compatibility
10.2"
Features, specifications and price are subject to change without notification.

* Your assessment is very important for improving the work of artificial intelligence, which forms the content of this project