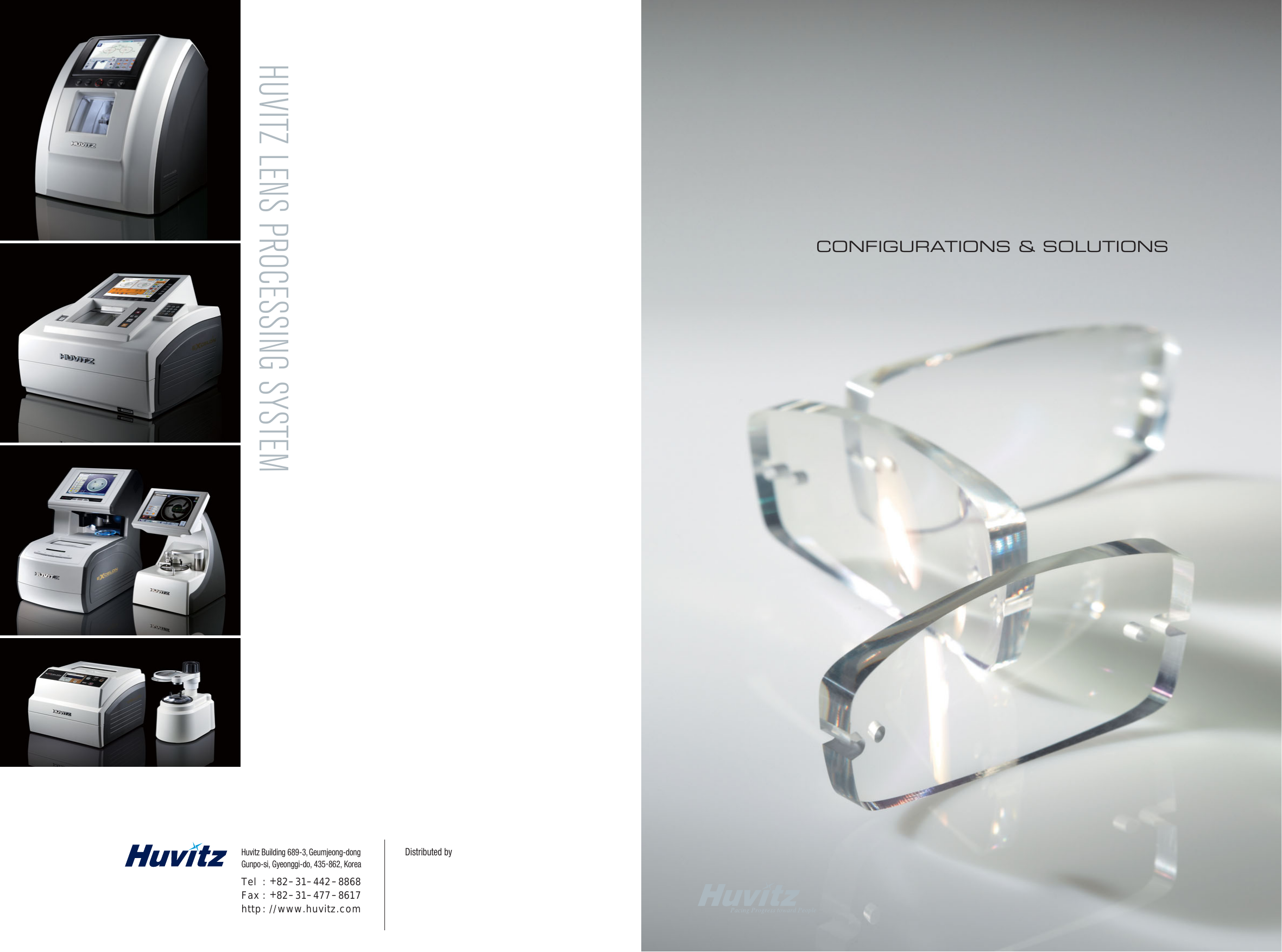 HUVITZ LENS PROCESSING SYSTEM
Huvitz Building 689-3, Geumjeong-dong
Gunpo-si, Gyeonggi-do, 435-862, Korea
Tel : + 82-31-442 -8868
Fax : + 82-31-477 -8617
http : // www.huvitz.com
CONFIGURATIONS & SOLUTIONS
Distributed by
EXCELON-XQ EDGER / Express Edger Without Drilling
EXCELON-XD EDGER / Express Edger with Intergrated Drilling
The faster speed and superior efficiency by drill integrated high-end edger / Excelon-XD
The faster speed and superior efficiency / Excelon XQ
Fast Hole Editing
Touch Screen
Dual Side Feeler
Inside Edging Room Illumination
LCD Tilting Function
Fast and easy hole editing functions with
'drag & drop option' offers you maximum
work efficiency.
As a well known world pioneer of 'Digital
Pattern' function, Huvitz offers you even
more improved shape modification choices
with drag & drop function on touch screen.
2 lens feelers come together to read the
lens simultaneously from the front and rear
sides, offering 50% faster lens reading.
Highly durable LED light makes easy
observation of the edging process
possible.
Operator's view angle is taken into
account with the adjustable screen, to
improve work efficiency.
(standing / seated / tall / short )
Dual CPU
The world first dual 'CPU implementation'
is another milestone of the Excelon series
which offers you fully supported multitasking, allowing you to load and edit
'next job' during edging.
SD Card Storage / Memory
SD card implementation; means a new
level of data management and compatibility.
30 Degree Tilting Drill
Real-Time Edging Status Display
Bigger Wheels
1 Horse Power Direct Motor Drive
Highly curved lenses and needing holes
are supported with up to '30 degrees of
tilting drill function'.
Edged sections, lens thicknesses, rotation
etc, are displayed in 'real-time' during the
edging process.
Bigger cutting wheels and 'direct drive
motor system' offers you 30% faster cutting.
Direct motor drive offers powerful cutting
and performance, reducing vibration and noise.
Automatic Edging Room Door
Automatic door enables safer, faster and
easier operation.
Industry leading and maximum data storage
is possible, with full PC compatibility and
data interchangeability.
* With standard 1G SD card, the system
permits you to store more than thousands
of jobs.
EXCELON EDGER / 3D Patternless Edger with Digital Pattern Layout
Imagine creating a 3D materialize as patternless automatic edger / Excelon
Bevel Position Adjustment
Adjustable Precision Grooving
Safety Beveling / Automatic Polishing
The bevel position can be adjusted in
0.01mm increments relative to the front
curve, back curve, thickness, or base
curve of the lens.
The position, width, and depth of the
groove can be adjusted in 0.01mm
increments.
Safety bevel all materials on one or both sides
3D Lens Measurement with Lens Feeler
Grinding Wheel / Powerful Motor
Efficient and Silent Operation
Optimal beveling and grooving with 3dimensional measurement
Four grinding wheels enable the Excelon
to edge all lens materials.
Numeric keypad permits rapid data entry.
Digital Pattern Layout
The 'Digital Pattern Layout' allows users to
modify lens width, height, and circumference
and manage the fitting challenges posed
by rimless and semi-rimless frames.
Operators can choose between optical
and geometric-centered layouts.
Layouts for far vision and near vision in
bifocal lens mode are provided.
Polish beveled, grooved, and flat-edged
lenses
The horizontal PD can be easily adjusted.
Multiple input methods for setting the
height of multi-focal progressive lenses
are available.
When replacing frames the sizes of the
old and new frames can be conveniently
compared on screen.
Servo motor drive offers powerful cutting
and performance, reducing vibration and
noise.
Advanced 3-dimensional digital technology
substantially reduces the overall cycle time.
Manage multiple jobs simultaneously for
improved efficiency.
The inverter mechanism minimizes noise
during the edging process, ensuring a
comfortable work environment.
CAB-4000 AUTO BLOCKER / All in One & Full Automation Blocker
Tracer, lensmeter, blocker that integrated the auto-blocker / CAB-4000
Completely Integrated / Fully Automated
Automatic Lens Recognition
Digital Pattern Layout
Automatic Blocking
Graphic Interface / Touch Screen Monitor
Tracing, metering, and blocking are fully
integrated and ensure superior precision
by reducing the potential for user error.
The advanced system automatically
recognizes the type of lens being used
(single vision, bi-focal, or progressive) as
soon as it is set in position.
The 'Digital Pattern Layout' menu allows
users to modify lens width, height, and
circumference and manage the fitting
challenges posed by rimless and semirimless frames.
Upon setting the lens in position the
blocking center is displayed on screen.
The intuitive icon-based interface permits
users of all experience levels to easily
manage the entire finishing process.
Frame reading, lens centering, and
blocking are performed automatically for
maximum speed and convenience.
The system will automatically block the
lens at its geometric or optical center; the
user may elect their preference or rely on
the default setting.
The high resolution touch screen monitor
allows users to easily control all of the
system's functions.
Precise Scanning /
Intelligent Data Transmission
The CAB-4000 provides binocular three
dimensional scanning, making data
collection easier and more precise.
Tracing data, FPD, frame diameter, and
other key changes are transmitted to the
edger in real-time, assuring interoperability.
Directly Input Lens Layout / Edging Options
Integrated Lensmeter
Advanced Image Processing
3 Joint Motorized Robot Arm
Data Storage
Users can complete all lens layout work,
adjust parameters (such as PD & OH
values), and select edging options.
The integrated lensmeter provides the
spherical value, cylindrical value, and axis
of the lens upon scanning.
The patented 3 joint motorized robot arm
is efficient and extremely precise.
Up to 1,000 patterns can be stored within
the system's large database, allowing
users to access saved jobs at any time.
The information is directly transferred to the
edger by simply pressing the start button.
Single vision lenses do not need to be marked.
Advanced image processing technology
permits the CAB-4000 to recognize any
lens shape, ensuring utmost precision
when detecting progressive, bi-focal, and
blended lenses.
CFR-4000 TRACER
HBK-7000 SMART BLOCKER
Intuitive and easy-blocker using graphic icons / HBK-7000
Immaculate 3D scan of the frame reader / CFR-4000
Easy Graphic Interface
Touch Screen
Lens Leveling Holder
High Resolution Digital Filtering
3 Dimensional Tracing
3D icons and a simple touch screen allow
users to understand the menu with ease.
Lens shapes, hole / notch positions and
sizes can be easily modified with a simple
touch of the screen.
For the most accurate blocking, the HBK7000 has a lens leveling holder which is
adaptive for any kind of lens.
Frame reader capable of reading 16,000
points and digital filtering assure the
maximum accuracy.
Fast and adaptable tracing for all frame
materials, plus demo lens tracing, makes
for increased accuracy and efficiency.
High resolution LCD screen with 20
degrees of tilting angle offers you a better,
more efficient working environment.
SD Card Data Sharing
Binocular and monocular tracings are
both available for increased accuracy and
efficiency.
Data transfer of FPD to Edger /
Data Storage
All data can be shared and stored into an
SD card.
LED Lamp
Bright LED lamp has Lifetime durability
and makes for easy work.
Automatic data transfer of FPD to edger
Save up to 300 frames, and barcode
recognition information is also available.
SYSTEM CONFIGURATIONS & SOLUTIONS
Stand-Alone System
Remote Tracer & PC Interface
•Add Z-axis info to the tracer output
•Develop the PC application HERA IntraWorks
•Add an option to the HERA IntraWorks that makes it export the frame data in even angles
SYSTEM CONFIGURATIONS & SOLUTIONS
Remote Edger & PC Interface
Remote Edging Solution with The Huvitz Excelon Remote Assistant
•Add an option to the Auto Blocker to receive and to recognize frame data from PC thru its EDGER-2 port
•Add an option to the Smart Blocker to receive and to recognize frame data from PC thru its TRACER port
•Add functions to the Smart Blocker allowing the edger to request job data to the Smart Blocker
•Add functions to the HERA to support downloading job data to Auto Blocker device
SYSTEM CONFIGURATIONS & SOLUTIONS
EDGER
EXCELON-XD
Intra-Lab Networking Solution
•Develop the HERA IntraWorks
•Add export/import function to the HERA IntraWorks for frame DB migration
EXCELON
Lens Material
Plastic, Polycarbonate, High Index Plastic, Glass, Trivex
Finishing Type
Drilling
Beveling, Flat Edging, Grooving, Safety Beveling, Polishing
Size : 0.8mm or 1.0mm (Diameter), Tilting Scope : 0 ~ +30 Degrees
Number of Holes : Unlimited, Hole Size : Unlimited, Hole Coordinates : x, y
Hole Type : Hole, Slot, Notch, Counterbore
Hole Depth : 0.0 ~ 6.0mm (0.0mm = Through Hole)
Maximum Lens ø90mm, Minimum Lens ø18mm
Edging Size
Operation
Utilities
Digital Pattern, Retouch
Bar Code Reader (Optional)
LCD Tilting Function, Automatic Edging Room Door, Inside Edging Room illumination,
SD Card Storage & Memory (Included), Bar Code Reader (Optional)
Display
10.4 Inch TFT Color Touch Display
High Brightness Wide TFT LCD Adopted
Dimensions/Weight
540(W) x 462(D) x 597(H)mm / 55kg
570(W) X 540(D) X 460(H) mm / 45kg
Power Supply
AC 100-120V / AC 200-240V 50 / 60Hz
AC 110-220V, 50/60Hz
1,200W (Maximum)
Power Consumption
BLOCKER
CAB-4000
Tracer
Layout
HBK-7000
Detection Methods
Photographs & Traces
Tracing Size
Dia 80mm or Less, Dia. 18mm or More
Lensmeter Camera
CCD B/W
Imaging Camera
SVGA Color 2x Image
Measurement
SPH, -20D~+15D, CYL: ±10D
Increment
0.01D
Lens Type
Single Lens, Progressive Lens, Bi-focal Lens
FPD
30~99.50 (in steps of 0.01mm)
Binocular PD
30~99.50 (in steps of 0.01mm)
Monocular PD
15.0~49.75
±15.00mm
OH
Layout Factors
FPD, PD (Binocular or Monocular), Cyl Axis, Bridge Size, OH (ΔY, Mixed Height, Box Height ), Lens Size (including adjustment),
Blocking Method
Automatic Blocking with Mechanical Arm
Frame Material (Metal, Plastic-Hard, Plastic-Soft), Digital Pattern
Blocking
Mode
Manual arm
Box Center & Optical Center
-0.5~+0.5mm
Accuracy
Pressure
Display
Data transmission
-1.0°~ +1.0°
LCD
8.4 inch TFT / 800x600 Color
Input Method
Touch Pad LCD, Buttons
Com PORT
PORT 1 / Edger 1, PORT 2 / Edger 2
port
Collateral
functions
2.5kgf
axis Tolerance
Data Storage
-0.5°~ +0.5°
8.4 inch TFT / 800x600 Color (Tilting range / 45°
~65°)
Touch Panel
Serial PORT
Edger 2 channels, Frame Reader 1 channel
PORT 3 / Tracer Out, PORT 4 / Bar Code Reader
Reserved 1 channels, Barcode Reader
Maximum 1,000 data
Ext. Memory SD Card
Digital Scanning
Photographs Lens Shape
Regulating LCD brightness
Control LED
Lens Type Interpretation
Single Lens, Progressive, Bi-Focal etc.
Designs and details can be changed without prior notice for the purposes of improvement.