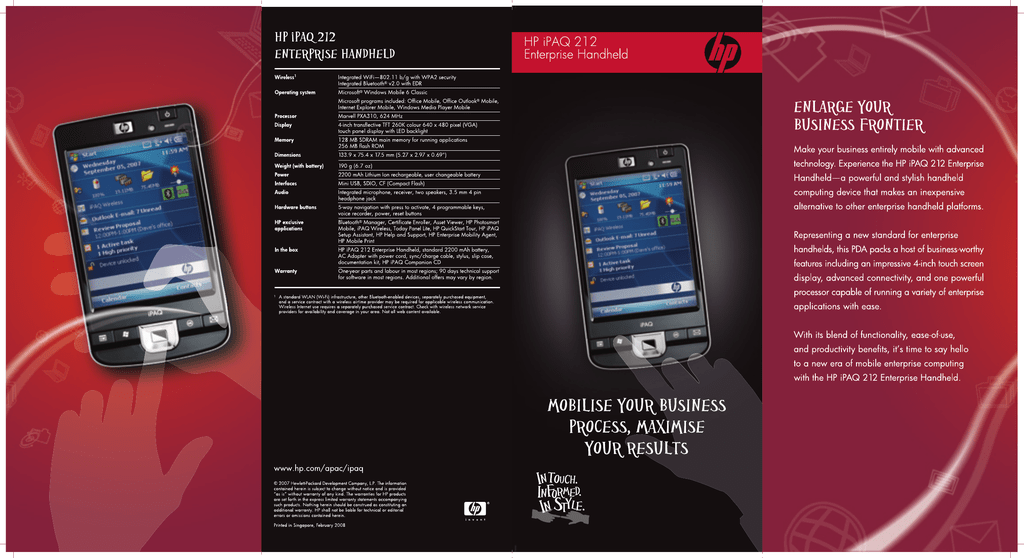 HP iPAQ 212
ENTERPRISE HANDHELD
HP iPAQ 212
Enterprise Handheld
Wireless!
Operating system
Processor
DI
Memory
Dimensions
Weight (with battery)
Power
Interfaces
Audio
Hardware buttons
HP exclusive
applications
In the box
Warranty
Integrated WiFi—802.11 b/g with WPA2 security
Integrated Bluetooth® v2.0 with EDR
Microsoft® Windows Mobile 6 Classic
Microsoft programs included: Office Mobile, Office Outlook® Mobile,
Internet Explorer Mobile, Windows Media Player Mobile
Marvell PXA310, 624 MHz
4-inch transflective TFT 260K colour 640 x 480 pixel (VGA)
touch panel display with LED backlight
128 MB SDRAM main memory for running applications
256 MB flash ROM
133.9 x 75.4 x 17.5 mm (5.27 x 2.97 x 0.69")
190 g (6.7 oz)
2200 mAh Lithium lon rechargeable, user changeable battery
Mini USB, SDIO, CF (Compact Flash)
Integrated microphone, receiver, two speakers, 3.5 mm 4 pin
headphone jack
5-way navigation with press to activate, 4 programmable keys,
voice recorder, power, reset buttons
Bluetooth® Manager, Certificate Enroller, Asset Viewer, HP Photosmart
Mobile, iPAQ Wireless, Today Panel Lite, HP QuickStart Tour, HP iPAQ
Setup Assistant, HP Help and Support, HP Enterprise Mobility Agent,
HP Mobile Print
HP iPAQ 212 Enterprise Handheld, standard 2200 mAh battery,
AC Adapter with power cord, sync/charge cable, stylus, slip case,
documentation kit, HP iPAQ Companion CD
One-year parts and labour in most regions; 90 days technical support
for software in most regions. Additional offers may vary by region.
ENLARGE YOUR
BUSINESS FRONTIER
Make your business entirely mobile with advanced
technology. Experience the HP iPAQ 212 Enterprise
Handheld—a powerful and stylish handheld
computing device that makes an inexpensive
alternative to other enterprise handheld platforms.
Representing a new standard for enterprise
handhelds, this PDA packs a host of business-worthy
features including an impressive 4-inch touch screen
display, advanced connectivity, and one powerful
processor capable of running a variety of enterprise
1 À standard WLAN (Wi-Fi) infrastructure, other Bluetooth-enabled devices, separately purchased equipment, й
and a service contract with a wireless airtime provider may be required for pte Ab wireless communication. . . .
Wireless Internet use requires a separately purchased service contract. Check with wireless network service - qQ ppl ications with ease.
providers for availability and coverage in your area. Not all web content available.
With its blend of functionality, ease-of-use,
and productivity benefits, it's time to say hello
to a new era of mobile enterprise computing
with the HP iPAQ 212 Enterprise Handheld.
MOBILISE YOUR BUSINESS
PROCESS, MAXIMISE
YOUR RESULTS
www.hp.com/apac/ipag
© 2007 Hewlett-Packard Development Company, L.P. The information \N [ouCH.
contained herein is subject to change without notice and is provided M D
"as is" without warranty of any kind. The warranties for HP products № R/ E O
are set forth in the express limited warranty statements accompanying
such products. Nothing herein should be construed as constituting an h ® N [Е
additional warranty. HP shall not be liable for technical or editorial y °
errors or omissions contained herein.
invent
Printed in Singapore, February 2008
ENTERPRISE—CLASS MOBILITY
CE]
Enterprise-class
functionality
Experience the power of
Windows Mobile 6 Classic
and a platform designed to
work with an array of
enterprise applications.
These include applications for
email' and line-of-business.
Пы aa UE ME Ta
(EE paa
ET ik
| ны EI 15
©
Visual magnificence
Scroll through all your data
comfortably by enjoying
better visibility with a
luxuriously large 4-inch
TFT touch screen display.
Regardless the environment,
it is comfort for your eyes.
1 A standard WLAN infrastructure, other Bluetooth®-enabled devices, separately purchased
equipment, and a service contract with a wireless airtime provider may be required for
applicable wireless communication. Wireless Internet use requires a separately purchased
service contract. Check with service provider for availability and coverage in your area.
Not all web content available.
Fait
a" i
№ ол A A
A AL
STE
PP ee ET e = PTE
i a
per i RE ee TR
E L E
je я к uy
Enterprise-class
connectivity
Easily sync with
your PC via mini-USB
or Exchange server
with Wi-Fi connectivity.
Also connect conveniently
to various peripherals with
Bluetooth® 2.0 with EDR.
In addition, you can enjoy
unique business solutions with
the new HP 24-pin Connector*.
* Sold separately.
EE:
Sophisticated
networking
Advanced 802.11b/g
wireless networking
capabilities gives you easy
connection to the Internet,
email and corporate data
when in the office or a
variety of hot spots such as
airports, cafes or hotels.'
ACCESSORIES TO GET FOR YOUR iPAQ
TOP 5 MUST HAVE ACCESSORIES
HP iPAQ
BLUETOOTH? у
КЕХВОАВр
FA802AA#AC3
HP iPAQ 200 и
SCREEN PROTECTOR, °
FBO19AA#AC3
HP iPAQ 200 °
EXTENDED
BATTERY
FBO37AA#AC3
HP iPAQ UNIVERSAL *
WERNE у
FA920AA#AC3
HP iPAQ 200
BELT CASE
FBOT4AA#AC3
Fullsize keyboard features a sleek folding design
Weighs less than 6 oz and measures just 0.5 inch thin when closed
for easy storage and travel
Bluetooth® eliminates the need for wires, offering elegant typing
solution while in meetings or at a hotel
Protect your screen from scratches
Anti-glare coating allows use in direct sunlight
Includes handy cleaning cloth
Always have a spare battery and you'll never be without power
while on the go
Provides additional power to extend the life of your HP iPAQ
between charges
Replaceable, rechargeable Lithium-lon batteries
Universal fit for all HP iPAQ handhelds
Quickly and easily mount your HP iPAQ in your car for handsfree
or GPS use
Mount on the windshield or dashboard with included dashboard disc
Professional leather and nylon style
Horizontal belt clip
Simple magnetic closure
* Pull tab for easy device removal
OTHER ACCESSORIES
HP iPAQ 200 Standard Battery Ideal for extending your battery life on the go.
FBO36AA#AC3
HP iPAQ 200 Series Sync/ Ideal as USB connectivity for your PC. Works with the
Charge cable, 24 Pinto USB AC adapter or automobile adapter (sold separately)
FBO72AA#AC3
to charge your HP iPAQ.
HP iPAQ 200 Series Enhanced
Sync/Charge Cable
FB112AA#AC3
AC Adapter TOW (5V 2A)
FA372B#AC3
HP iPAQ 200 Skin-Fit Case
FBO16AA#AC3
HP iPAQ 200 Stylus Kit
FBO20AA#AC3
HP iPAQ Stereo Wired
Headset 3.5 mm
FBO33AA#AC3
HP iPAQ Bluetooth®
Stereo Headphones
FA3O3AA#AC3
HP iPAQ 256/512 MB;
1/2 GB
Micro SD Memory
FAB74AA#ACS;
FA875AA#AC3;
FA876AA#ACS;
FA877AA#AC3
Ideal for charging and syncing your HP iPAQ all around
the world. Includes 10 watt charger and global,
multi-head plugs.
Formfitting silicone skins in various colours. Offers bump
and scratch protection plus access to key product functions.
Ideal for stylus replacement. Ensures perfect fit with your
HP iPAQ. Soft plastic tip prevents scratches on the display.
Ideal for high-fidelity stereo sound for music and video.
Standard 3.5 mm jack enables use on other portable
electronic devices.
Ideal for wireless playback. Exceptional sound quality
and secure fit with controls placed on the ear piece.
Includes bag and charger. Each charge gives up to
8 hours of listening.
Ideal for high-fidelity music and video stereo sound.
Ideal for increasing the available memory for files, data,
music, pictures and software applications. Transfer files
between SD card devices. Universally compatible with
microSD card slots, miniSD card slots and full size SD
card slots with the included adapters.