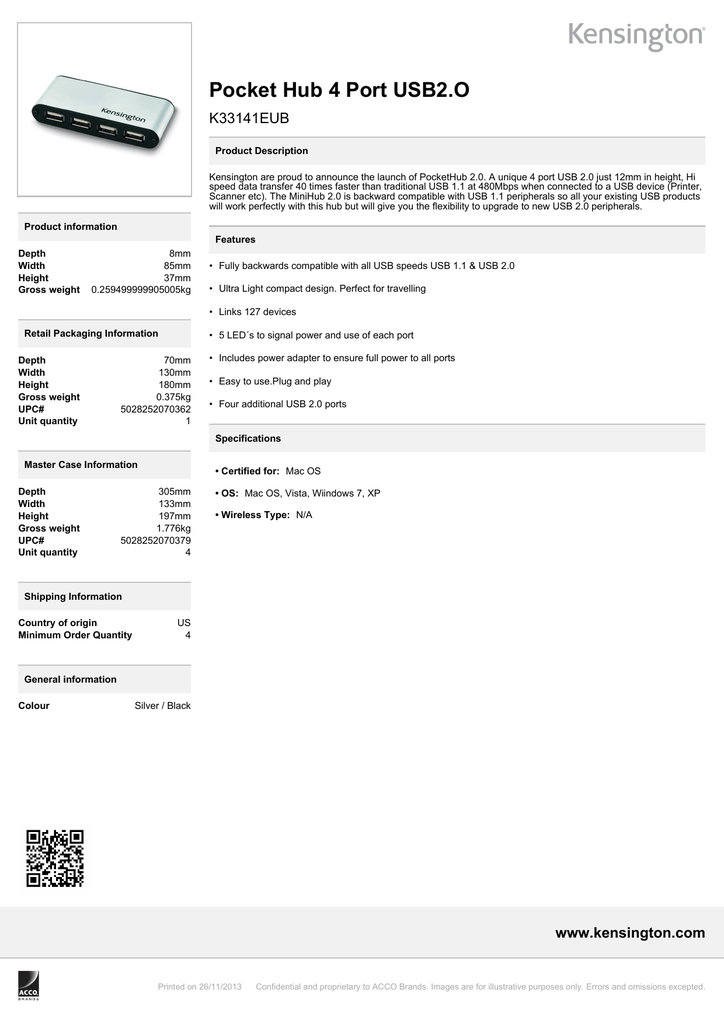 Pocket Hub 4 Port USB2.O
K33141EUB
Product Description
Kensington are proud to announce the launch of PocketHub 2.0. A unique 4 port USB 2.0 just 12mm in height, Hi
speed data transfer 40 times faster than traditional USB 1.1 at 480Mbps when connected to a USB device (Printer,
Scanner etc). The MiniHub 2.0 is backward compatible with USB 1.1 peripherals so all your existing USB products
will work perfectly with this hub but will give you the flexibility to upgrade to new USB 2.0 peripherals.
Product information
Features
Depth
Width
Height
Gross weight
8mm
85mm
37mm
0.259499999905005kg
• Fully backwards compatible with all USB speeds USB 1.1 & USB 2.0
• Ultra Light compact design. Perfect for travelling
• Links 127 devices
Retail Packaging Information
Depth
Width
Height
Gross weight
UPC#
Unit quantity
• 5 LED´s to signal power and use of each port
70mm
130mm
180mm
0.375kg
5028252070362
1
• Includes power adapter to ensure full power to all ports
• Easy to use.Plug and play
• Four additional USB 2.0 ports
Specifications
Master Case Information
Depth
Width
Height
Gross weight
UPC#
Unit quantity
• Certified for: Mac OS
305mm
133mm
197mm
1.776kg
5028252070379
4
• OS: Mac OS, Vista, Wiindows 7, XP
• Wireless Type: N/A
Shipping Information
Country of origin
Minimum Order Quantity
US
4
General information
Colour
Silver / Black
www.kensington.com
Printed on 26/11/2013
Confidential and proprietary to ACCO Brands. Images are for illustrative purposes only. Errors and omissions excepted.

* Your assessment is very important for improving the work of artificial intelligence, which forms the content of this project