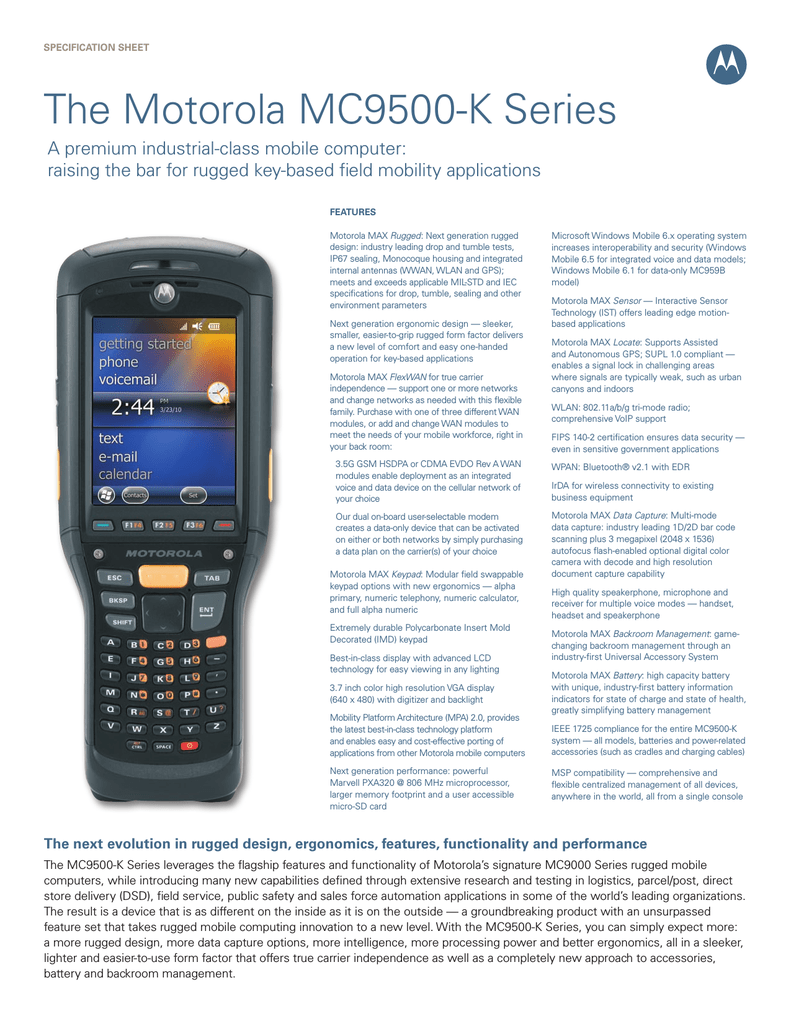 SPECIFICATION SHEET
The Motorola MC9500-K Series
A premium industrial-class mobile computer:
raising the bar for rugged key-based field mobility applications
FEATURES
Motorola MAX Rugged: Next generation rugged
design: industry leading drop and tumble tests,
IP67 sealing, Monocoque housing and integrated
internal antennas (WWAN, WLAN and GPS);
meets and exceeds applicable MIL-STD and IEC
specifications for drop, tumble, sealing and other
environment parameters
Next generation ergonomic design — sleeker,
smaller, easier-to-grip rugged form factor delivers
a new level of comfort and easy one-handed
operation for key-based applications
Motorola MAX FlexWAN for true carrier
independence — support one or more networks
and change networks as needed with this flexible
family. Purchase with one of three different WAN
modules, or add and change WAN modules to
meet the needs of your mobile workforce, right in
your back room:
Microsoft Windows Mobile 6.x operating system
increases interoperability and security (Windows
Mobile 6.5 for integrated voice and data models;
Windows Mobile 6.1 for data-only MC959B
model)
Motorola MAX Sensor — Interactive Sensor
Technology (IST) offers leading edge motionbased applications
Motorola MAX Locate: Supports Assisted
and Autonomous GPS; SUPL 1.0 compliant —
enables a signal lock in challenging areas
where signals are typically weak, such as urban
canyons and indoors
WLAN: 802.11a/b/g tri-mode radio;
comprehensive VoIP support
FIPS 140-2 certification ensures data security —
even in sensitive government applications
3.5G GSM HSDPA or CDMA EVDO Rev A WAN
modules enable deployment as an integrated
voice and data device on the cellular network of
your choice
WPAN: Bluetooth® v2.1 with EDR
Our dual on-board user-selectable modem
creates a data-only device that can be activated
on either or both networks by simply purchasing
a data plan on the carrier(s) of your choice
Motorola MAX Data Capture: Multi-mode
data capture: industry leading 1D/2D bar code
scanning plus 3 megapixel (2048 x 1536)
autofocus flash-enabled optional digital color
camera with decode and high resolution
document capture capability
Motorola MAX Keypad: Modular field swappable
keypad options with new ergonomics — alpha
primary, numeric telephony, numeric calculator,
and full alpha numeric
Extremely durable Polycarbonate Insert Mold
Decorated (IMD) keypad
Best-in-class display with advanced LCD
technology for easy viewing in any lighting
3.7 inch color high resolution VGA display
(640 x 480) with digitizer and backlight
Mobility Platform Architecture (MPA) 2.0, provides
the latest best-in-class technology platform
and enables easy and cost-effective porting of
applications from other Motorola mobile computers
Next generation performance: powerful
Marvell PXA320 @ 806 MHz microprocessor,
larger memory footprint and a user accessible
micro-SD card
IrDA for wireless connectivity to existing
business equipment
High quality speakerphone, microphone and
receiver for multiple voice modes — handset,
headset and speakerphone
Motorola MAX Backroom Management: gamechanging backroom management through an
industry-first Universal Accessory System
Motorola MAX Battery: high capacity battery
with unique, industry-first battery information
indicators for state of charge and state of health,
greatly simplifying battery management
IEEE 1725 compliance for the entire MC9500-K
system — all models, batteries and power-related
accessories (such as cradles and charging cables)
MSP compatibility — comprehensive and
flexible centralized management of all devices,
anywhere in the world, all from a single console
The next evolution in rugged design, ergonomics, features, functionality and performance
The MC9500-K Series leverages the flagship features and functionality of Motorola's signature MC9000 Series rugged mobile
computers, while introducing many new capabilities defined through extensive research and testing in logistics, parcel/post, direct
store delivery (DSD), field service, public safety and sales force automation applications in some of the world's leading organizations.
The result is a device that is as different on the inside as it is on the outside — a groundbreaking product with an unsurpassed
feature set that takes rugged mobile computing innovation to a new level. With the MC9500-K Series, you can simply expect more:
a more rugged design, more data capture options, more intelligence, more processing power and better ergonomics, all in a sleeker,
lighter and easier-to-use form factor that offers true carrier independence as well as a completely new approach to accessories,
battery and backroom management.
MC9500-K Specifications
Physical Characteristics
Talk Time:
8 hours (minimum/suspend mode)
Dimensions:
9.2 in. H x 3.5 in. W x 2 in. D
23.36 cm H x 8.89 cm W x 5.08 cm D
User Profiles:
Weight:
22 oz./623 g
(including battery, stylus, keypad & strap)
Display:
3.7 in. VGA Color (TFT) Display (640 x 480) with
touch panel and backlight
Outdoor WAN+GPS: 15 min./hour voice
communication, 10KB transmission every
10 min, and GPS on all time, default out-of-box
configuration of other parameters, minimum
8 hours of operation
Touch Panel:
Polycarbonate analog resistive touch
Backlight:
LED Backlight
Keypad Options:
Modular: alpha primary; numeric telephony,
numeric calculator, alpha numeric
Expansion Slot:
microSD slot — supports up to 32 GB
Notifications:
Programmable LEDs; Audio notifications;
Vibrator alerts
Performance Characteristics
Outdoor Voice: 15 min./hour voice communication,
default out-of-box configuration of other parameters,
minimum 8 hours of operation
Outdoor Scan: 600 scans and WAN transmits
per hour, default out-of-box configuration of other
parameters, minimum 8 hours of operation
Data Capture Options
Scanning:
1D Scanner; 2D Imager; 3 MP auto-focus
flash-enabled digital color camera with
symbology decode software
CPU:
Marvell PXA320 @ 806 MHz
Operating System:
All models except MC959B:
Windows Mobile 6.5
(Classic and Professional editions)
MC959B: Windows Mobile 6.1
Scan Angle:
Optimized for scanning (15° downward angle)
Options:
Available options: 1D laser scanner;
2D imager; 1D laser scanner and camera;
2D imager and camera
256MB RAM/1GB Flash
Color Camera
Memory:
User Environment
Drop Specification:
Tumble Specification:
6 ft./1.8 m drop to concrete across the operating
temperature range; meets and exceeds
applicable MIL-STD-810G drop specifications
2000 3.2 ft./1 m tumbles (4,000 hits) at room
temperature; meets and exceeds applicable
IEC tumble specifications
Resolution:
3 megapixel
Illumination:
User controllable flash
Lens:
Autofocus
1D Laser Scanner (SE950)
Range on 100% UPCA:
24 in./60 cm
Resolution:
4 Mil minimum element width
Operating Temperature:
-4° F to 122° F/-20° C to 50° C
Roll:
±35° from vertical
Storage Temperature:
Ambient to -40° F/-40° C
Ambient to 158° F/70° C RH 95%
Pitch Angle:
±65° from normal
Skew Tolerance:
±50° from normal
Sealing:
IP67 sealing; meets and exceeds applicable
IEC sealing specifications
Ambient Light Immunity: 10,000 ft. candles/107,640 lux
Humidity:
5 - 95% non-condensing
Vibration:
4g's PK Sine (5Hz to 2KHz); 0.04g2/Hz Random
(20Hz to 2KHz); 60 minute duration per axis, 3 axis
Thermal Shock:
-40° F to 158° F/-40° C to 70° C rapid transition
Focal Distance:
From center of exit window: SR – 7.5 in./19 cm
±15kv Air discharge, ±8kv direct discharge,
±8kv indirect discharge
Sensor Resolution:
752 x 480 pixels
Field of View:
Horizontal: 40°; Vertical: 25°
-1,200 ft. to 12,000 ft. operational;
15,000 ft. shipping
Skew Tolerance:
±60°
Pitch Tolerance:
±60°
Key and Trigger:
1 million presses
Roll Tolerance:
360°
Light Immunity:
Readability: Incandescent – 450 ft. candles;
Sunlight – 8000 ft. candles;
Fluorescent: 450 ft. candles
Ambient Light Immunity: 9,000 ft. candles/96,900 lux
ESD:
Altitude:
Standby Time:
104 (±12) scans/sec (bi-directional)
Scan Angle:
47° ±3° default; 35° ±3° reduced
2D Imager (SE4500SR)
Aiming LED (VLD):
655 ± 10 nm Laser
Illumination Element (LED): 625 ± 5 nm LEDs (2x)
Battery
Capacity:
Scan Rate:
Rechargeable Lithium Ion 4800 mAh battery
@ 3.7V – with State of Charge and State of
Health indicators
150 hours
Motorola Interactive Sensor Technology
Motion-sensor:
3-axis accelerometer that enables motion-sensing
applications for dynamic screen orientation, power
management and free-fall detects
Wireless WAN Voice and Data Communications
Radio:
Modular 3.5G WAN (GSM HSDPA or CDMA
EVDO Rev A)
MC959B: Modular 3.5G Dual-WAN (GSM HSUPA
and CDMA EVDO Rev A)
Frequency Band:
HSDPA: 850, 900, 1800,1900, and 2100 MHz
EVDO Rev A: 850 and 1900 MHz
Antenna:
Internal antenna w/diversity
Integrated GPS
GPS:
Integrated standalone or Assisted-GPS (A-GPS)
through SUPL; SiRFstarIII GSC3f/LP chipset
Application Specific
Attachments:
Snap-on magnetic stripe reader
Soft Goods:
Rigid and soft case holsters
* For a complete list of MC9500-K Peripherals and Accessories,
please visit www.motorola.com/mc9500
Regulatory
Electrical Safety:
IEC/UL/CSA/EN 60950-1
Environmental:
RoHS compliant
WLAN and
Bluetooth (PAN):
USA: FCC Part 15.247, 15.407
Canada: RSS-210
EU: EN 300 328, EN 301 893
Japan: ARIB STD T33, T66, T70, T71
Australia: AS/NZS 4268
Wireless Wide Area
Network:
GSM-HSDPA
Global: 3GPP TS 51.010, 3GPP TS 34.121,
3GPP TS 34.123, GCF approved module
USA: FCC Part 22, Part 24
Canada: RSS-132, RSS-133
EU: EN301 511, EN301 908
Australia: AS/ACIF S 024
HAC compliant
Wireless LAN Voice and Data Communications
Radio:
Tri-mode IEEE® 802.11a/b/g
Security:
WPA2 (Personal or Enterprise); 802.1x; EAP-TLS;
TTLS (CHAP, MS-CHAP, MS-CHAPv2, PAP or
MD5); PEAP (TLS, MSCHAPv2, EAP-GTC); LEAP,
EAP-FAST (TLS, MS-CHAPv2, EAP-GTC); CCXv4
certified; support for IPv6; FIPS 140-2 Certified
Antenna:
Internal antenna w/diversity
Data Rates Supported:
1, 2, 5.5, 6, 9, 11, 12, 18, 24, 36, 48 and 54 Mbps
Operating Channels:
Chan 8-165 (5040 – 5825 MHz)
Chan 1-13 (2412-2472 MHz)
Chan 14 (2484 MHz) Japan only; actual operating
channels/frequencies depend on regulatory rules
and certification agency
CDMA-EVDO
USA: FCC Part 22, Part 24
Canada: RSS-129, RSS-133
HAC compliant
Voice Communications:
Voice-over-IP ready, Wi-Fi™-certified, IEEE
802.11a/b/g direct sequence wireless LAN,
Wi-Fi Multimedia™ (WMM), Motorola Voice
Quality Manager (VQM)
NOTE: Data only MC959B model is not HAC
compliant
RF Exposure:
USA: FCC Part 2, FCC OET Bulletin 65
Supplement C
Canada: RSS-102
EU: EN 50360
Japan: ARIB STD T56
Australia: Radiocommunications Standard 2003
EMI/RFI:
USA: FCC Part 15, Class B
Canada: ICES-003 Class B
EU: EN55022 Class B, EN 55024,
EN 301 489-1, EN 301 489-7,
EN 301 489-17, EN 301 489-19,
EN 301 489-24, EN 60601-1-2,
EN 50121-3-2, EN 50121-4
Australia: AS/NZS CISPR-22
Laser Safety:
IEC Class2 / FDA Class II in accordance with
IEC60825-1/EN60825-1
Wireless PAN Data and Voice Communications
Bluetooth®:
Class II, v2.1 with Enhanced Data Rate (EDR);
integrated antenna; FIPS 140-2 compliant
IrDA:
Infra-red port for connection to printers and
other devices
Voice and Audio
Audio:
VoWWAN; VoWLAN; TEAM Express compliant;
rugged audio connector; high-quality
speakerphone; support for wired and wireless
(Bluetooth) headsets; headset, handset and
speaker phone modes (Applies to all models
except MC959B, which is data only)
Network Communications
I/O:
USB 2.0 Client (High Speed) or USB 1.1 host
(Full Speed); USB (via 1-bay cradle) or Ethernet
(via 4-bay cradle)
For countries outside USA, Canada, European Economic Area, Japan, or
Australia, consult your local Motorola representative
Hazardous Location Certifications
Peripherals and Accessories*
UL Class I, II, III Division 2, Groups A, B, C, D, F, G (Select Configurations Only)
Communication and
Charging Cables:
Charge only cable, auto charge cable, USB charge/
sync cable, DEX cable, modem adapter cable
Warranty
Battery Chargers/
Cradles:
4-slot battery charger; 1-slot battery charger;
4-bay Ethernet cradle; 4-bay charge only cradle;
single bay USB cradle; vehicle battery charger
using auto charge cable; vehicle cradle with
charging capabilities
The MC9500-K Series is warranted against defects in workmanship and
materials for a period of 12 months from date of shipment, provided that
the product remains unmodified and is operated under normal and proper
conditions.
Recommended Services
Customer Services:
Service from the Start with Comprehensive Coverage
SPECIFICATION SHEET
The Motorola MC9500-K Series
A premium industrial-class mobile computer: raising the bar for rugged key-based field mobility applications
motorola.com
Part number SS-MC9500-K. Printed in USA 05/11. MOTOROLA, MOTO, MOTOROLA SOLUTIONS and the Stylized M Logo are trademarks or registered trademarks of Motorola
Trademark Holdings, LLC and are used under license. All other trademarks are the property of their respective owners. © 2011 Motorola Solutions, Inc. All rights reserved. For
system, product or services availability and specific information within your country, please contact your local Motorola office or Business Partner. Specifications are subject to
change without notice.