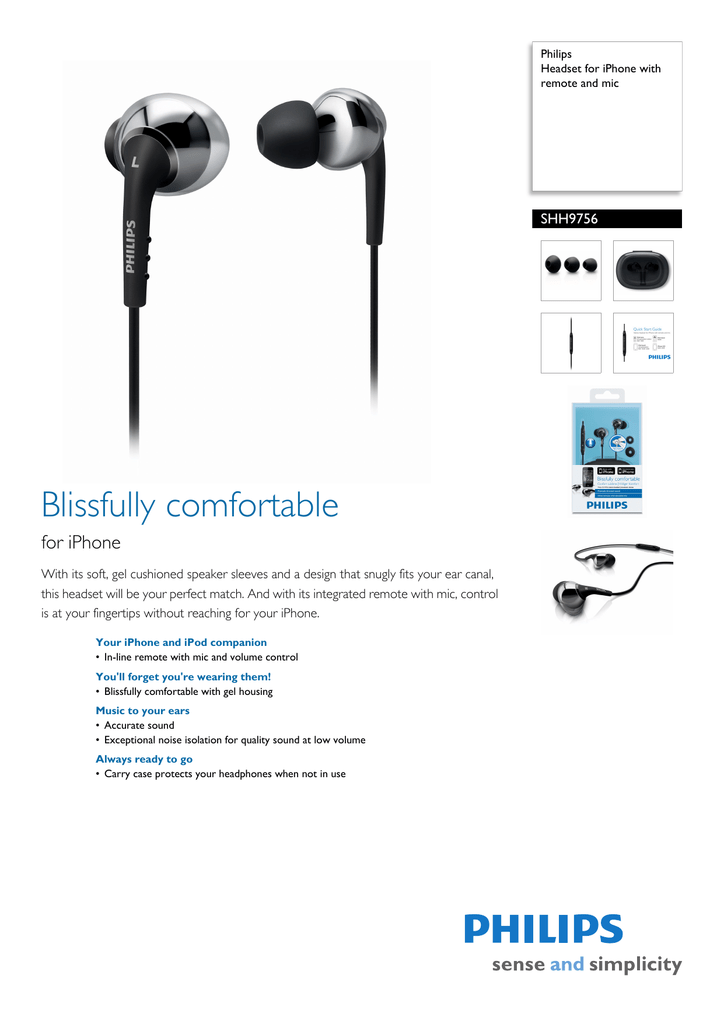 Philips
Headset for iPhone with
remote and mic
SHH9756
Blissfully comfortable
for iPhone
With its soft, gel cushioned speaker sleeves and a design that snugly fits your ear canal,
this headset will be your perfect match. And with its integrated remote with mic, control
is at your fingertips without reaching for your iPhone.
Your iPhone and iPod companion
• In-line remote with mic and volume control
You'll forget you're wearing them!
• Blissfully comfortable with gel housing
Music to your ears
• Accurate sound
• Exceptional noise isolation for quality sound at low volume
Always ready to go
• Carry case protects your headphones when not in use
SHH9756/00
Headset for iPhone with remote and mic
Specifications
Sound
•
•
•
•
•
•
•
•
•
•
Frequency response: 5 - 23,500 Hz
Speaker diameter: 8.6 mm
Acoustic system: Open
Magnet type: Neodymium
Voice coil: CCAW
Diaphragm: Mylar dome
Impedance: 16 Ohm
Maximum power input: 50 mW
Sensitivity: 103 dB
Type: Dynamic
Connectivity
•
•
•
•
•
Cable length: 1.2 m
Connector: 3.5 mm plug (4 poles) for iPhone/iPod
Finishing of connector: 24k Gold-plated
Type of cable: OFC
Compatible with:: iPhone 3GS, iPod touch 2nd
generation, iPod classic 120 GB, iPod nano 4th
generation (video) (Your iPhone or iPod may
require the latest software for support of mic and
volume control).
Convenience
• Volume control
Highlights
Inner Carton
•
•
•
•
•
•
EAN: 87 12581 50093 1
Number of consumer packages: 6
Inner carton (L x W x H): 26 x 10.5 x 16.8 cm
Gross weight: 0.628 kg
Net weight: 0.0744 kg
Tare weight: 0.5536 kg
Outer Carton
•
•
•
•
•
•
EAN: 87 12581 50089 4
Number of consumer packages: 96
Outer carton (L x W x H): 53.5 x 43.5 x 35.8 cm
Gross weight: 11 kg
Net weight: 1.1904 kg
Tare weight: 9.8096 kg
Packaging dimensions
•
•
•
•
EAN: 87 12581 50085 6
Number of products included: 1
Packaging type: Blister
Packaging dimensions (W x H x D):
9.5 x 17.2 x 4 cm
• Gross weight: 0.093 kg
• Net weight: 0.0124 kg
• Tare weight: 0.0806 kg
•
Issue date 2010-01-30
© 2010 Koninklijke Philips Electronics N.V.
All Rights reserved.
Version: 2.2.4
Specifications are subject to change without notice.
Trademarks are the property of Koninklijke Philips
Electronics N.V. or their respective owners.
12 NC: 8670 000 55676
EAN: 87 12581 50085 6
www.philips.com
In-line remote with mic
Want to skip a track? Change the volume? Accept or
reject a call? Record a voice memo? The remote
features a sensitive mic as well as volume controls,
call and skip functions. It can also trigger voice
control. With this headset, control is at your
fingertips - no need to keep your iPhone or iPod
accessible or to unlock the screen.
Blissfully comfortable
Designed for blissful comfort, these headphones are
wrapped in a gel sleeve. The soft sleeve gently
moulds to the shape of your outer ear to make these
your new favourite headphones.
Accurate sound
Ergonomically designed to deliver accurate sound
directly into your ear. A perfect seal keeps noise out
for pure immersion in your music and calls.
For best sound at low volume
You don't have to turn up the volume in noisy places
any more. Angled Acoustic Pipe and the perfectly
sealing ear buds cut off background noise
significantly, delivering the same quality sound at a
lower volume and with a longer battery life.

* Your assessment is very important for improving the work of artificial intelligence, which forms the content of this project