DeLOCK 65775 battery charger Datasheet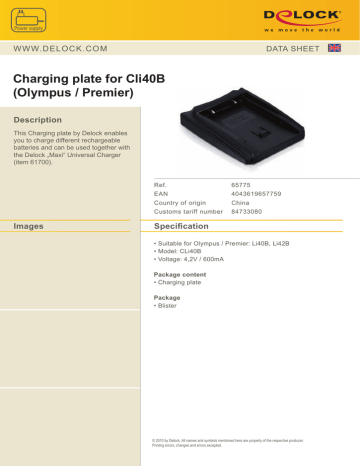 Power supply
DATA SHEET
WWW. D E L O C K . C O M
Charging plate for Cli40B
(Olympus / Premier)
Description
This Charging plate by Delock enables
you to charge different rechargeable
batteries and can be used together with
the Delock "Maxi" Universal Charger
(item 61700).
Images
Ref.
65775
EAN
4043619657759
Country of origin
China
Customs tariff number
84733080
Specification
• Suitable for Olympus / Premier: Li40B, Li42B
• Model: CLi40B
• Voltage: 4,2V / 600mA
Package content
• Charging plate
Package
• Blister
© 2010 by Delock. All names and symbols mentioned here are property of the respective producer.
Printing errors, changes and errors excepted.

* Your assessment is very important for improving the workof artificial intelligence, which forms the content of this project