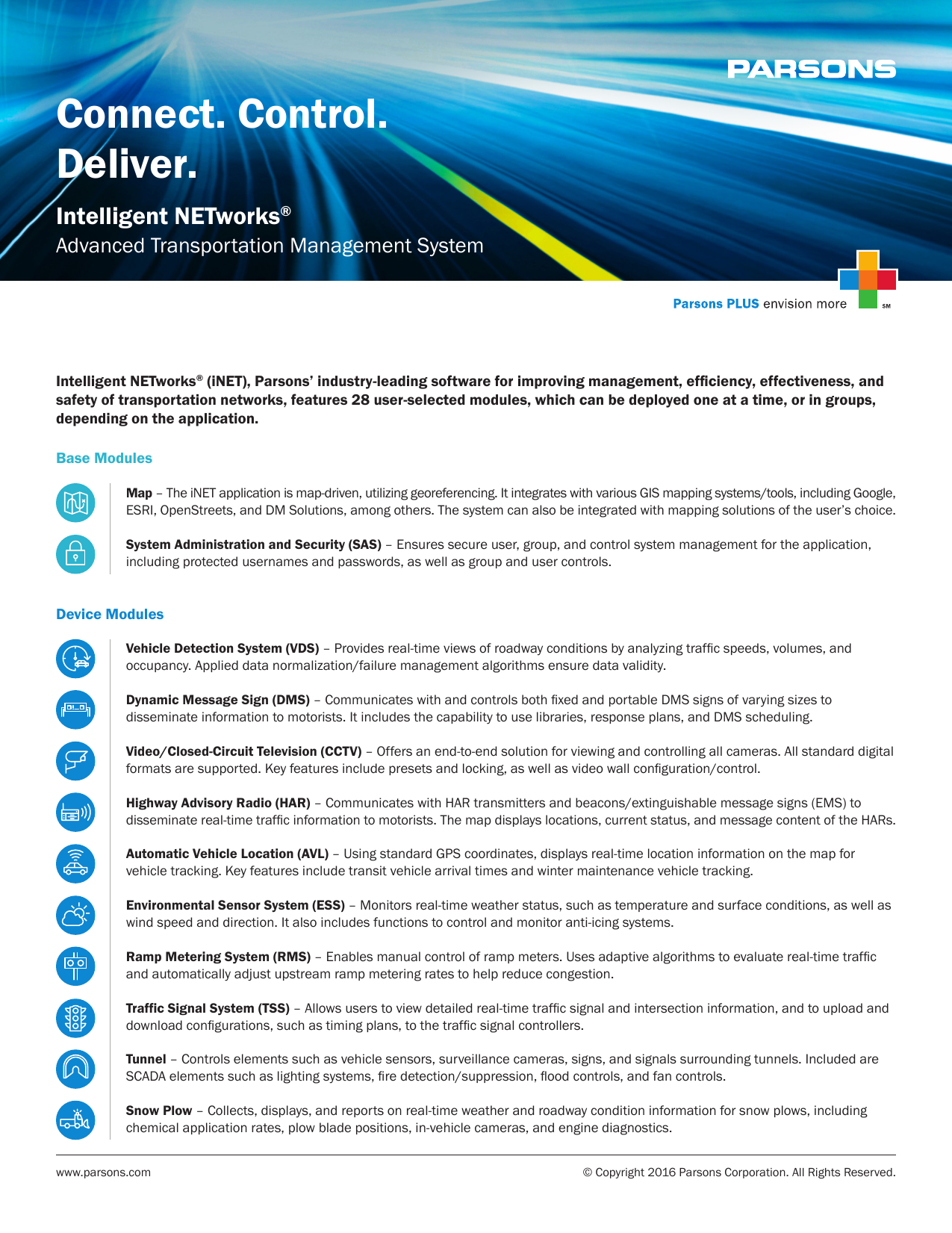 Connect. Control.
Deliver.
Intelligent NETworks®
Advanced Transportation Management System
Intelligent NETworks® (iNET), Parsons' industry-leading software for improving management, efficiency, effectiveness, and
safety of transportation networks, features 28 user-selected modules, which can be deployed one at a time, or in groups,
depending on the application.
Base Modules
Map – The iNET application is map-driven, utilizing georeferencing. It integrates with various GIS mapping systems/tools, including Google,
ESRI, OpenStreets, and DM Solutions, among others. The system can also be integrated with mapping solutions of the user's choice.
System Administration and Security (SAS) – Ensures secure user, group, and control system management for the application,
including protected usernames and passwords, as well as group and user controls.
Device Modules
Vehicle Detection System (VDS) – Provides real-time views of roadway conditions by analyzing traffic speeds, volumes, and
occupancy. Applied data normalization/failure management algorithms ensure data validity.
Dynamic Message Sign (DMS) – Communicates with and controls both fixed and portable DMS signs of varying sizes to
disseminate information to motorists. It includes the capability to use libraries, response plans, and DMS scheduling.
Video/Closed-Circuit Television (CCTV) – Offers an end-to-end solution for viewing and controlling all cameras. All standard digital
formats are supported. Key features include presets and locking, as well as video wall configuration/control.
Highway Advisory Radio (HAR) – Communicates with HAR transmitters and beacons/extinguishable message signs (EMS) to
disseminate real-time traffic information to motorists. The map displays locations, current status, and message content of the HARs.
Automatic Vehicle Location (AVL) – Using standard GPS coordinates, displays real-time location information on the map for
vehicle tracking. Key features include transit vehicle arrival times and winter maintenance vehicle tracking.
Environmental Sensor System (ESS) – Monitors real-time weather status, such as temperature and surface conditions, as well as
wind speed and direction. It also includes functions to control and monitor anti-icing systems.
Ramp Metering System (RMS) – Enables manual control of ramp meters. Uses adaptive algorithms to evaluate real-time traffic
and automatically adjust upstream ramp metering rates to help reduce congestion.
Traffic Signal System (TSS) – Allows users to view detailed real-time traffic signal and intersection information, and to upload and
download configurations, such as timing plans, to the traffic signal controllers.
Tunnel – Controls elements such as vehicle sensors, surveillance cameras, signs, and signals surrounding tunnels. Included are
SCADA elements such as lighting systems, fire detection/suppression, flood controls, and fan controls.
Snow Plow – Collects, displays, and reports on real-time weather and roadway condition information for snow plows, including
chemical application rates, plow blade positions, in-vehicle cameras, and engine diagnostics.
www.parsons.com
© Copyright 2016 Parsons Corporation. All Rights Reserved.
Device Modules (continued)
Weigh-in-Motion (WIM) – Collects data from WIM devices that capture and record truck axle weights and gross vehicle weights,
and can control message boards and CCTV cameras leading into and around WIM locations.
Parking – Assists motorists in finding available parking. Intelligent parking can operate using data sources from an existing
system, an in/out counter system, and via individual bay monitoring using hardwired or wireless sensors.
Safety Service Patrol (SSP) – Manages all aspects of a safety patrol program, including live GPS tracking, routing, dispatch,
assignment, shift details, incident details, and reports.
Intelligent Management Modules
Active Traffic Management (ATM) – Monitoring real-time data, manages traffic demand using Variable Speed Limits, Dynamic
Lane Management, Hard Shoulder Running, Adaptive Ramp Metering, and Reversible Lane and Junction Control.
Automatic Incident Detection (AID) – Using several different algorithms, automatically detects congestion caused by a roadway
incident and alerts the user by placing an unconfirmed icon on the map using the incident's GIS location.
Event Management (EM) – Allows users to create, manage, and remove scheduled and unscheduled events. It supports many
event attributes, such as lane blockage patterns, severity, injuries, and property damage. Alerts are also available.
Decision Support System (DSS)/Response Plans – Provides recommendations for the generation of DMS and HAR messages,
as well as operator actions, and automatic electronic notifications in response to an event.
Predictive – Provides for integrated on-line traffic simulation tools, including the ability to inform in real-time important traffic
forecasting and management decisions based on dynamic simulations of large-scale urban areas.
Travel Times (TT) – Provides travel time information to the public by posting messages on DMSs and other information dissemination
channels. Key features include customizable target destinations, multi-route destinations, and scheduling of operations.
Data Analytics (DA) – Provides for the logging, storing, and big data analytics of all pertinent traffic and event information.
Various business intelligence and analytics tools are directly integrated with the DA module.
Computer-Aided Dispatch (CAD) – Interfaces with existing CAD systems to enable automatic creation of events and updates of
event information. This aids in the dispatch of support personnel and service patrol vehicles.
External Modules
Advanced Traveler Information System (ATIS) – Allows the public to view real-time roadway traffic conditions, including freeway
speed conditions, travel time data, and event information, via CCTV streaming images and DMS messages.
Work Zone – Manages construction zone ITS technologies using various management strategies. Key features include monitoring and
control of work zone traffic management devices, speed monitoring, variable speed limits, and location of portable work zone devices via GPS.
Toll – Integrates with existing tolling systems for the purposes of calculating dynamic pricing, posting tolling rates, ITS integration,
and management center integration.
Smartphone – This wireless application allows regional travelers to view traffic conditions and control devices on their cell phones,
smartphones, and wireless-enabled PDAs.
Center-to-Center (C2C) – As the data exchange gateway to and from the ATMS, this module manages interaction with legacy
systems, partners, and agencies. Standard NTCIP 2306/Traffic Management Data Dictionary (TMDD) interfaces are available.
www.parsons.com
© Copyright 2016 Parsons Corporation. All Rights Reserved.