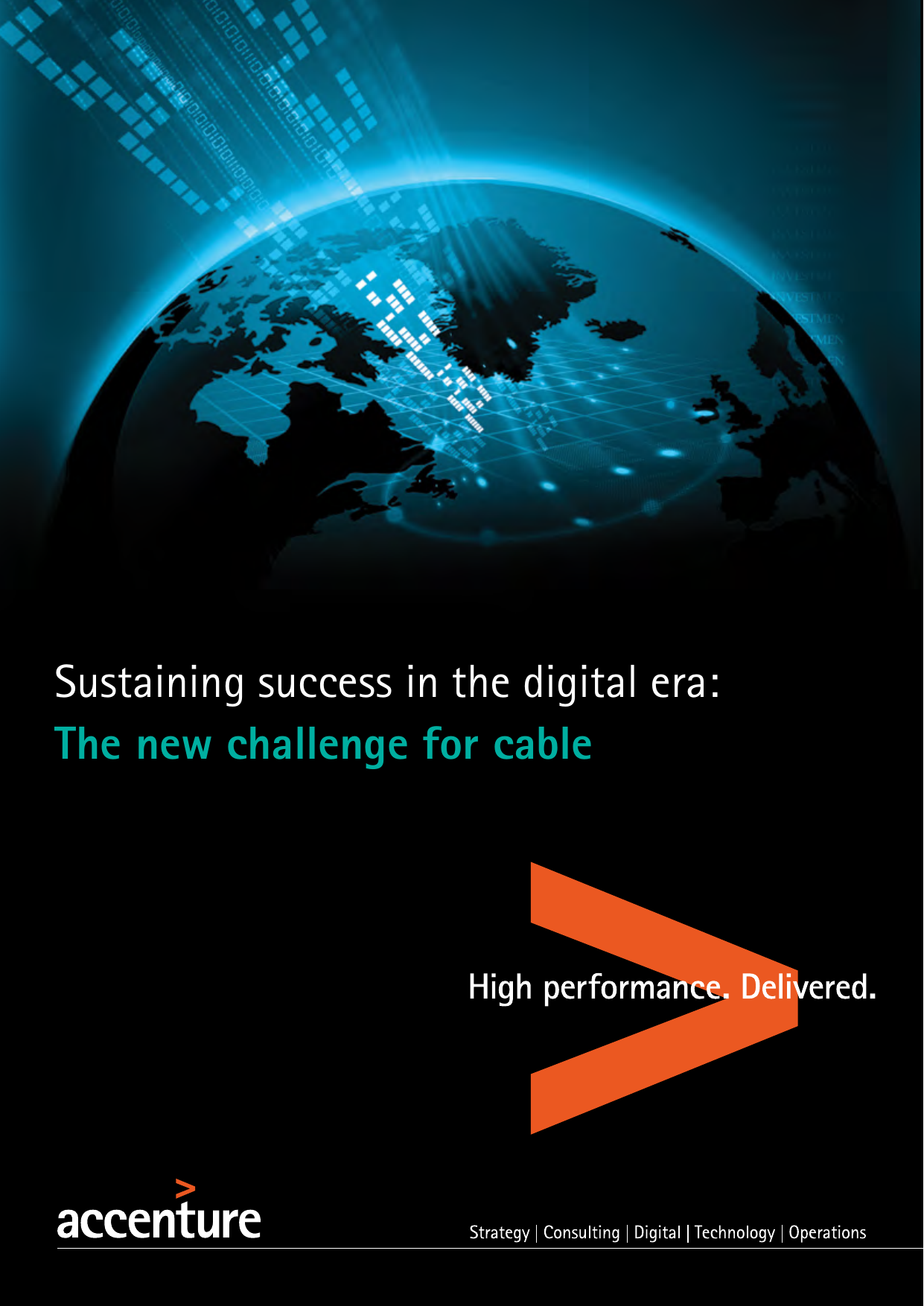 Sustaining success in the digital era:
The new challenge for cable
2
Executive Summary
The communication industry has made dramatic advances in the last
five years, witnessing rapid adoption of the latest generation of connected
devices and increasing investments in faster networks. At the same time, digital
has transformed the consumer experience, bringing new expectations and
different rules of engagement. Cable operators in Europe have led the change
by shaping and meeting consumer needs with their high-speed communications
services. This has helped them generate strong returns for shareholders.
Accenture found that three favorable factors drove this remarkable financial
performance: speedier broadband services, a future-proof network technology
and a more effective approach to service bundling. However, three challenges
lie on the horizon for cable operators: competitive pressure from other industry
players, consolidation in the industry and convergence of networks to provide
a seamless experience for voice, data and video services. In this shifting
environment, cable operators must adopt a whole new strategy to attract the
new digital customer and keep them engaged and happy.
Based on our experience of working with some of the industry leaders,
Accenture recommends a judicious mix of short-term as well as long-term
strategies to drive a new wave of growth in services and solutions. In the
short term, cable operators can create growth opportunities by digitizing
customer interactions and by investing in a new wave of digital innovation.
In the long term, operators must focus on becoming seamless and integrated,
with convergence of services, platforms and screens, to drive greater customer
engagement. This will help them expand their service portfolio and capture
a new wave of opportunities in areas such as connected home, smart city
services, M2M enablement and cloud services. The possibilities are truly endless
and with the right strategies in place, cable operators can make most of these
opportunities for a lucrative tomorrow.
3
A Brave New Digital World
Summer 1948: Residents of Mahanoy City,
Pennsylvania, had problems receiving the nearby
television network stations because of the
region's surrounding mountains. An enterprising
businessman strung a cable from an antenna
mounted on a local hill top to deliver much
better quality TV signals to his home appliances
store and several of his customers' homes.
And a new industry was born. The cable TV
industry has come a long way since then—from
the coaxial cables of the early systems to the
new generation of sophisticated infrastructure
of the digital networks—in tandem with the
communication industry that has seen its
technology and business landscape evolve at a
blistering pace.
As consumers eagerly adopted the latest
generation of connected devices, increasing
investments in faster networks followed.
New intelligent devices (wearables, in-home
entertainment, connected home devices) are
on the rise and the ubiquitous digital consumer
has spawned a whole new breed of services and
service providers that are disrupting traditional
business. Netflix, which was predominantly
a DVD rental company in 2009, now has
37.7 million subscribers for its video
streaming services.
At the same time, digital has transformed
the consumer experience, bringing new
expectations and different rules of engagement.
It has become something of a cliché to say
that the digital consumer wants a seamless
and personalized user experience—consuming
content at the time and place of their own
choosing. But then, there is no denying the
truth of that statement. The pace of digitization
is truly jaw dropping. Every 60 seconds, netizens
upload 600 videos and 7,000 photos, make
700,000 search enquiries and send 170 million
emails. Mobile data traffic too continues to
increase primarily driven by video consumption.
The European cable industry is no stranger to
these changes. Like many others, it has been in
a state of churn with disruptions hitting it from
all sides. New generation of communications
networks—fiber to cabinet, DocSIS 3.0, and
4G LTE—have been rolled out across Europe in
the last five years. These networks offer faster
speeds and improved consumer experience.
On the flip side, Europe is going through the
worst economic crisis of this century. Average
household spend on communication services
fell dramatically in real terms between 2008
and 2013. Take the United Kingdom for instance
where the average monthly household spend
fell from nearly £127 in 2008 to £117 in 2013.1
This report examines each of these
developments disrupting the European cable
industry and outlines the strategies that all
companies will need to adopt to be future proof.
1 http://stakeholders.ofcom.org.uk/binaries/research/cmr/
cmr14/2014_UK_CMR.pdf
4
Connected devices
Home connected
surveillance cameras:
To see a 17%
increase by 2020
TVs: 45% of TVs
shipped in 2014
were smart
Tablets: More than 30%
of EU-5 population now
has at least one
Smart phones: Surpassed
feature phone shipments
for the first time in 2013
Wearable fitness monitors:
Projected to rise by 28%
by 2020
Connected data
Information created between
the dawn of civilization and
2003 = Information every
2 years now
In the United Kingdom,
mobile data traffic
increased
In 60 seconds:
600 videos uploaded,
700,000 search enquiries,
110 Mb
per customer
in 2011
550 Mb
per customer
in 2014
140,000 tweets,
7,000 photos uploaded,
170 million e-mails sent,
170,000 Facebook updates
Connected consumers
87% want a
more seamless
experience
Connected devices
per person:
3 in 2014
7 by 2020
75% want
more real-time
personalized
promotions delivered
to their smartphones
New generation of services: Disruptors to traditional business
Faster speed, improved
consumer experience
Netflix contributed
to 35% of peak
internet traffic in the
first half of 2014
New generation of
communications networks
across Europe in the last
5 years: Fiber to the
cabinet, DocSIS 3.0 and
4G LTE
Netflix: From a DVD rental
company in 2009 to
37.7 million video
streaming service
subscribers by 2014 in the
United States
5
Cable Operators are at Home in this World
To cope with the difficult economic conditions
and dramatic technological evolution, several
communication service providers adopted
a reactive approach—adapting their service
offering to the changes in the consumer
demand. Other players proactively engaged
with consumers in shaping their needs. Cable
operators fall in the latter category, as they
did extremely well in shaping consumer
needs for their communication, media and
entertainment services, and this has reflected
in the total shareholder returns achieved by
the cable industry till now.
We believe that this superior performance in
total shareholder return is linked mainly to
top-line revenue growth—a creditable
13.5 percent growth on a five-year compound
annual growth rate (CAGR) basis, and more
positive investor expectations on cable
operators' long-term competitive advantage
that resulted in higher EV/EBITDA multiples as
shown in Table 1.
In Europe, cable operators were particularly
successful in generating demand and guiding
consumers, and ensured a high average total
shareholder return of 35 percent between 2010
and 2014. That's approximately 24 percentage
points higher than that achieved by satellite
TV operators.2
Superior broadband technology
But what has been driving this value creation?
We believe that three favorable factors drove
this remarkable financial performance.
Average broadband speed of cable operators
is 58 Mbit/s compared to telecom operators'
average broadband speeds of 27 Mbit/s due
to technological superiority of DocSIS 3.0.4
Furthermore, in Europe, nations with higher
cable broadband coverage tend to perform
better in European Commission's Digital
Agenda Scorecard, emphasizing technological
superiority of cable broadband compared
to copper-based broadband technologies
such as DSL.5
2 Company annual reports, and Accenture analysis
3 Company annual reports, and Accenture research analysis
4 Accenture analysis and http://www.netindex.com/
More effective approach to
service bundling
Cable operators have excelled at effectively
selling triple- or quad-play service offering. For
example, 52 percent6 of the cable operators'
customers in the United Kingdom, Spain,
France, Germany, the Netherlands and Belgium
avail triple-play offerings, compared with
22 percent of largest non-cable operator
subscribers. Bundled services have helped cable
operators generate higher average revenue per
user (ARPU) as well as lower churn.
Better infrastructure to
sustain innovation
The third advantage for cable operators has
been a future-proof network technology that
supported a lower incremental investment rate
for every increase in bandwidth for broadband.
In other words, the cable infrastructure
requires lower investment to support higher
bandwidth, allowing cable operators to offer
a better viewing experience to customers and
charge premium for their services.
6 Accenture analysis based on the data from the latest
annual reports of Liberty Global, BskyB, Vodafone Kabel
Deutschland, T-Mobile Germany, ONO, Telefonica Spain,
Ziggo, KPN, Telenet, Belgacom, Numericable, and Orange
5 European Union (EU) countries such as the Netherlands
with very high cable networks penetration do well
at EU level for superfast broadband coverage:
https://ec.europa.eu/digital-agenda/en/news/scoreboard2014-trends-european-broadband-markets-2014
Figure 1. Five-year TRS CAGR (2010–2014)
10.6%
European Satellite
European Telecom
7.9%
34.9%
European Cable
Table 1. Comparison of revenue growth, and EV/EBIDTA multiple3
Revenue growth
Cable TV operators
13.5%12.3
Satellite TV operators 7.7%
9.3
-1.1%
5.4
Telecom operators
46
EV/EBIDTA
But the Battle Lines have been Redrawn
Despite these early successes, the outlook for
cable operators looks less than optimistic.
While they enjoyed early-mover advantage
from superior infrastructure (that allowed
them to offer faster broadband and bundled
services), the overall communication and
technology landscape is changing at a much
faster clip. Other industry players such as
telecom operators and satellite TV providers
too have worked hard to catch up and have
played to their strengths to shape the industry
to their advantage.
As the various players battle for control
over the points of access to the consumer,
cable operators are being challenged at three
major fronts.
Figure 2. Outlook of communication service providers and OTT players9
Revenue growth
Investor expectations
17.0%
4.3% 0.8%
Cable Telecom
7.7%
Satellite OTT
Competition from telecom players
Consolidation within the industry
Cable broadband superiority is under
threat from telecom operators' wide spread
deployment of fiber to cabinet in their access
networks. Telcos are also making significant
investments in content to offer credible pay
IPTV offering, directly threatening cable's
traditional services.
The intense competition between the
players has triggered an increasing degree
of consolidation, as horizontal and vertical
integration can yield significant economies
of scope and scale. Companies that integrate
across the value chain can combine different
infrastructure and technologies to serve
consumers better and offer better options. As a
result, the European communications industry
is witnessing frenzied merger and acquisition
(M&A) activity. More than US$25 billion was
spent on M&A in Europe in 2015 compared with
US$15 billion in 2011, a 70 percent increase.
At the same time, Internet is emerging
as a viable platform for broadcast quality
content delivery: content providers are using
Internet as a complement to their traditional
distribution partners. In future, they can even
bypass traditional pay-TV operators to reach
their audience directly using IPTV. Over-thetop TV (OTT) players too are acquiring content
to compete with pay-TV. HBO's OTT service is
a case in point.7 Technology innovations such
as exponential broadband speeds are providing
a strong advantage to OTT players as their
content quality can now match that of pay-TV
operators. After all, ultra HD first launched on
Netflix in 2014.8
This is changing the structure of the industry,
as communications players are evolving their
offering from triple play to quadruple play.
Vertically consolidated firms can put pressure on
competitors' margin due to their new scale of
operations. For example, in the United Kingdom,
British Telecom (BT) will become a converged
fixed and mobile player after the integration
with EE (formerly Everything Everywhere).
This will give it a sharp competitive edge not
just from cost synergies (from the integration
of network and IT infrastructures) but also
allow it access to premium/exclusive content
(that can be acquired through the funds
released from cost savings), thus enriching
its offering and customer experience. More
importantly, the company will be able to offer a
seamless experience between fixed and mobile
services and enhanced quad-play offerings by
integrating the fixed and mobile infrastructures.
(EV/EBITDA)
10.3
6.0
Cable Telecom
28.0
8.7
Satellite OTT
Convergence of technologies,
infrastructure and services
Technology innovations are rapidly bridging
the last mile between the digital enterprise
and the physical world. Broadcast, fixed,
mobile and Wi-Fi networks are converging
and becoming tightly integrated to provide a
seamless, anytime, anywhere user experience
for voice, data and video services. Multipleplay offerings are encouraging increased
consumer uptake of bundled products, driving
cable operators to rethink network strategy
toward fully converged infrastructures.
The communication industry
landscape is still evolving
under pressure from these
three factors and the battle
lines between the players are
being constantly redrawn. It
isn't surprising then that the
financial analysts' outlook for
cable operators is not as rosy
as in the past.
7 http://www.businessinsider.com/hbo-standalone-servicecoming-in-2015-2014-10
8 http://blog.netflix.com/search/label/4K
9 Analyst reports and research analysis
7
Meanwhile, Customers are Changing
Too Fast for Comfort
Using a wide variety of channels and devices
that allow anytime, anywhere content
consumption, consumers rule the market.
They are well informed, diverse, demanding,
cost sensitive and value driven. They are
also looking for a great experience. The
digital consumers are now empowered with
wider access to information and choices
and are willing to change operators if their
expectations aren't met on their terms. In fact,
with the average consumer projected to own
more than seven connected devices per person
by 2020 (up from just three in 2014), operators
need to ensure seamless convergence not
only in terms of networks but also devices
and services.
The customer journey is no longer linear, but
multidirectional, and the line between sales
and service is blurring fast every day. In this
shifting environment, cable operators must
adopt a whole new strategy to attract the
new digital consumer and keep them hooked
and happy.
More
knowledgeable
• Internet accessibility
• Online content and social
networks
More
demanding
• Redefinition of what value
means
• Time compressed consumers
prioritize convenience
More
diverse
• Globalization
• Consumerization of IT
More
empowered
Interactive
• Engage in online dialogue
and content sharing
• Produce own content for
personal use and online
publishing
• Consumers follow their
unique requirements
• Consumers self-service &
demand multiple channels
On the
move
• Mobile purchase and
consumption of content
• Service anytime-anywhere
8
Dynamic
Continuous
Accessible
Faster pace, more control
Voice and noise of others
Always 'in the channel'
Non-linear progression
Content is anywhere, anytime
from anyone
Great array of choice, easy to come
back to evaluation
Influencers, beyond companies'
control
Entire experience matters
Effortless decisions and lower
barriers
Nonstop-consumer experience model
Discover
Purchase
Expectation
Evaluate
Promise
Reality
Delivery
Consider
Use
Openly accessible content & channels
Evaluation is now
the focal point
Journeys are
multi-directional
Brand-controlled content & channels
Delivering against
promise is critical
Different segments,
district behaviors
Seamless digital
experience is vital
9
New Rules of Engagement
While market trends and technology
innovations are posing significant challenges
to the cable industry, they are also creating
new growth opportunities. The best and the
brightest in the cable industry are navigating
these strong headwinds. Cable operators can
overcome the lower expectations on future
performance by seizing the value creation
opportunities available in the new environment.
Table 2. Bandwidth requirements for SD, HD and ultra HD
In our view, strategy for cable operators
should span two main dimensions: short-term
opportunities and long-term investments.
Include HD and ultra HD in
standard offering
In the short term, cable companies can
create opportunities for growth by digitizing
customer interactions and by investing in a
new wave of digital innovation. Operators
need to integrate customer interactions across
all digital touch points to gain a 360-degree
view of the customer—their usage, service
interactions, preferences and social behavior
through a full suite of digital customer-facing
tools/capabilities and fully integrated digital
channels. They also need to leverage existing
capabilities to target adjacent markets. We
envisage four major opportunity areas for
cable operators:
10
Bandwidth requirements in Mbit/s
MPEG2
MPEG4 (H.264)
HEVC
SD (720x576)
2-3
1-1.5
0.5-0.75
Screens are getting bigger and better, making
SD quality unacceptable for a high-quality
viewing experience. Average TV screen size in
Europe has increased from 24 inches in 2011
to 32 inches in 2014. Furthermore, more
than 70 percent of consumers in the United
Kingdom and the United States have
HD-ready TV sets.10 Operators can benefit
from making HD the default picture standard
as it will improve customer loyalty, and fend
off competition from OTT players. The real
advantage stems from the fact that
70 percent11 of broadband connections in
Europe are DSL based that tend to struggle to
stream HD content alongside web browsing
by other members of the households. Ultra
HD is on the horizon as initial consumer
uptake of devices is very encouraging. Cable
operators should take first-mover advantage
by offering HD as a default picture standard
and ultra HD as a premium service. This will
surely increase spectrum demand but adopting
more efficient High Efficiency Video Coding
(HEVC)-based video compression technologies
would compensate for the higher demand for
spectrum as illustrated in Table 2.
HD (1980x1080)
12-20
6-10
3-5
Ultra HD (3840x2160)
na
30-50
15-25
Currently, most cable operators use MPEG2
for SD content and H.264 for HD content. By
adopting HEVC, cable operators could offer HD
as default picture standard and Ultra HD for
premium content.
Offer OTT services for cord cutters
We recommend that cable operators invest
in extending their foot print to 'light'
pay-TV consumers and to cable cord cutters
by offering their content through OTT services.
This would allow them to target and acquire
new customer demographics that can later
be moved up to higher ARPU services.
For instance, Sky's OTT proposition in the
United Kingdom—Now TV—helped increase
its subscriber base by targeting pay light
customers, and decrease customer churn.
'If you can't beat them, join them' is the
governing philosophy behind this strategy.
OTT is here to stay and cable operators would
do well to incorporate it within their own
service bundles.
10 http://stakeholders.ofcom.org.uk/binaries/research/cmr/
cmr14/icmr/ICMR_3.pdf
11 Trends in EU Broadband Markets:
https://ec.europa.eu/digital-agenda/en/news/scoreboard2014-trends-european-broadband-markets-2014
Figure 3. Traditional CDN offering is not sustainable for premium HD/UHD content delivery
Traditional CDN Offering
Content providers
Internet
ISP's peering point
ISP network
Consumers
Figure 4. Operator CDN offering can offer quality content and reduced costs for both operators and content providers
Operator CDN Offering
Content providers
Operator CDN services
Offer Content Distribution Network
(CDN) services to OTT players for
premier video delivery
Currently, OTT players deliver their services
through public CDNs, which use the Internet
to connect their distributed servers and which
are based on unicast streams from the CDN
server to the end customer.12 This model is
neither scalable nor economically sustainable
for OTT providers when moving to Ultra HD,
as the bandwidth requirement is 15–25 times
higher13 than SD, and consequently, the cost of
public CDNs would become prohibitive.
A CDN provided by communications players is
much more cost effective than a public CDN
from the OTT player's point of view as it can
offer multicast services along with Quality
of Service (QoS) provision and local content
caching. Moreover, operators' deployed CDN
can reduce the backhaul cost for bandwidth
upgrades that cable operators would have to
sustain otherwise to cope with the increasing
OTT traffic.
ISP's last aggregation nodes
As a result, CDNs can provide cable operators
a value creation opportunity by charging OTT
players for delivering traffic on their network
and by reducing the cost of network upgrades.
Many telecom operators (including BT, Telia
Sonera, Verizon and others) have deployed
their CDN to target content providers.14
The European CDN market is estimated to be
around $1 billion by 2019 (from $0.28 billion
in 2013)15 and the percentage of global online
video delivered by CDNs is expected to
grow from 44 percent in 2013 to 68 percent
in 2018.16
Offer TV audience analytics service
Cable operators are uniquely positioned to
leverage their digital network to offer audience
analytics and digital ad insertion services to
media agencies and advertisers. Traditional
TV measurement systems, consisting of a few
thousand household panels, are becoming
obsolete as consumers are using multiple
devices for content consumption while
multi-tasking on second screens. Cable
operators can offer new analytics services
to capture consumers' overall engagement
across screens. For example, Sky is leveraging
its existing subscribers to help advertisers and
media agencies understand consumptions
patterns of their audience and then target
them with tailored advertisements.
Consumers
We estimate that the
short-term opportunities
outlined above have a value
creation potential of
US$2–3 billion in revenue
growth over the next
2-3 years.17 More importantly,
these initiatives would
enable cable operators to
successfully defend their turf
from OTT players and other
challengers while improving
customer loyalty.
12 Unicast is a one-to-one connection between the
server and each customer, and therefore, requires a high
bandwidth when the number of users increases
13 Accenture analysis
14 Company websites on service offering to business
customers
15 http://www.micromarketmonitor.com/market/europecdn-delivery-6769692284.html
16 Park Associates: New trends in digital delivery and
CDNs 2014
17 Accenture estimates based on market data
11
The Next Frontier:
Long-term Strategies for Cable Operators
Cable operators have done well until now,
moving fast to offer triple-play services (fixed
television, telephony and broadband Internet)
on the back of their robust fiber networks.
The most innovative ones have already added
wireless/mobile services to the mix to offer true
quad-play (what we call 4P) services.
But the next wave of opportunity lies in the
convergence of services, networks and screens.
This will help operators expand their service
portfolio to new areas and to evolve from 4P
to 5+P players. We believe that by becoming
fully converged and integrated players, cable
operators will be best positioned to capture
growth in new areas, where the expected
growth is high and the attractive opportunities
are becoming quite clearly defined. The prize:
greater customer engagement and new
revenue streams.
12
So, what is the next frontier for cable
operators? We see new opportunities in
three key areas:
'In the home'
Opportunities that can make cable operators
the 'dominant' players for the connected home.
Imagine a situation where your TV and other
connected devices are not only a source of
a full-blown entertainment experience, but
also help with health care, security, energy
consumption, etc. As the lines between the
digital and physical world blur faster than ever,
a truly connected home could offer assisted
living solutions for the elderly and the invalid—
alarm and comprehensive living solutions,
connected medicine dispensers, people
tracking devices, semiclinical environments
and telemedicine, among others. It could allow
you to monitor the security of your home and
to manage your appliances remotely. Cable
operators can also combine the connected
home services with a comprehensive cloud
offering, in order to offer customized and
managed solutions to their customers. The
possibilities are endless.
'Beyond the home'
Opportunities that can be addressed in the
growing marked of connected cities. Smart
cities are becoming a reality now and the
number of machine-to-machine (M2M)
applications is growing at an incredible
pace. Cable operators can use their extensive
and pervasive network infrastructure to
enable many of the 'smart' services that will
increasingly be offered. They can partner
with governments to enable new services
in areas such as alarms, monitors and CCTV
for environment and public safety; culture/
tourism; automated street lighting etc. Smart
transport presents another addressable market,
encompassing services like real-time traffic
management, road tolls infrastructure, smart
parking management and ticketing, and
intelligent traffic lights.
Home
Healthcare
Integrator
In the
Home
Digital Home
Integrator
Smart City
Provider
Customized
Cloud
Provider
Digital
Integrated
Player
Beyond
the Home
For
Business
Road Tolling
Partner
M2M
Enabler
'For business'
Opportunities in the Business to Business (B2B)
market . The high-speed broadband services
offered by cable operators currently represent
their core offering for the B2B market.
However, cable operators have the wherewithal
to enrich their B2B offering with a much wider
set of solutions and become the one-stop shop
for all communications and IT needs of the
B2B segment, in particular for the SME market.
They can also develop new solutions to provide
businesses with enhanced virtual interaction
capabilities with remotely located colleagues
and customers.
The opportunities are
truly exciting and full of
possibilities. But the next
question is what differentiating
elements can cable operators
bring to the game?
We believe that cable operators can successfully
target these opportunities by leveraging some of
their key assets and the distinctive competitive
edge they enjoy:
• Thanks to their ability to establish a strong
presence in customers' homes and their
commercial effectiveness in selling triple-play
services, as described before, cable operators
are now the 'dominant' player in customers'
premises. As a result, they are in strong
position to further consolidate their position
'in the home' and to become the digital home
integrator for all new emerging applications
and services.
Virtual
Interaction
Provider
One-stop
Shop for
SME IT
• Cable operators have a strong brand value
in the consumer market, which can represent
a significant asset in the B2B segment as well.
In the 'connected cities' space, cable operators
can play the role of enabler, by partnering
with governments and other institutions. We
believe that, in these partnerships, the brand
recognition of cable operators can play a
positive effect (such as a smart city service
'powered by' a cable operator).
• The extensive and highly reliable
infrastructure that cable operators have in
the metro area is another key enabler to
provide the new services and applications
described above. In B2B services in particular,
the technologically advanced and reliable
network of cable operators is a critical success
factor, which can give them the right degree
of credibility to successfully expand their B2B
offering to new areas.
13
What is the size of the prize? We estimate that targeting these new areas would enable cable
operators to reach an additional addressable market of £260 billion, as illustrated in Figure 5.18
Figure 5. Prospective markets for cable operators (in £ billion)
In the home
Beyond the home
For business
260
0
Digital Home
Integrator
Home
Healthcare
However, cable operators must contend with
some formidable challenges to gain access to
the new markets. Success in the convergent
world will require cable operators to develop a
diversified set of new assets and capabilities:
New partners: 'In the home' and 'beyond
the home' services will require integration of
fixed and mobile networks. Therefore, cable
operators will have to consider the different
options available to develop an integrated
infrastructure, such as acquiring or teaming
up with mobile operators or developing
their own mobile platforms (through a full
MVNO model).19
18 Accenture analysis, and:
•IDC Worldwide Enterprise Storage for Public and
Private Cloud 2013–2017 Forecast
•IDC The Internet of Things Across Western European
Vertical Markets: New Insights on Opportunities
and Use Cases
•IDC Worldwide and Regional Internet of Things (IoT)
2014–2020 Forecast: A Virtuous Circle of Proven
Value and Demand
•IDC Worldwide and Regional Internet of Things
2014–2020 Forecast Update by Technology Split
•IDC Worldwide Internet of Things Spending by
Industry Sector 2014–2018 Forecast
14
Cloud
Partner
M2M
Enabler
Smart City
Integrator
Road Tolling
Partner
Virtual
One-stop Shop
Integration
for SME IT
Provider
New business models: Integrated interactions
leveraging social data and cross-device tracking
to offer a smooth consumer experience across
networks and devices will require cable
operators to look at multiple business models.
Cable operators traditionally have limited
experience in this space as their 'comfort zone',
i.e., the customers' home, did not require these
capabilities to win in the market. As a result,
they now have to evaluate alternate business
models that will allow them to rapidly acquire
the required skills.
Evolving continuously to
match customer requirements
will be the key for cable
operators in the future.
With the right focus on
acquiring new capabilities
and tapping technology
advancements, they can make
the most of these long-term
opportunities and ensure a
lucrative tomorrow.
•IDC Worldwide Internet of Things Spending by
Vertical Market 2014–2018 Forecast
•IDC Worldwide and U.S. SMB Public IT Cloud
Services 2014–2018 Forecast
•Parks Assoc CEA Smart Home Ecosystem
•Parks Assoc Report: Connected TV - Trends and
Innovation
•Parks Assoc Report: Virtual Care- Technologies and
Business Models
•GSMA: Vision of Smart Home The Role of Mobile in
the Home of the Future, March 2012
19 Mobile Virtual Network Operator (MVNO) is a provider
of mobile services which does not have mobile radio
infrastructure. The MVNO has a wholesale agreement with
a Mobile Network Operator (MNO) and uses the network
of the MNO to provide mobile services. Different types of
MVNO models exist. A 'light' MVNO is a pure reseller, i.e.
sells MNO services under its own brand. A 'full' MVNO has
its own core infrastructure, billing systems and customer
services and, as a result, has a complete independence in
service offering from the MNO, in terms of ownership of the
customer, pricing and technical flexibility to create quadplay propositions.
Conclusion
Over the last five years, European cable
operators have performed well in meeting
consumer needs and this has helped them
generate strong returns for shareholders.
However, disruptions have happened both
on the demand side, where customers'
behavior and expectations have undergone
radical changes, and on the supply side,
where the industry has transformed radically
under pressures of competition, convergence
and consolidation.
Full convergence of services, networks and
screens, powered by the new digital world,
is now a reality and cable operators have to
act fast to retain their strong position in the
market. They will have to develop a radically
new ecosystem, where they do not just rely on
existing assets and capabilities, but will have
to build and manage a complex set of different
business models. They will need to interact
and team up with a broad set of partners to
gain access to the new growing markets being
opened up by the digital convergent era.
In our view, only with such a diversified
approach—multiple business models, multiple
partners—will cable operators be able to
maintain a sharp competitive edge and stay
relevant to digitally empowered consumers
across Europe.
15
Authors
About Accenture
Sergio Tieri
Accenture Strategy,
Communications, Media & Technology
[email protected]
Accenture is a leading global professional
services company, providing a broad range
of services and solutions in strategy, consulting,
digital, technology and operations. Combining
unmatched experience and specialized skills
across more than 40 industries and all business
functions—underpinned by the world's largest
delivery network—Accenture works at the
intersection of business and technology to help
clients improve their performance and create
sustainable value for their stakeholders. With more
than 358,000 people serving clients in more than
120 countries, Accenture drives innovation to
improve the way the world works and lives. Visit
us at www.accenture.com.
Jonathan Rowan
Accenture Strategy,
Communications, Media & Technology
[email protected]
Satya Ammu
Accenture Strategy,
Communications, Media & Technology
[email protected]
David McGinty
Accenture Strategy,
Communications, Media & Technology
[email protected]
Copyright © 2015 Accenture
All rights reserved.
Accenture, its logo, and
High Performance Delivered
are trademarks of Accenture.