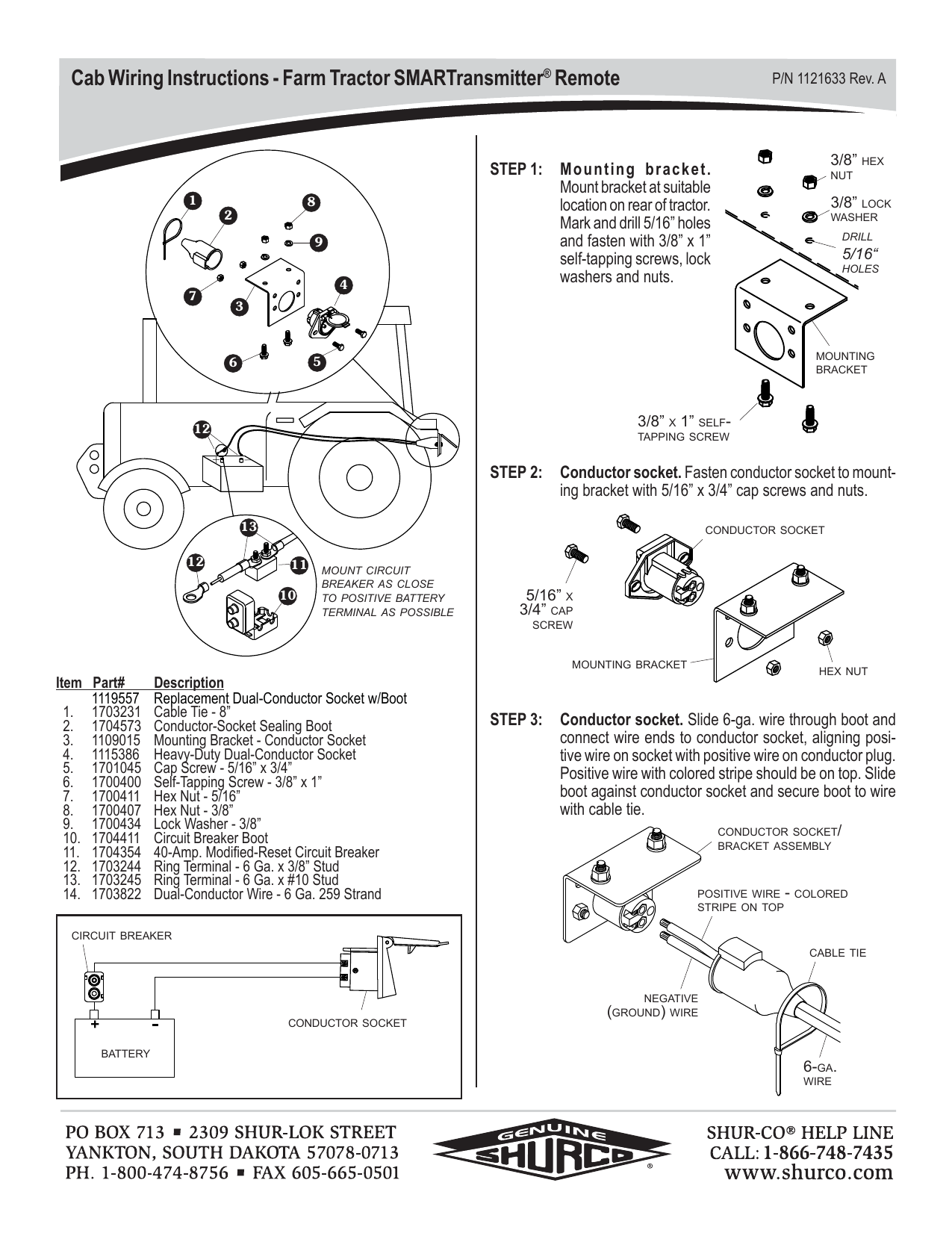 Cab Wiring Instructions - Farm Tractor SMARTransmitter® Remote
STEP 1:
1
8
2
9
7
4
P/N 1121633 Rev. A
NUT
3/8" LOCK
WASHER
DRILL
5/16"
HOLES
3
MOUNTING
BRACKET
5
6
3/8" X 1" SELF-
12
TAPPING SCREW
STEP 2:
Conductor socket. Fasten conductor socket to mounting bracket with 5/16" x 3/4" cap screws and nuts.
13
12
3/8" HEX
Mounting bracket.
Mount bracket at suitable
location on rear of tractor.
Mark and drill 5/16" holes
and fasten with 3/8" x 1"
self-tapping screws, lock
washers and nuts.
CONDUCTOR SOCKET
11
10
MOUNT CIRCUIT
BREAKER AS CLOSE
TO POSITIVE BATTERY
TERMINAL AS POSSIBLE
5/16" X
3/4" CAP
SCREW
MOUNTING BRACKET
Item Part#
1119557
1. 1703231
2. 1704573
3. 1109015
4. 1115386
5. 1701045
6. 1700400
7. 1700411
8. 1700407
9. 1700434
10. 1704411
11. 1704354
12. 1703244
13. 1703245
14. 1703822
Description
Replacement Dual-Conductor Socket w/Boot
Cable Tie - 8"
Conductor-Socket Sealing Boot
Mounting Bracket - Conductor Socket
Heavy-Duty Dual-Conductor Socket
Cap Screw - 5/16" x 3/4"
Self-Tapping Screw - 3/8" x 1"
Hex Nut - 5/16"
Hex Nut - 3/8"
Lock Washer - 3/8"
Circuit Breaker Boot
40-Amp. Modified-Reset Circuit Breaker
Ring Terminal - 6 Ga. x 3/8" Stud
Ring Terminal - 6 Ga. x #10 Stud
Dual-Conductor Wire - 6 Ga. 259 Strand
STEP 3:
HEX NUT
Conductor socket. Slide 6-ga. wire through boot and
connect wire ends to conductor socket, aligning positive wire on socket with positive wire on conductor plug.
Positive wire with colored stripe should be on top. Slide
boot against conductor socket and secure boot to wire
with cable tie.
CONDUCTOR SOCKET/
BRACKET ASSEMBLY
POSITIVE WIRE - COLORED
STRIPE ON TOP
CIRCUIT BREAKER
CABLE TIE
NEGATIVE
CONDUCTOR SOCKET
(GROUND) WIRE
BATTERY
6-GA.
WIRE
Cab Wiring Instructions - Farm Tractor SMARTransmitter® Remote
STEP 5:
!
CAUTION
Check all hardware for complete assembly before operating. Inspect system at this time and
adjust as required.
NOTE: Cut wires to length and strip only enough wire insulation
to install ring terminals. Insert bare wire into ring terminals and
crimp securely.
STRIP WIRE
INSULATION
P/N 1121633 Rev. A
Circuit breaker and battery. Mount circuit breaker as
close as possible to positive battery terminal. Cut 6-ga.
wire near positive battery terminal in order to splice in
circuit breaker. Crimp #10 ring terminals to 6-ga. wire
as shown and fasten to circuit breaker.
NEGATIVE
GROUND WIRE
6-GA. X 3/8"
RING TERMINALS
POSITIVE WIRE
(COLORED STRIPE)
CRIMP SECURELY
RING TERMINAL
STEP 4:
Route 6-ga. wire to battery. Secure wire with cable ties.
6-GA. X #10
RING TERMINALS
CIRCUIT
BREAKER
BATTERY
CIRCUIT
BREAKER
BOOT
STEP 6:
Crimp 3/8" ring terminals to positive and negative wires
as shown and connect wires to battery.
NOTE: Release switch/button at end of cycle or modifiedreset circuit breaker will trip. After breaker resets, switch will
activate motor again. To reduce unnecessary strain on system
components, release switch at end of each cycle.

* Your assessment is very important for improving the work of artificial intelligence, which forms the content of this project