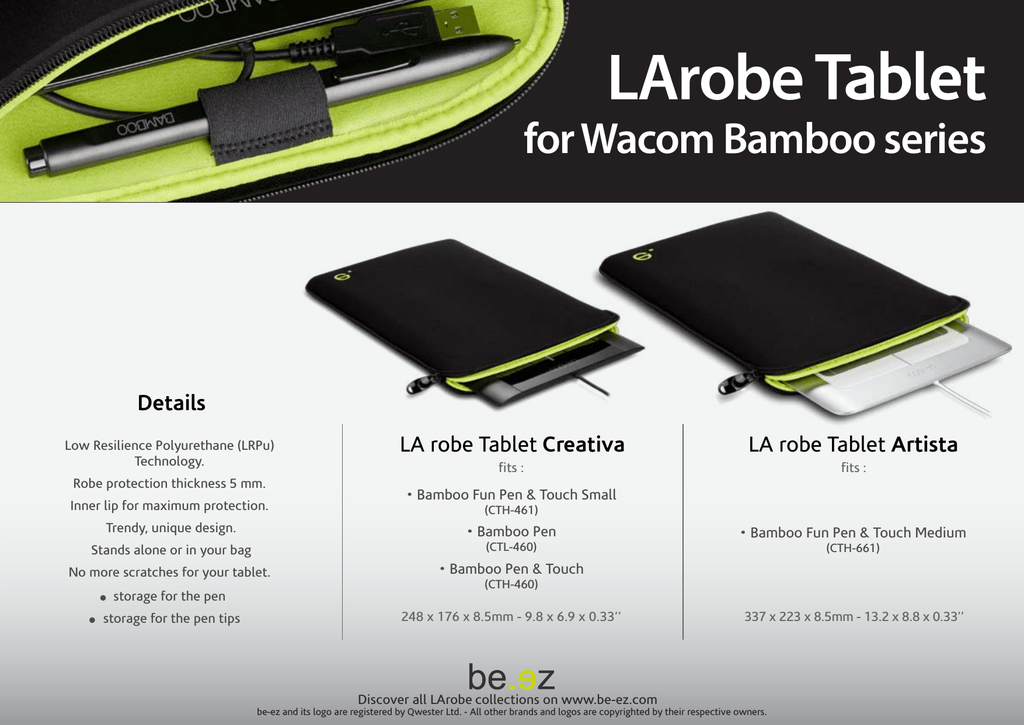 LArobe Tablet
for Wacom Bamboo series
Details
Low Resilience Polyurethane (LRPu)
Technology.
Robe protection thickness 5 mm.
Inner lip for maximum protection.
LA robe Tablet Creativa
LA robe Tablet Artista
fits :
fits :
• Bamboo Fun Pen & Touch Small
(CTH-461)
Trendy, unique design.
• Bamboo Pen
Stands alone or in your bag
(CTL-460)
No more scratches for your tablet.
• Bamboo Pen & Touch
storage for the pen
storage for the pen tips
• Bamboo Fun Pen & Touch Medium
(CTH-661)
(CTH-460)
248 x 176 x 8.5mm - 9.8 x 6.9 x 0.33''
Discover all LArobe collections on www.be-ez.com
337 x 223 x 8.5mm - 13.2 x 8.8 x 0.33''
be-ez and its logo are registered by Qwester Ltd. - All other brands and logos are copyrighted by their respective owners.

* Your assessment is very important for improving the work of artificial intelligence, which forms the content of this project