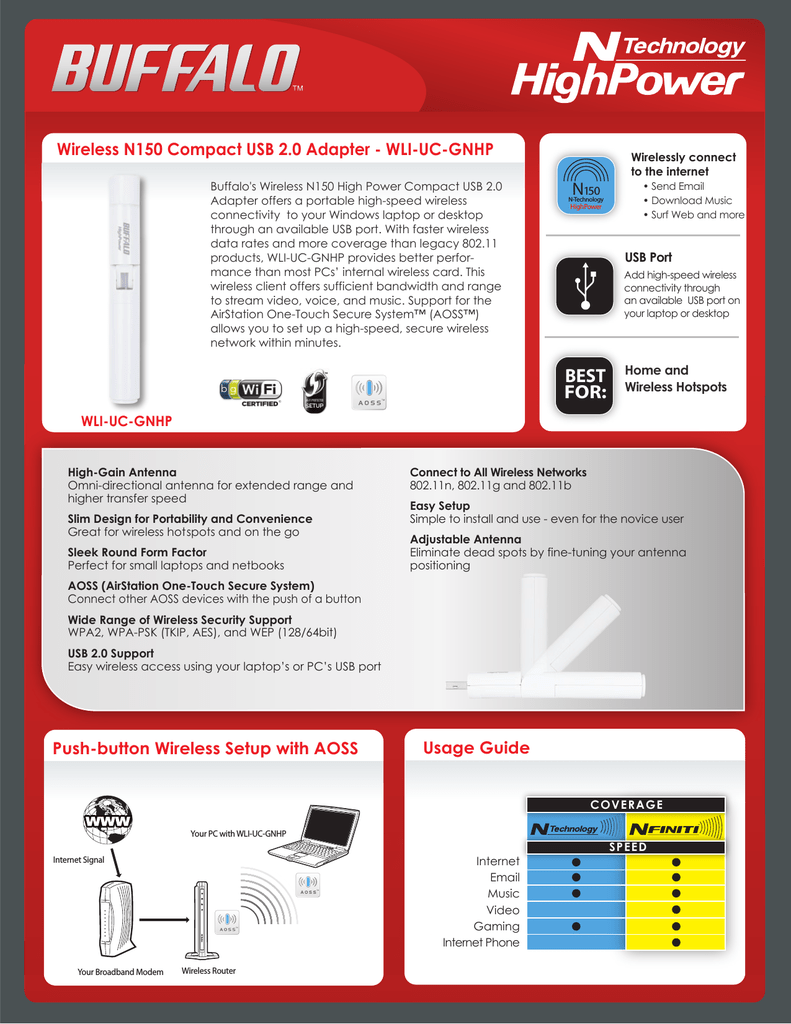 Wireless N150 Compact USB 2.0 Adapter - WLI-UC-GNHP
Buffalo's Wireless N150 High Power Compact USB 2.0
Adapter offers a portable high-speed wireless
connectivity to your Windows laptop or desktop
through an available USB port. With faster wireless
data rates and more coverage than legacy 802.11
products, WLI-UC-GNHP provides better performance than most PCs' internal wireless card. This
wireless client offers sufficient bandwidth and range
to stream video, voice, and music. Support for the
AirStation One-Touch Secure System™ (AOSS™)
allows you to set up a high-speed, secure wireless
network within minutes.
N150
N-Technology
HighPower
Wirelessly connect
to the internet
• Send Email
• Download Music
• Surf Web and more
USB Port
Add high-speed wireless
connectivity through
an available USB port on
your laptop or desktop
BEST
FOR:
Home and
Wireless Hotspots
WLI-UC-GNHP
High-Gain Antenna
Omni-directional antenna for extended range and
higher transfer speed
Slim Design for Portability and Convenience
Great for wireless hotspots and on the go
Sleek Round Form Factor
Perfect for small laptops and netbooks
Connect to All Wireless Networks
802.11n, 802.11g and 802.11b
Easy Setup
Simple to install and use - even for the novice user
Adjustable Antenna
Eliminate dead spots by fine-tuning your antenna
positioning
AOSS (AirStation One-Touch Secure System)
Connect other AOSS devices with the push of a button
Wide Range of Wireless Security Support
WPA2, WPA-PSK (TKIP, AES), and WEP (128/64bit)
USB 2.0 Support
Easy wireless access using your laptop's or PC's USB port
Push-button Wireless Setup with AOSS
Usage Guide
C OVERAGE
Your PC with WLI-UC-GNHP
Internet Signal
Air Station
Your Broadband Modem
Wireless Router
Internet
Email
Music
Video
Gaming
Internet Phone
SPEED
WLI-UC-GNHP
Specifications
Wireless LAN Interface
Access Mode
Antenna (Tx x Rx)
Interface
Interface Voltage
Wireless Security
Infrastructure Mode
1x1
USB 2.0
5V
WPA2, WPA-PSK (AES, TKIP), 128/64-bit WEP
Other
Dimensions (WxHxD)
OS Support
4.3 x 0.6 x 0.6 inches
Windows Vista® (32-bit), Windows® XP, Windows® 2000
About Buffalo
www.buffalotech.com
Buffalo Technology (USA), Inc., based in Austin, Texas, is a leading global provider of award-winning networking,
storage and multimedia solutions for the home and small business environments as well as for system builders and
integrators. With almost three decades of networking and computer peripheral experience, Buffalo has proven its
commitment to delivering innovative solutions that have put the company at the forefront of infrastructure technology.
© 2009 BUFFALO INC. All rights reserved. BUFFALO or BUFFALO logo are either trademarks or registered trademarks of MELCO HOLDINGS INC. AirStation, AirStation logo, AOSS and AOSS logo are either trademarks or registered trademarks of BUFFALO INC. or its
affiliates in the United States and other countries. Windows, Windows logo, Windows Vista are either registered trademarks or trademarks of Microsoft Corporation in the United States and/or other countries. Wi-Fi CERTIFIED, Wi-Fi CERTIFIED logo, Wi-Fi Protected
Setup and Wi-Fi Protected Setup logo are trademarks or registered trademarks of the Wi-Fi Alliance. The names and logos of other companies mentioned herein belong to their respective owners.

* Your assessment is very important for improving the work of artificial intelligence, which forms the content of this project