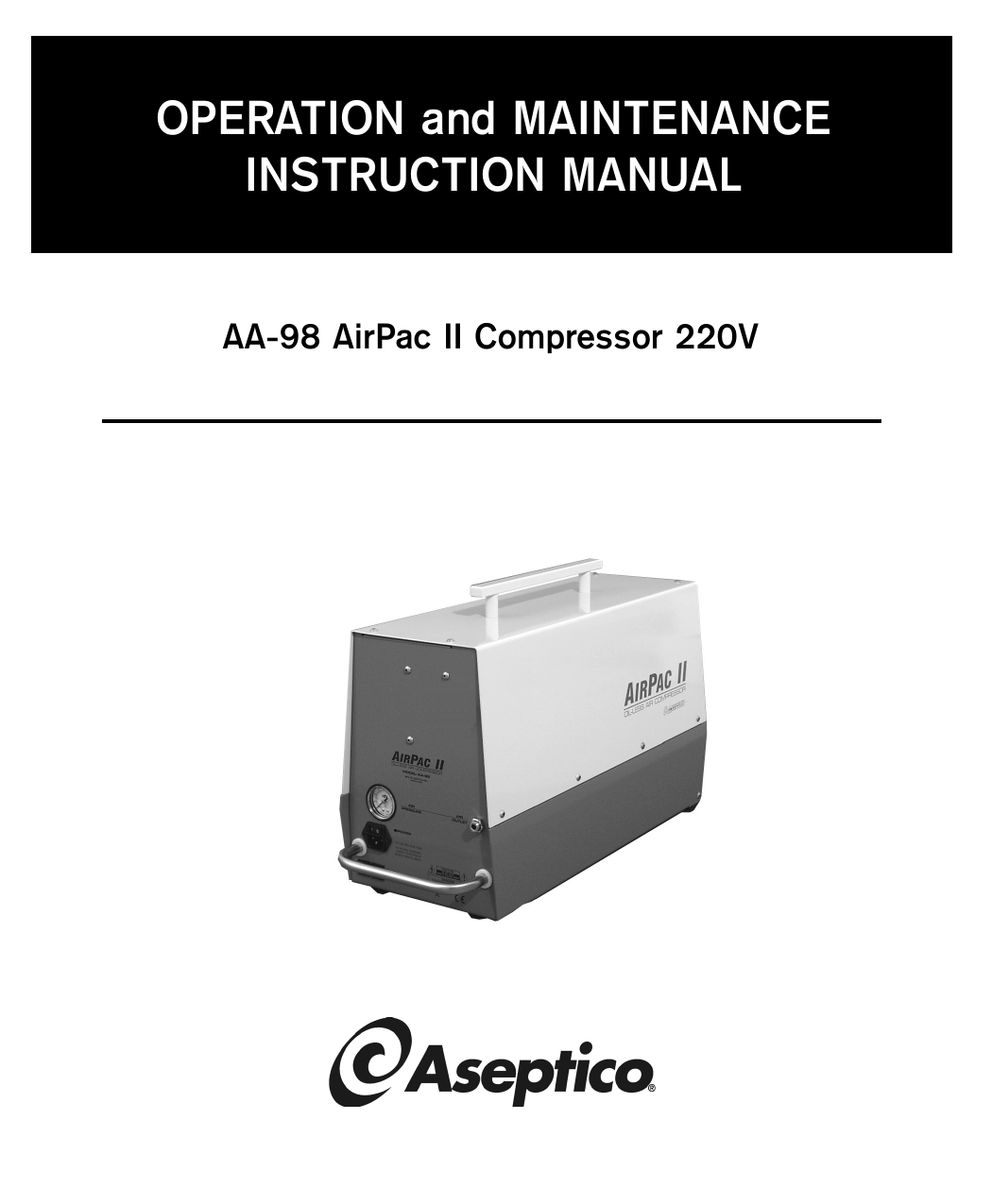 OPERATION and MAINTENANCE
INSTRUCTION MANUAL
AA-98 AirPac II Compressor 220V
TABLE OF CONTENTS:
Rules For Safe Operation . . . . . . . . .1
Introduction . . . . . . . . . . . . . . . . . . . .2
Package Contents . . . . . . . . . . . . . . .2
Set Up & Operation . . . . . . . . . . . . . .3
Maintenance . . . . . . . . . . . . . . . . . . .4
P.O. Box 1548
Woodinville, WA 98072
(425) 487-3157 • (800) 426-5913
www.aseptico.com • [email protected]
220V Specifications . . . . . . . . . . . . . .6
Symbol Definitions . . . . . . . . . . . . . . .6
Warranty . . . . . . . . . . . . . .Back Cover
RULES FOR SAFE
OPERATION:
1. The compressor should be located in a
dry, clean, and well ventilated area.
2. This compressor needs no lubrication
and should never be oiled. Applying oil
to any part could result in polluted air
delivery to the air handling equipment.
3. All compressors generate heat even
under normal operating conditions. To
avoid serious burns, never touch the
compressor during or immediately after
operation.
4. When unit is not in use, store the cord
wrapped around the carry handle. Do
not abuse cord.
5. Servicing should always be performed
by an Authorized Service Center.
6. ALWAYS use a grounded 3-prong
plug-in.
1
To prevent injury to people and damage to
property, please heed relevant warnings and
remarks. They are marked as follows:
WARNING:
Serious injury or death may
result if ignored.
CAUTION:
Damage to property or the
environment may result if
ignored.
NOTE:
Important additional
information and hints.
WARNING: This device has been tested and found to
comply with the emissions requirements of IEC
60601-1-2:2001-09. These requirements provide
reasonable protection against harmful electromagnetic
interference in a typical medical installation.
However, high levels of radio-frequency (RF)
emissions from electrical devices, such as cellular
phones, may disrupt the performance of this device.
To mitigate disruptive electromagnetic interference,
position this device away from RF transmitters and
other sources of electromagnetic energy.
Performance in tandem with portability make the Aseptico
AA-98 AirPac II oilless 3/4 horsepower compressor
perfect for the professional. The compressor is secured
in its own pull or carrying case and includes an air
storage tank, a cooling fan, and an automatic pressure
switch control.
Congratulations!
This system is engineered to provide many years of
reliable service. Please read the instructions provided in
this manual to receive the best and longest service from
your Aseptico equipment.
Separate manuals may be provided to cover the
operation and maintenance of handpieces or other
accessories for your unit.
PACKAGE CONTENTS
Compressor/Carrying Case
Remote Power Cord
Instruction Manual
2
SET-UP & OPERATION
1. Unpack the compressor and locate the
remote power cord.
2. Plug the power cord into the receptacle on
the outside of the unit and then into a
grounded power outlet.
3. To activate the AA-98 compressor, flip the
power switch to the on (I) position. Once
powered, the compressor will start and stop
automatically to maintain pressure. The
pressure switch is factory adjusted to
properly start and stop. The cooling fan will
operate continuously.
4. After plugging the compressor in and turning
it on, let the compressor run until it stops,
indicating full pressure.
5. Locate the 1/4" quick disconnect air outlet
and pressure gauge on the end of the
compressor case. Connect a 1/4" male
coupling from your equipment to the air
output fitting. The pressure gauge indicates
pressure in the air storage tanks and gives a
visual indication that the compressor is
maintaining pressure properly.
6. The AA-98 compressor will cycle on and off
as air is consumed during use. This is
normal for operation. Turn compressor off if
it is not to be used for extended periods of
time.
7. To turn the compressor off, flip the power
switch to the off (O) position.
3
PRESSURE
GAUGE
POWER
SWITCH
AIR
OUTLET
POWER CORD
RECEPTACLE
10A CIRCUIT
BREAKERS
MAINTENANCE:
AIR STORAGE TANK - To avoid the risk of moisture
in the air lines or tank failure, drain the tank after
each use or every four hours of operation. This will
prevent condensation build-up and corrosion inside
the tanks. To drain the tank, allow the compressor
to fully pressurize and then turn the power switch to
the off (O) position. Remove the power cord from
the receptacle on the end of the compressor case.
Locate the drain fitting on the underside of the
compressor Carefully and quickly turn open the
drain fitting. Return the unit to its normal position
and allow water to drain out with the escaping air.
DRAIN FITTING
AIR FILTER - A dirty air filter will not allow the air
compressor to operate at full efficiency. If a
decrease in the supply air is noticed, it may be
necessary to replace the filter element. The air filter
is located inside the case along the side of the
pressure switch. To replace the filter, disconnect the
hoses and unscrew the brass cylinder at its midsection. Remove filter disc and install a new one.
P/N 730041
AIR INTAKE FILTER
PRESSURE SWITCH
AIR FILTER
AIR STORAGE TANK
4
ELECTRICAL - The motor of this compressor
has a thermal overload protector. If the motor
should overheat, the overload protector will
shut off the motor. If this should occur, turn the
compressor off immediately and allow the
motor to cool. Check the circuit breakers, they
may need to be reset.
Restart the compressor. If the compressor fails
to start, the compressor may need to cool
further. If the overload protector shuts the
motor off frequently, you may have a low
voltage situation. Low voltage can be
suspected when:
1. The motor does not achieve full power or
speed.
2. Fuses or circuit breakers activate when
starting the compressor.
3. Lights dim when the compressor is started.
4. Other electrical appliances fail to operate
properly.
5. Compressor shakes or hesitates when
starting.
A primary cause of voltage drop is using an
extension cord that is not heavy enough to
carry the current the AA-98 compressor draws.
An under size or over-length extension cord will
cause a drop in line voltage resulting in loss of
power and overheating. Always use a heavy
gauge 3-wire extension cord that has a 3-blade
grounding plug.
5
AA-98 220V SPECIFICATIONS:
Single cylinder, 3/4 hp., Oilless compressor-100 PSI
Displacement- 4.1 CFM (116 LM)
Electrical- 220 volt AC, 50 Hz
Air Delivery- 1.20 CFM at 100 PSI (60 LM at 689 KPa)
1.85 CFM at 50 PSI (74.2 LM at 345 KPa)
Circuit Breakers- 10 Amps, Quantity 2
Amps at Working Pressure- 5.1 Amps
Maximum pressure- 100 PSI
Air Storage Capacity- 1.0 Gal.
Weight- 43 lbs.
Size- 21.5" x 8.5" x 12.75"
SYMBOL DEFINITIONS:
Type B
Equipment
Type BF
Equipment
Dangerous
Voltage
Attention - Consult
Accompanying
Documents
6
P.O. Box 1548
Woodinville, WA 98072
(425) 487-3157 (800) 426-5913
www.aseptico.com • [email protected]
WARRANTY
Aseptico warrants its products against defects in material or workmanship for a
period of two (2) years, from date of original invoice. Some handpieces are
warranted for one year under the same conditions. Other handpieces and
expendable components, such as air turbines and light bulbs, are covered by shorter
warranty periods, or have no warranty. Aseptico's sole obligation under product
warranty is (at its sole option and discretion) to repair or replace any defective
component or product in part or whole. Aseptico shall be the sole arbiter of such
action.
In the event of alleged defect under warranty, the purchaser is to notify Aseptico's
Customer Service Department promptly. Customer Service will provide instructions,
usually directing that the product be returned for service. Shipment to Aseptico and
the cost thereof is always the responsibility of the purchaser.
Accidental misuse, inappropriate installation, or failure to perform directed
maintenance voids the warranty. Deliberately defacing, modifying, or removing the
serial number voids the warranty.
Aseptico does not assume, under this warranty, any risks or liabilities arising from the
clinical use of its products, whether or not such use involves coincidental utilization of
products manufactured by others.
P/N: 420260
Rev. F
ECO 13452
09/2014
PRINTED IN
THE U.S.A.