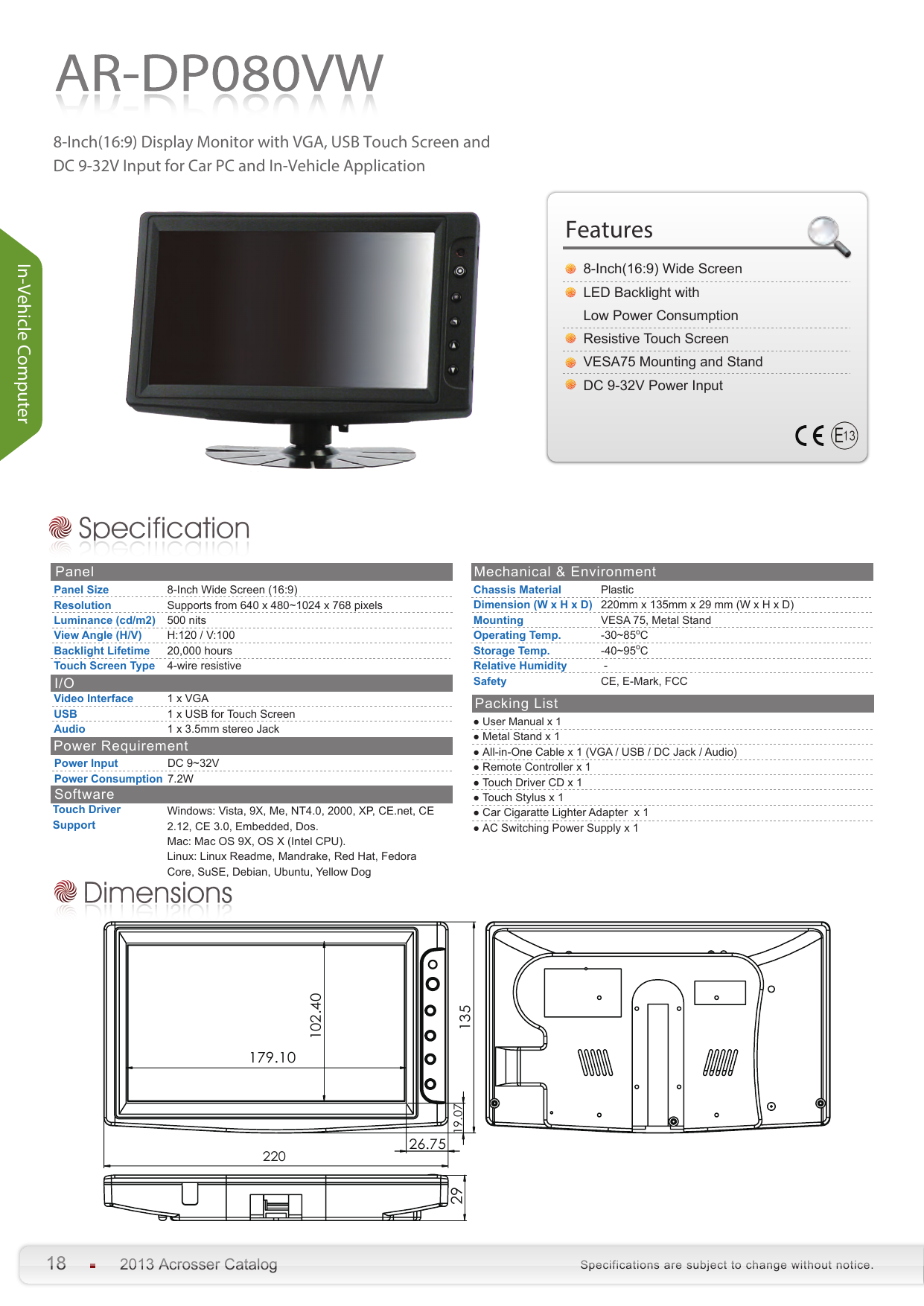 8-Inch(16:9) Display Monitor with VGA, USB Touch Screen and
DC 9-32V Input for Car PC and In-Vehicle Application
Features
In-Vehicle Computer
8-Inch(16:9) Wide Screen
LED Backlight with
Low Power Consumption
Resistive Touch Screen
VESA75 Mounting and Stand
DC 9-32V Power Input
Panel
Mechanical & Environment
Panel Size
Resolution
Luminance (cd/m2)
View Angle (H/V)
Backlight Lifetime
Touch Screen Type
Chassis Material
Dimension (W x H x D)
Mounting
Operating Temp.
Storage Temp.
Relative Humidity
Safety
8-Inch Wide Screen (16:9)
Supports from 640 x 480~1024 x 768 pixels
500 nits
H:120 / V:100
20,000 hours
4-wire resistive
I/O
Video Interface
USB
Audio
1 x VGA
1 x USB for Touch Screen
1 x 3.5mm stereo Jack
Packing List
● User Manual x 1
● Metal Stand x 1
● All-in-One Cable x 1 (VGA / USB / DC Jack / Audio)
● Remote Controller x 1
● Touch Driver CD x 1
● Touch Stylus x 1
● Car Cigaratte Lighter Adapter x 1
● AC Switching Power Supply x 1
Power Requirement
Power Input
DC 9~32V
Power Consumption 7.2W
Software
Windows: Vista, 9X, Me, NT4.0, 2000, XP, CE.net, CE
2.12, CE 3.0, Embedded, Dos.
Mac: Mac OS 9X, OS X (Intel CPU).
Linux: Linux Readme, Mandrake, Red Hat, Fedora
Core, SuSE, Debian, Ubuntu, Yellow Dog
135
102.40
Touch Driver
Support
Plastic
220mm x 135mm x 29 mm (W x H x D)
VESA 75, Metal Stand
-30~85oC
-40~95oC
CE, E-Mark, FCC
19.07
179.10
26.75
29
220
18
2013 Acrosser Catalog
Specifications are subject to change without notice.

* Your assessment is very important for improving the work of artificial intelligence, which forms the content of this project