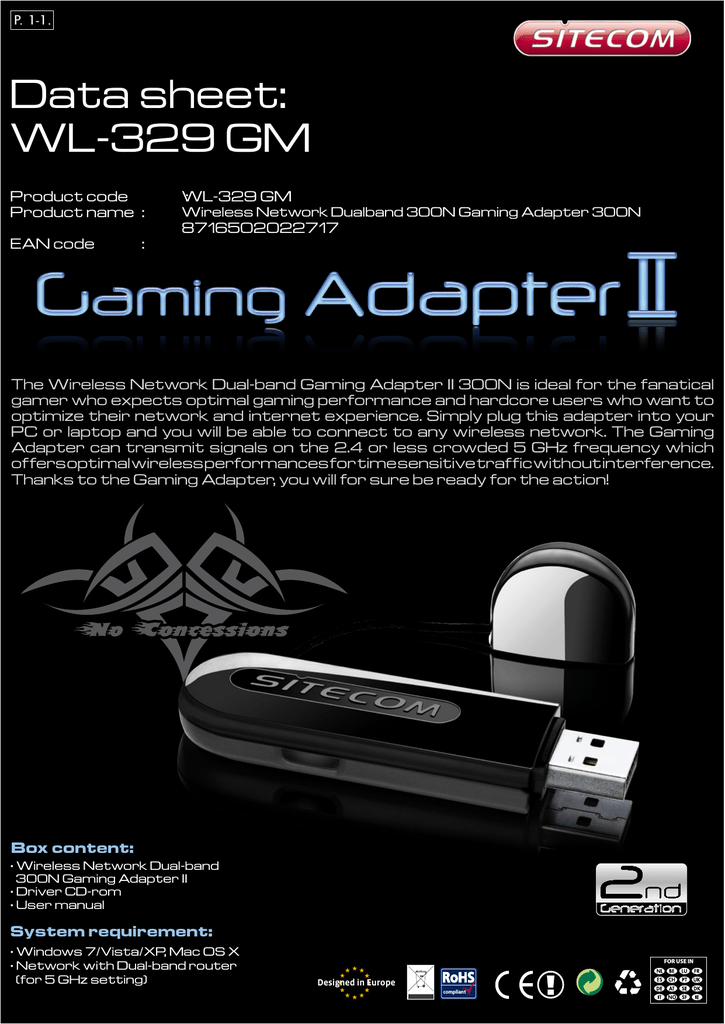 P. 1-1.
Data sheet:
WL-329 GM
Product code
Product name :
EAN code
:
WL-329
:
GM
Wireless Network Dualband 300N Gaming Adapter 300N
8716502022717
The Wireless Network Dual-band Gaming Adapter II 300N is ideal for the fanatical
gamer who expects optimal gaming performance and hardcore users who want to
optimize their network and internet experience. Simply plug this adapter into your
PC or laptop and you will be able to connect to any wireless network. The Gaming
Adapter can transmit signals on the 2.4 or less crowded 5 GHz frequency which
offers optimal wireless performances for time sensitive traffic without interference.
Thanks to the Gaming Adapter, you will for sure be ready for the action!
Box content:
• Wireless Network Dual-band
300N Gaming Adapter II
• Driver CD-rom
• User manual
System requirement:
• Windows 7/Vista/XP, Mac OS X
• Network with Dual-band router
(for 5 GHz setting)
FOR USE IN
<]ka_f]\af=mjgh]
,œVœ"«ˆ>˜Ì
P. 1-2.
Technical specifications:
WL-329 GM
Dual-band technology
•Transmit signals on the 2.4 GHz
or 5 GHz frequency
•5 GHz frequency for wireless gaming and streaming without interference
Superb performance
•Standard/compliance 802.11 b/g/n
•Wireless speeds up to 300 Mbps
on both bands
•USB 2.0
Easy setup and security
•One-Push Setup: create a wireless connection with one push
•Security: WPA, WPA2 (AES, TKIP), 64/128 bit WEP with shared-key authentication
Looking for optimal performance?

* Your assessment is very important for improving the work of artificial intelligence, which forms the content of this project