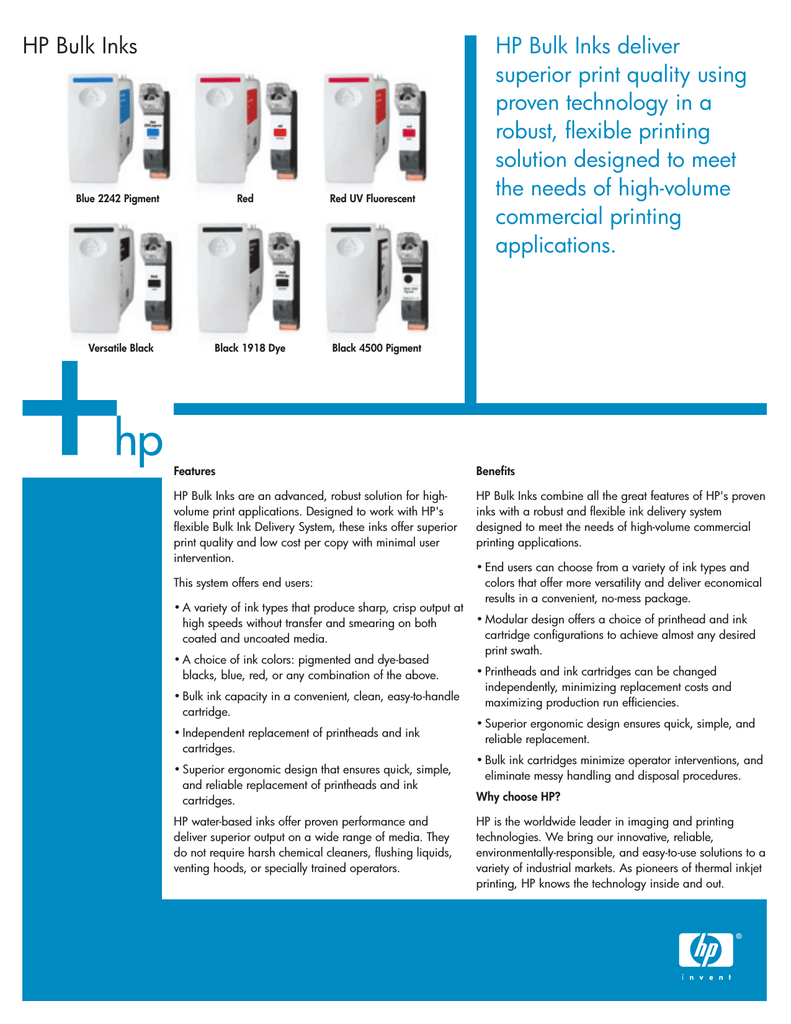 HP Bulk Inks
Blue 2242 Pigment
Versatile Black
Red
Black 1918 Dye
Red UV Fluorescent
HP Bulk Inks deliver
superior print quality using
proven technology in a
robust, flexible printing
solution designed to meet
the needs of high-volume
commercial printing
applications.
Black 4500 Pigment
Features
Benefits
HP Bulk Inks are an advanced, robust solution for highvolume print applications. Designed to work with HP's
flexible Bulk Ink Delivery System, these inks offer superior
print quality and low cost per copy with minimal user
intervention.
HP Bulk Inks combine all the great features of HP's proven
inks with a robust and flexible ink delivery system
designed to meet the needs of high-volume commercial
printing applications.
This system offers end users:
• A variety of ink types that produce sharp, crisp output at
high speeds without transfer and smearing on both
coated and uncoated media.
• A choice of ink colors: pigmented and dye-based
blacks, blue, red, or any combination of the above.
• Bulk ink capacity in a convenient, clean, easy-to-handle
cartridge.
• Independent replacement of printheads and ink
cartridges.
• Superior ergonomic design that ensures quick, simple,
and reliable replacement of printheads and ink
cartridges.
HP water-based inks offer proven performance and
deliver superior output on a wide range of media. They
do not require harsh chemical cleaners, flushing liquids,
venting hoods, or specially trained operators.
• End users can choose from a variety of ink types and
colors that offer more versatility and deliver economical
results in a convenient, no-mess package.
• Modular design offers a choice of printhead and ink
cartridge configurations to achieve almost any desired
print swath.
• Printheads and ink cartridges can be changed
independently, minimizing replacement costs and
maximizing production run efficiencies.
• Superior ergonomic design ensures quick, simple, and
reliable replacement.
• Bulk ink cartridges minimize operator interventions, and
eliminate messy handling and disposal procedures.
Why choose HP?
HP is the worldwide leader in imaging and printing
technologies. We bring our innovative, reliable,
environmentally-responsible, and easy-to-use solutions to a
variety of industrial markets. As pioneers of thermal inkjet
printing, HP knows the technology inside and out.
HP Bulk Inks
Ink types
Black 4500 Pigment
This rich, pigmented black ink delivers optimal image quality on a broad set of porous substrates. High-quality optical density,
a long decap time, and water resistance make this ink perfect for both intermittent printing and high-volume applications. It
produces excellent readability for barcodes, package coding, and mailing applications.
Versatile Black
HP's innovative, water-based, pigmented black ink is designed to work on a wide variety of coated and uncoated
media. Fast dry time and high durability produces clear, crisp output with no smearing or transfer.
Black 1918 Dye
This dye-based black ink delivers a longer decap time than pigmented inks. In stop and start or intermittent print
environments, this ink can deliver better economy with less servicing. Additionally, Black 1918 Dye ink can produce
superior results over pigmented ink on some coated media.
Red
This fast-drying pigmented color ink delivers sharp output on almost all commonly available media. This red ink is the
right choice for highlighting key messages and information.
Blue 2242 Pigment
HP's pigmented blue ink delivers durable, water- and light-fast printed output on a very broad set of media. This
quick-drying ink is tough enough to stand up to harsh postal conditions and works exceptionally well on common
packaging materials.
Red UV Fluorescent
This ink is specifically designed to meet strict postal requirements for security-enhanced information on envelopes and
other mail items. This ink is available for postal indicia applications only.
Technical specifications
Printheads
Bulk ink cartridges
Resolution
600 dpi
N/A
Nozzle count
300
N/A
Maximum firing frequency
12 kHz
N/A
Approx. drop volume
29 pl
N/A
Avg. delivered ink
Up to 800 ml
175/350 ml
Operating conditions
10 to 40° C, 10 to 80% RH
10 to 40° C, 10 to 80% RH
Shipping/storage conditions
10 to 40° C, 5 to 80% RH
Altitude: 0–5000 meters
Orientation: nozzles down or horizontal
10 to 40° C, 5 to 80% RH
Altitude: 0–5000 meters
Ordering information
Contact information
Printheads
To discuss inkjet technology OEM opportunities with HP:
Product number
Product description
Q2320A
Versatile Black Bulk Printhead and Connector Assembly
Q2324A
Red UV Fluorescent Bulk Printhead and Connector Assembly
Q2345A
Black 1918 Dye Bulk Printhead and Connector Assembly
Q2357A
Red Bulk Printhead and Connector Assembly
Q2382A
Blue 2242 Pigment Bulk Printhead and Connector Assembly
Q7456A
Black 4500 Pigment Printhead
Bulk ink cartridges
Product number
Product description
Q2321A
Versatile Black 350ml Bulk Ink Cartridge
Q2325A
Red UV Fluorescent 175ml Bulk Ink Cartridge
Q2355A
Red UV Fluorescent 350ml Bulk Ink Cartridge
Q2346A
Black 1918 Dye 350ml Bulk Ink Cartridge
Q2358A
Red 350ml Bulk Ink Cartridge
Q2381A
Blue 2242 Pigment 175ml Bulk Ink Cartridge
Q2356A
Blue 2242 Pigment 350ml Bulk Ink Cartridge
Q7457A
Black 4500 Pigment Bulk Ink Cartridge
© 2005 Hewlett-Packard Development Company, L.P.
The information contained herein is subject to change without notice.
DMS# 800566ef Rev A 03/2005
Pub# 5982-6555EN
• Go to www.hp.com/oeminkjet and send us an email
message.
• Call 858-655-3524 and leave a voicemail message.
• Mail your inquiry to: Hewlett-Packard Company,
Specialty Printing Systems, Mailstop 66-654,16399
West Bernardo Drive, San Diego, CA 92127, USA.