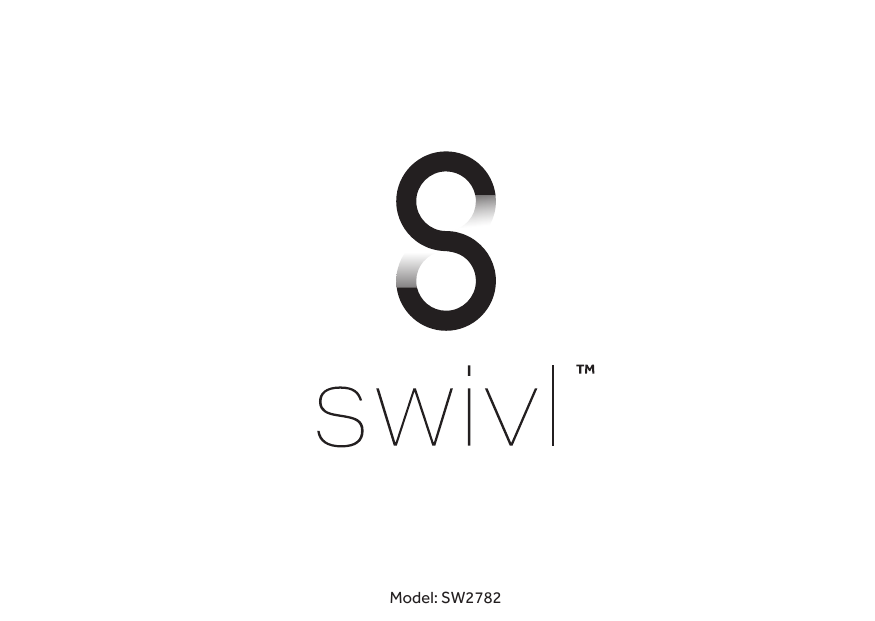 Model: SW2782
Contents.
Marker Lanyard Clip
A
B
Shims
C
Base
2
Marker
*Also includes Wall Charger,
International Adapter Plugs (for
international shipments only) and
audio cable.
Power
Sync
Bluetooth
status
Marker
status
Key Features.
Buttons, LEDs and I/O
Back/Left
Forward/Right
Action
USB
Micro USB
Power
Shutter
Charge status
Audio
Power status
Power
Record status
Record
3
Power On.
Press and hold the power button on base,
then marker. Red light means on. Green
means paired.
4
Horizontal motion.
Stand back 3 feet. Move hand from one
side to another using deliberate motions.
Vertical motion.
Press and hold action button on
marker. Move then hold hand still.
5
Connect.
Download Swivl Capture App. Open Bluetooth menu
and turn on. Press and hold sync button until Bluetooth
status light flashes. Pair with Swivl. Green status light
means connected. Follow prompts.
Made for
iPhone 5S
iPhone 5C
iPhone 5
iPhone 4S
iPhone 4
iPad Air
iPad mini with Retina display
iPad mini
iPad (4th generation)
iPad (3rd generation)
iPod touch (5th generation)
iPod touch (4th generation)
Also works with other select mobile
devices and cameras. Go to swivl.
com/support for more information on
compatibility.
6
Adjusting fit.
Push removable grip holder left.
Then lift to remove.
7
Grip fit.
Select a shim and test on edge of mobile
device. Fit should be snug with no force.
A
8
B
C
Grip assembly.
Insert grip into grip holder and
place in base.
9
Insert device.
Simply insert mobile device, screen forward, in
landscape orientation.
10
Connect audio.
Plug audio cable into base and mobile device
to receive wireless microphone feed.
11
Stow and Charge.
Plug charging cable into base and place
marker in the base dock to charge.
For more information, go to: swivl.com/support
1354 El Camino Real | San Carlos CA 94070 | (888) 837 6209
TM and © 2014 Swivl. All rights reserved. Swivl, the Swivl logo and all other company, product and
service names or slogans are trademarks of Swivl. Patent pending.
iPad, iPhone, and iPod touch are trademarks of Apple, Inc., registered in the U.S. and other countries.
Designed in California. Printed in China. MC-00318.

* Your assessment is very important for improving the work of artificial intelligence, which forms the content of this project