surface cleaning - Rubbermaid® Commercial Products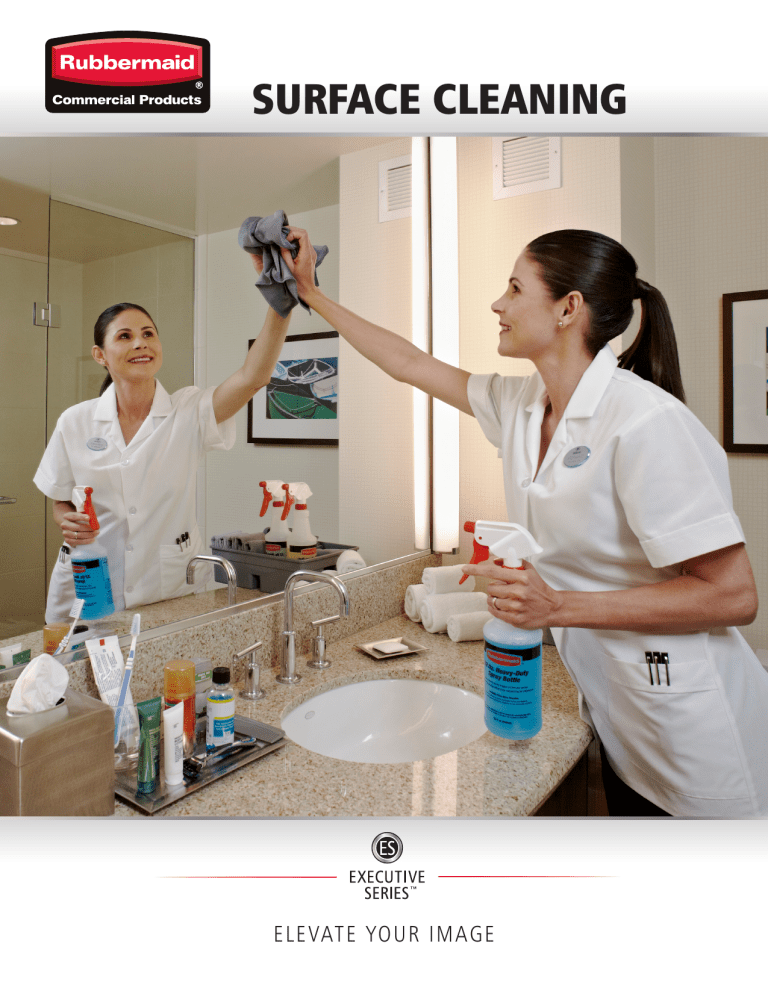 SURFACE CLEANING
EL EVAT E YOU R I MA G E
INTRODUCTION
WET AND DRY MICROFIBER CLEANING
INTRODUCING
EXECUTIVE SERIES
When you want fast, efficient, high-performance
surface cleaning, rely on Executive Series microfiber
dusters and cloths for effective removal of dirt,
Around the clock, 365 days a year, your staff works
bacteria, and allergens from all types of surfaces,
to provide rest and relaxation to a highly diverse guest
even corners and crevices. They're ideal for both
list. Maintaining a clean, comfortable, and quiet stay
wet cleaning and dry dusting, featuring smart
is essential to their enjoyment and your success.
designs that boost cleaning power and productivity:
Rubbermaid Commercial Products introduces a new line
n
BLEACH-SAFE and durable to withstand
of surface cleaning solutions proven to help reduce or
hundreds of launderings without compromising
eliminate dust and allergens from all types of surfaces.
performance
Each product is engineered to:
n
STREAK-FREE CLEANING when using our
glass cloths and covers. Ideal for polishing glass,
• E ffectively remove dust, dirt, bacteria, and
mirrors, chrome, and more
allergens from surfaces with microfiber dusters
n
and cloths
S UPERIOR GERM-REMOVING MICROFIBER
is proven to remove 99.9% of microbes to
provide a safer, cleaner environment for guests
• H
elp prevent injury to staff with tools
and employees
engineered to improve reach
• B
lend into the environment with an attractive
color scheme
Discover your ideal surface cleaning solutions on the
following pages. Upgrade to Executive Series today and
witness innovation in action.
ELEVATE YOUR IMAGE
Lint-Free Cleaning
Dense 3-5 micrometer fiber removes more dust,
dirt, and microbes than conventional cleaning
cloths without leaving behind a trace of lint or
unsightly streaks.
EXECUTIVE SERIES SURFACE CARE FEATURES
Smart, sleek cleaning solutions designed to elevate your image and increase staff productivity.
Germ Removal
Ergonomic Design
Versatile Cleaning
Our microfiber products are proven to
remove 99.9% of microorganisms for a
cleaner, allergen-free environment for
guests and employees.
Comfortable, ergonomic tools empower
your crew to clean hard-to-reach
areas with ease and speed, increasing
productivity and worker well-being.
Microfiber dusters and cloths let you
clean everything from vents to crown
molding to blinds, showers and tubs,
mirrors, and glass. Use them wet or dry.
2
Better Surface Contact
Flexible mop frame conforms to the shape of
the surface being cleaned. Excellent for cleaning
showers and tubs and other hard-to-reach areas.
1863888 GRAY & 1863890 BROWN
EXECUTIVE 12" MULTIPURPOSE
MICROFIBER CLOTH
Keep all types of work surfaces in top
shape with these versatile microfiber
cloths for wet cleaning or dry dusting.
Also available in 16" – 1863889 Gray.
FGQ86100WH00 EXECUTIVE
FLEXIBLE FRAME HI-PILE
DUST COVER
Provides superior trapping of dust,
dirt, and debris to improve wet or dry
cleaning. Great for dust-collecting areas
like crown moldings and crevices.
1867398 EXECUTIVE 16" GLASS
MICROFIBER CLOTH
Scratch-free, lint-free cleaning of glass,
mirrors, and chrome. Excellent for
restrooms, spas, and fitness centers.
1867396 EXECUTIVE 11"
MICROFIBER FLEXIBLE FLAT MOP
Flexes to clean both contoured and flat
surfaces with speed and ease.
Great for tubs and showers.
FGQ89100BL00 EXECUTIVE
MICROFIBER FLEXIBLE DAMP
MOP COVER
Zig-zag design packs 17% more split
microfiber into each mop for reliable
cleaning. Also available, Damp Scrub Mop
Cover (FGQ88100YLOO).
FGQ87100BL00 EXECUTIVE
MICROFIBER FLEXIBLE GLASS
MOP COVER
Premium split nylon/polyester microfiber
provides optimal damp mopping
performance, especially designed for
cleaning glass. Perfect for windows.
1-800-347-9800
www.rubbermaidcommercial.com
3
HARD-TO-REACH SURFACE CLEANING
Combine the swift cleaning efficiency of microfiber
with the smart design and versatility of Executive
Series cleaning tools, and you have everything
needed to keep your facility looking its best, top to
bottom, 24/7. From baseboards to blinds, furniture to
vents, glass to chrome, rely on the tools that perform
well consistently, thanks to user-friendly features:
n
MICROFIBER FLEXIBLE DUSTING WAND bends
easily to conform to irregular surfaces, corners, and
crevices so your crew can clean with speed and
ease, saving time and money
n
HYGEN MICROFIBER TELESCOPING HANDLE
pairs perfectly with our Microfiber Flexible Dusting
Wand and Flexible Flat Mop Frame to provide
effective and ergonomic cleaning with extended
reach of ceilings, crown moldings, and corners
72"
48"
1863882 EXECUTIVE HYGEN
LONG MICROFIBER
TELESCOPING HANDLE, 48"-72"
Lightweight aluminum extension pole
makes swift, easy work of extendedreach cleaning tasks, with lengths up to
72" for pickup of dirt and debris.
Extended Reach
Lightweight aluminum extension poles and flexible
wand make quick work of high-reach cleaning tasks.
1-800-347-9800
FG9C03060000 EXECUTIVE
ASSEMBLED BOTTLE AND SPRAY
TRIGGER
Adjustable nozzle sprays up to
30", making cleaning easier and
more effective.
www.rubbermaidcommercial.com
© 2015 by Rubbermaid Commercial Products LLC 8900 Northpointe Executive Drive, Huntersville, NC 28078
RCP-104 REV 1/16
40"
20"
1863883 EXECUTIVE HYGEN
SHORT MICROFIBER
TELESCOPING HANDLE, 20"-40"
Lightweight aluminum pole with lengths
up to 40" connects to the Flexible Flat Mop
Frame for efficient cleaning of showers,
tubs, and other hard-to-reach areas.
FGQ85200WH00 EXECUTIVE HYGEN
MULTIPURPOSE FLEXIBLE MICROFIBER
DUSTER & FRAME
High-performance wand connects with
telescoping handle to easily clean vents and
uniquely shaped fixtures. For replacement
sleeve, order FGQ85300WH00.
1880995 EXECUTIVE DIVIDED
CARRY CADDY
All-purpose caddy is perfect for carrying
tools or cleaning supplies, while
conveniently fitting on cleaning
and housekeeping carts.
Also available in Black (1880994).
1857391 EXECUTIVE 5-QUART
HEAVY-DUTY PAIL – GRAY
Durable pail with side handles provides
support in storage and cleaning. Also
available in Black (1875378).

* Your assessment is very important for improving the work of artificial intelligence, which forms the content of this project