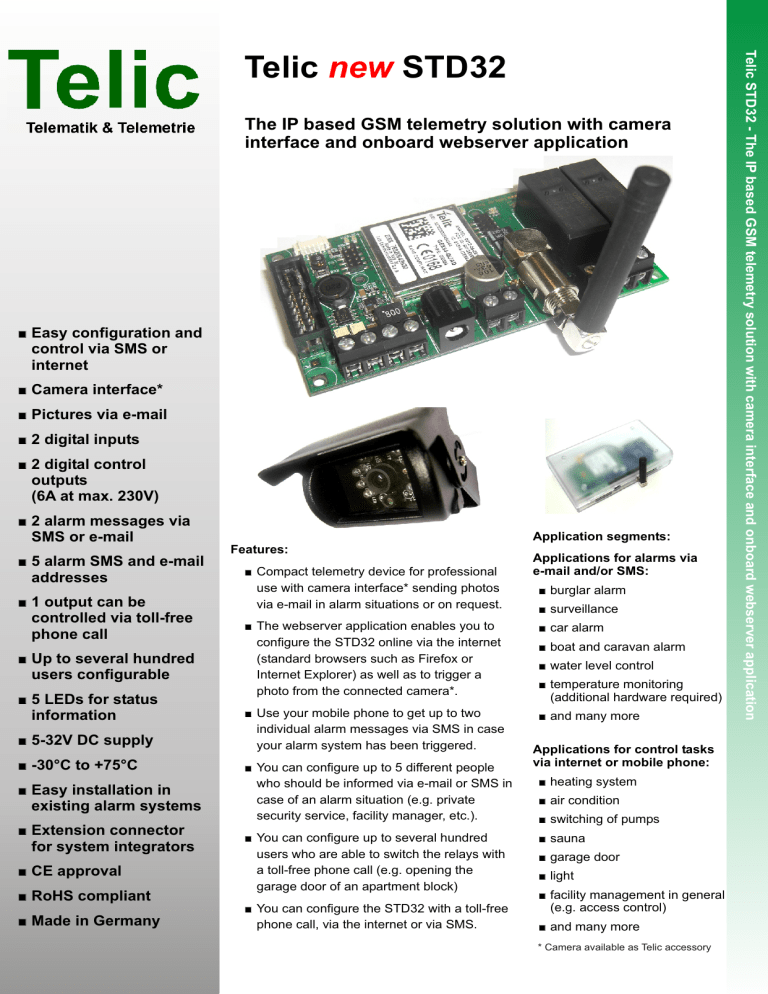 The IP based GSM telemetry solution with camera
interface and onboard webserver application
. Easy configuration and
control via SMS or
internet
. Camera interface*
. Pictures via e-mail
. 2 digital inputs
. 2 digital control
outputs
(6A at max. 230V)
. 2 alarm messages via
SMS or e-mail
. 5 alarm SMS and e-mail
addresses
. 1 output can be
controlled via toll-free
phone call
. Up to several hundred
users configurable
. 5 LEDs for status
information
. 5-32V DC supply
. -30°C to +75°C
. Easy installation in
existing alarm systems
. Extension connector
for system integrators
. CE approval
. RoHS compliant
. Made in Germany
Application segments:
Features:
. Compact telemetry device for professional
use with camera interface* sending photos
via e-mail in alarm situations or on request.
Applications for alarms via
e-mail and/or SMS:
. burglar alarm
. surveillance
. The webserver application enables you to
configure the STD32 online via the internet
(standard browsers such as Firefox or
Internet Explorer) as well as to trigger a
photo from the connected camera*.
. car alarm
. Use your mobile phone to get up to two
individual alarm messages via SMS in case
your alarm system has been triggered.
. and many more
. You can configure up to 5 different people
who should be informed via e-mail or SMS in
case of an alarm situation (e.g. private
security service, facility manager, etc.).
. You can configure up to several hundred
users who are able to switch the relays with
a toll-free phone call (e.g. opening the
garage door of an apartment block)
. You can configure the STD32 with a toll-free
phone call, via the internet or via SMS.
. boat and caravan alarm
. water level control
. temperature monitoring
(additional hardware required)
Applications for control tasks
via internet or mobile phone:
. heating system
. air condition
. switching of pumps
. sauna
. garage door
. light
. facility management in general
(e.g. access control)
. and many more
* Camera available as Telic accessory
Telic STD32 - The IP based GSM telemetry solution with camera interface and onboard webserver application
The 7.2Mbit/s UMTS / HSDPA Modem Terminal with TCP/IP stack, SMTP, Email & USB-Interface
Telic new STD32
STD32 - The telemetry solution with camera interface and webserver
SMS/E-mail alarm via GSM/GPRS
Alarming
GSM network provider e.g.
Vodafone
SMTP E-mail Server e.g. AOL
Internet
PC
Available Accessories
STD32 Housing ready to install the STD32 and to
mount on the wall; with direct access to the inputs,
outputs, power supply, antenna and camera
Power Supply
(230V / EU plug), compact and light weight solution
E-mail
Power Cable with open ends
SMS
STD32
Mobile
Phone
Antennas different models on request
Telic Camera to be connected directly to the STD32
The STD32 offers you the possibility to get messages
via SMS and via e-mail.
Access the STD32 from the internet
Configuration and Control
GSM network provider e.g.
Vodafone
Internet
Web-browser e .g. Firefox
GPRS
PC
About Telic
Telic is a leading German supplier of Telematics and
Telemetry products. Based on the core technologies
GSM and GPS. Telic develops and manufactures high
quality products, designed to be used in industrial and
automotive environment. Telic's strong partnership with
GSM module manufacturers secures the competitive
edge in GSM, GPRS and UMTS technologies. By using
a platform concept, Telic is able to react flexible and fast
to customers requirements. This leads to cost efficient
solutions for system integrators and solution providers.
STD32
Fixed IP from GSM network
provider e.g. http://
10.20.30.50
E.g. http://10.20.30.50
The webserver implemented in the STD32 allows you
to set the outputs of the device and to make
configurations from anywhere in the world with the
help of a web browser and the internet.
User Interface
Configuration & control via phone call or SMS:
. toll-free configuration call / call to switch one relay
. configuration / control of outputs via SMS
Use of web-server application to:
Telic Product Portfolio
Picotrack is a very small and compact
GSM/GPS tracing and alarming device for
security applications as well as tracking of
people and goods.
Professional BC is the professional GSM/
GPS tracking unit for fleet management and
AVL projects with a wide range of I/Os, CAN
bus and RS232 port options.
Standard BC is a high quality 50 channel
GPS and Quad Band GSM unit for efficient
fleet management and AVL projects. Small,
compact and simple to install it convinces with
its wide feature set.
HiPer Pro is the personal tracking and
communication device containing GSM- and
GPS-functionality and antennas in a mobile,
designed for personal security needs.
How to contact us
. change all configurations (basic or advanced)
. check the status of the inputs and outputs
. retrieve pictures from the connected camera
. set the outputs with one mouse click
Telic GmbH
Raiffeisenallee 12b
D-82041 Oberhaching/Germany
Phone:
+49 89 490 2686 - 0
Fax:
+49 89 490 2686 - 18
Internet: www.telic.de
E-Mail:
[email protected]
V1.0 February 2009
Note: Specification is subject to change without prior notice.

* Your assessment is very important for improving the work of artificial intelligence, which forms the content of this project