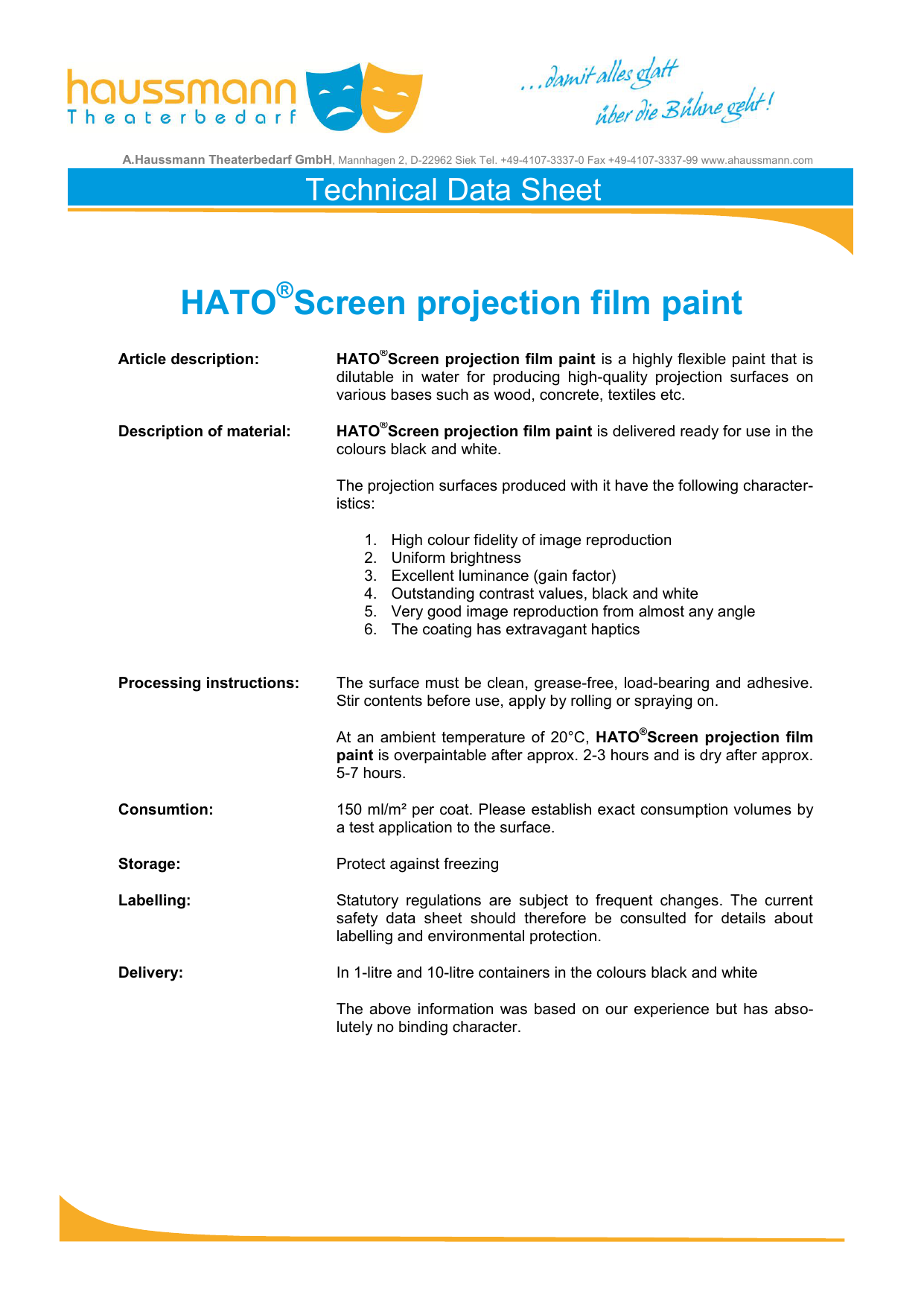 A.Haussmann Theaterbedarf GmbH, Mannhagen 2, D-22962 Siek Tel. +49-4107-3337-0 Fax +49-4107-3337-99 www.ahaussmann.com
Technical Data Sheet
HATO®Screen projection film paint
®
Article description:
HATO Screen projection film paint is a highly flexible paint that is
dilutable in water for producing high-quality projection surfaces on
various bases such as wood, concrete, textiles etc.
Description of material:
HATO Screen projection film paint is delivered ready for use in the
colours black and white.
®
The projection surfaces produced with it have the following characteristics:
1.
2.
3.
4.
5.
6.
Processing instructions:
High colour fidelity of image reproduction
Uniform brightness
Excellent luminance (gain factor)
Outstanding contrast values, black and white
Very good image reproduction from almost any angle
The coating has extravagant haptics
The surface must be clean, grease-free, load-bearing and adhesive.
Stir contents before use, apply by rolling or spraying on.
®
At an ambient temperature of 20°C, HATO Screen projection film
paint is overpaintable after approx. 2-3 hours and is dry after approx.
5-7 hours.
Consumtion:
150 ml/m² per coat. Please establish exact consumption volumes by
a test application to the surface.
Storage:
Protect against freezing
Labelling:
Statutory regulations are subject to frequent changes. The current
safety data sheet should therefore be consulted for details about
labelling and environmental protection.
Delivery:
In 1-litre and 10-litre containers in the colours black and white
The above information was based on our experience but has absolutely no binding character.

* Your assessment is very important for improving the work of artificial intelligence, which forms the content of this project