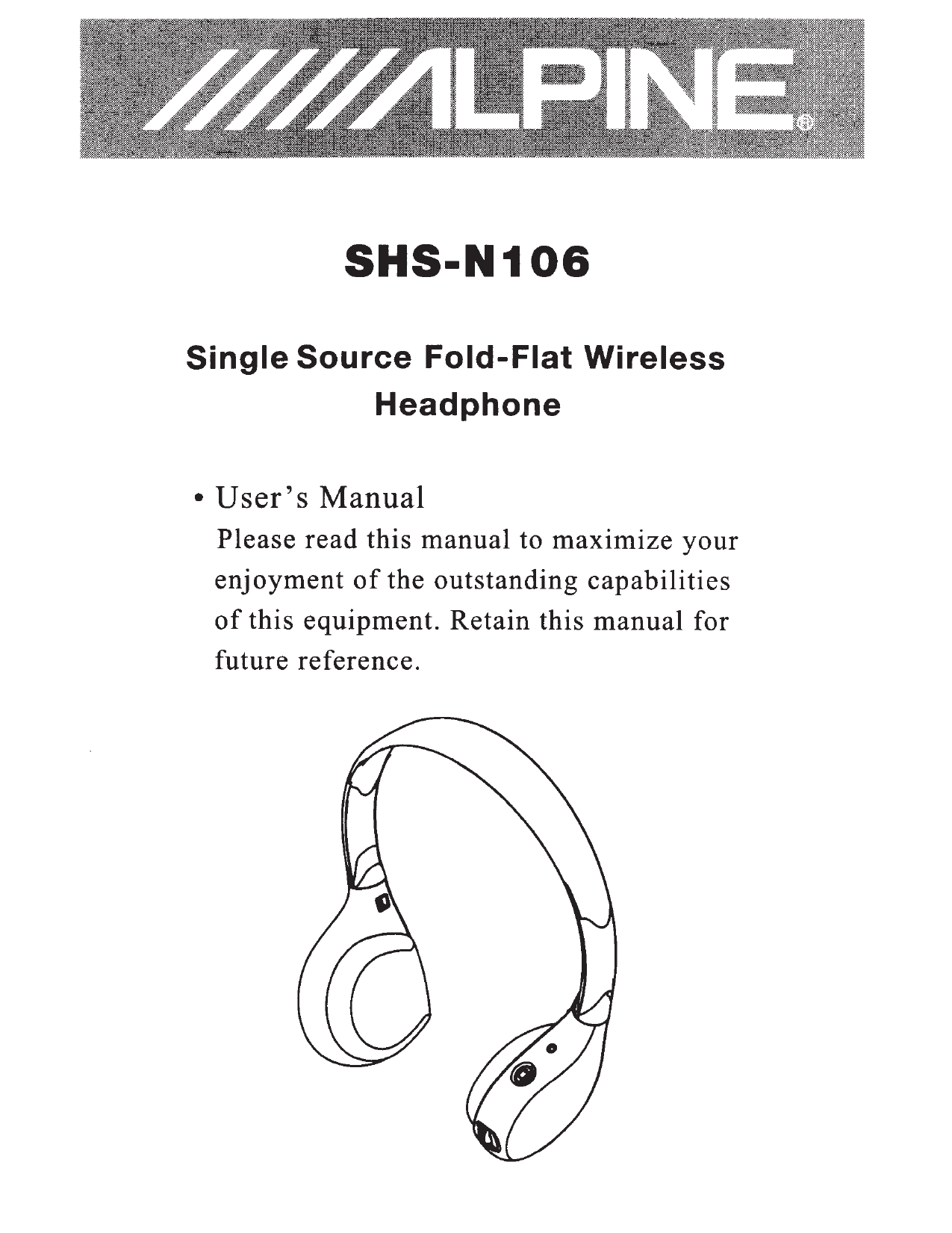 SHS-N106
Single Source Fold-Flat Wireless
Headphone
• User's Manual
Please read this manual to maximize your
enjoyment of the outstanding capabilities
of this equipment. Retain this manual for
future reference.
INTRODUCTION
Single Source Fold-Flat Wireless Headphone allows you to fold the
earpieces flat for easy storing. This system frees you from the tangle of
headphone wires and lets you enjoy movies, video games or T.V. without
the tangle of cables around you. To ensure the best performance of
your system, please read this manual carefully.
FEATURES
•
•
•
•
•
Fold-Flat Easy Storage Design
Automatic Level Control prevents input signal overloading
Comfort Fit Design (Children - Adults)
For use with Alpine Overhead and Headrest Monitor Package
Automatic Power OFF
After a few minutes without a signal source, the power to the
headphones will automatically turn itself OFF
EXPLANATION OF CONTROLS (Fig.1)
Headphone Receivers
1)
2)
3)
4)
BATTERY COVER
VOLUME CONTROL
POWER SWITCH
POWER INDICATOR LED
Fig.1
BATTERY INSTALLATION (Fig. 2)
1. Place two alkaline AAA batteries into the
battery compartment of the Headphones(s), making sure
that the battery polarity is correct.
~
Fig. 2
NOTE:
This single source headphone, SHS-N1 06, is not compatible
with the dual source system, SHS-N252.
FOLD-FLAT FUNCTION (Fig. 3)
1. Fold the earpieces flat for easy storing.
2. Turn the earpieces 90° back to wear on head.
Fig. 3
Open
Position
CONTENTS
1 - Single Source Fold-Flat Headphone (SHS-N1 06)
2 - AAA Batteries
1 - Ownerls Manual
OPERATION
Please Read Carefully to Prevent Damage to the Headphones or your Ears:
WARNING: Before turning on the power, remove headphones and turn
the volume down as low as possible.
1) Be sure batteries are properly installed in the headphones
2) Turn the headphone volume completely down before placing it on
your ears and turning on the power.
Turn on the headphone power and adjust the headphone volume to
a comfortable level (You can increase the audio source volume if
needed).
WARNING
Failure to heed the following instructions can result in serious injury or
death.
THE DRIVER MUST NOT USE HEADPHONES WHILE DRIVING. This
headphone system is designed for use by the vehicle's passengers only. Use
of headphones while driving can inhibit the driver's ability to hear emergency
vehicles and other warnings. This can result in an accident causing serious
injuries or death.
VIDEO PRODUCTS MUST BE INSTALLED SO THAT THE DRIVER
CANNOT WATCH TVNIDEO UNLESS THE VEHICLE IS PARKED. It is
dangerous (and illegal in many states) for the driver to watch the TVNideo
while driving. If the product is not installed correctly, the TVNideo can cause
a distraction, causing the driver to look away from the road ahead. This could
result in an accident and serious injuries or death to the driver and
passengers.
DO NOT OPERATE ANY FUNCTION THAT TAKES YOUR ATTENTION
AWAY FROM SAFELY DRIVING YOUR VEHICLE. Any function that
requires your prolonged attention should only be performed after coming to a
complete stop. Always stop the vehicle in a safe location before performing
these functions. Failure to do so may result in an accident.
KEEP SMALL OBJECTS SUCH AS BATTERIES OR SCREWS OUT OF THE
REACH OF CHILDREN. Swallowing them may result in serious injury. If
swallowed, consult a physician immediately.
DO NOT DISASSEMBLE OR ALTER. Doing so may result in an accident, fire
or electric shock.
USE THIS PRODUCT FOR MOBILE 12V APPLICATIONS. Use for other
than its designed application may result in fire, electric shock or other injury.
DO NOT EXPOSE THIS PRODUCT TO RAIN OR MOISTURE Doing so may
result in fire of electric shock.
ALWAYS USE CAUTION WHEN ADJUSTING THE HEADPHONE VOLUME.
Using headphones at high volume can lead to hearing damage in both
children and adults.
DISPOSE OF ALL BATTERIES PROPERLY. Please check with your local
recycling or hazardous waste authorities.
CAUTION
Failure to heed the following instructions can result in injury or
property damage.
DO NOT LEAVE THE HEADPHONES WHERE IT CAN BE
EXPOSED TO EXTREMELY HIGH TEMPERATURES (SUCH AS
DIRECT SUNLIGHT) Lengthy exposure to extremely high
temperatures, can cause the plastic to soften and possibly deform.
HALT USE IMMEDIATELY IF A PROBLEM APPEARS. Failure to
do so may cause personal injury or damage to the product. Return
it to your authorized Alpine dealer or the nearest Alpine Service Center
for repairing.
DO NOT MIX NEW BATTERIES WITH OLD BATTERIES. INSERT
WITH THE CORRECT BATTERY POLARITY.
When inserting the batteries, be sure to observe proper polarity
(+and-) as instructed. Rupture or chemical leakage from the battery
may cause fire or personal injury.
ALPINE ELECTRONICS, INC.
Tokyo office:
1-1-8 Nishi Gotanda Shinagawa-ku
Tokyo 141-0031 , Japan
Tel.: 03-3494-1101
ALPINE ITALIA S.p.A.
Viale C. Colombo 8,
20090 Trezzano Sui
Naviglio (MI), Italy
Tel.: 02-484781
ALPINE ELECTRONICS MARKETING, INC.
1-7, Yukigaya-Otsukamachi, Ota-ku
Tokyo 145-0067, Japan
Tel.: 03-5499-4531
ALPINE ELECTRONICS
(BENELUX) GmbH
Leuvensesteenweg 51 0-86,
1930 Zaventem, Belgium
Tel.: 02-725 1315
ALPINE ELECTRONICS OF AMERICA, INC.
19145 Gramercy Place
Torrance, California 90501 U.S.A.
Tel.: 1-800-ALPINE-1 (1-800-257-4631)
ALPINE ELECTRONICS GmbH
Wilhelm-Wagenfeld-Strase 1-3
80807 MUnchen, Germany
Tel.: 089-32 42 640
ALPINE ELECTRONICS OF U.K., LTO.
Alpine House
Fletchamstead Highway,
Coventry CV4 9TW, United Kingdom
Tel.: 0870-33 33 763
ALPINE ELECTRONICS OF AUSTRALIA PTY. LTO.
161-165 Princes Highway, Hallam
Victoria 3803, Australia
Tel.: 03-8787-1200
ALPINE ELECTRONICS FRANCE S.A.R.L.
ALPINE ELECTRONICS DE ESPANA, S.A.
(RCS PONTOISE 8 338 101 280)
Portal de Gamarra 36, Pabell6n, 32
98, Rue de Ia Belle Etoile, Z.l. Paris Nord II,B.P.
01013 Vito ria (Aiava).
50016, 95945 Roissy Charles de GaulleCedex,
APDO 133, Spain
France Tel.: 01-48638989
Tel.: 945-283588
LIMITED WARRANTY
ALPINE ELECTRONICS OF AMERICA, INC. AND ALPINE OF
CANADA INC. (.. Alpine .. ), are dedicated to quality craftsmanship
and are pleased to offer this Warranty. We suggest that you read it
thoroughly. Should you have any questions, please contact your
Dealer or contact Alpine at one of the telephone numbers listed
below.
e
PRODUCTS COVERED:
This Warranty covers Car Audio Products and Related Accessories
(.. the product .. ). Products purchased in the Canada are covered
only in the Canada. Products purchased in the U.S.A. are covered
only in the U.S.A.
e
LENGTH OF WARRANTY:
This Warranty is in effect for one year from the date of the first
consumer purchase.
e WHO IS COVERED:
This Warranty only covers the original purchaser of the product,
who must reside in the United States, Puerto Rico or Canada.
e WHAT IS COVERED:
This Warranty covers defects in materials or workmanship (parts
and labor) in the product.
e WHAT IS NOT COVERED:
This Warranty does not cover the following:
G) Damage occurring during shipment of the product to Alpine for
repair (claims must be presented to the carrier).
(2) Damage caused by accident or abuse, including burned voice
coils caused by over-driving the speaker (amplifier level is
turned up and driven into distortion or clipping). Speaker
mechanical failure (e.g. punctures, tears or rips). Cracked or
damaged LCD panels. Dropped or damaged hard drives.
@ Damage caused by negligence, misuse, improper operation or
failure to follow instructions contained in the Owner's manual.
@ Damage caused by act of God, including without limitation,
earthquake, fire, flood, storms or other acts of nature. Any cost
or expense related to the removal or reinstallation of the
product.
@ Service performed by an unauthorized person, company or
association.
@ Any product which has the serial number defaced, altered or
removed.
(/) Any product which has been adjusted, altered or modified
without Alpine's consent.
@ Any product not distributed by Alpine within the United States,
Puerto Rico or Canada.
® Any product not purchased from an Authorized Alpine Dealer.
e
HOW TO OBTAIN WARRANTY SERVICE:
CD You are responsible for delivery of the product to an Authorized
Alpine Service Center or Alpine for repair and for payment of
any initial shipping charges. Alpine will, at its option, repair or
replace the product with a new or reconditioned product
without charge. If the repairs are covered by the warranty, and
if the product was shipped to an Authorized Alpine Service
Center or Alpine, Alpine will pay the return shipping charges.
(2) You should provide a detailed description of the problem(s) for
which service is required.
® You must supply proof of your purchase of the product.
@ You must package the product securely to avoid damage
during shipment. To prevent lost packages it is recommended
to use a carrier that provides a tracking service.
e
HOW WE LIMIT IMPLIED WARRANTIES:
ANY IMPLIED WARRANTIES INCLUDING FITNESS FOR USE
AND MERCHANTABILITY ARE LIMITED IN DURATION TO THE
PERIOD OF THE EXPRESS WARRANTY SET FORTH ABOVE AND
NO PERSON IS AUTHORIZED TO ASSUME FOR ALPINE ANY
OTHER LIABILITY IN CONNECTION WITH THE SALE OF THE
PRODUCT.
e
HOW WE EXCLUDE CERTAIN DAMAGES:
ALPINE EXPRESSLY DISCLAIMS LIABILITY FOR INCIDENTAL
AND CONSEQUENTIAL DAMAGES CAUSED BY THE PRODUCT.
THE TERM .. INCIDENTAL DAMAGES .. REFERS TO EXPENSES OF
TRANSPORTING THE PRODUCT TO THE ALPINE SERVICE
CENTER, LOSS OF THE ORIGINAL PURCHASER'S TIME, LOSS
OF THE USE OF THE PRODUCT, BUS FARES, CAR RENTALS OR
OTHERS COSTS RELATING TO THE CARE AND CUSTODY OF
THE PRODUCT. THE TERM .. CONSEQUENTIAL DAMAGES 11
REFERS TO THE COST OF REPAIRING OR REPLACING OTHER
PROPERTY WHICH IS DAMAGED WHEN THIS PRODUCT DOES
NOT WORK PROPERLY. THE REMEDIES PROVIDED UNDER THIS
WARRANTY ARE EXCLUSIVE AND IN LIEU OF ALL OTHERS.
e HOW STATE/PROVINCIAL LAW RELATES TO THE WARRANTY:
This Warranty gives you specific legal rights, and you may also have
other rights which vary from state to state and province to province.
In addition, some states/ provinces do not allow limitations on how
long an implied warranty lasts, and some do not allow the exclusion
or limitation of incidental or consequential damages. Accordingly,
limitations as to these matters contained herein may not apply to
you.
e IN CANADA ONLY:
This Warranty is not valid unless your Alpine car audio product has
been installed in your vehicle by an Authorized Installation Center,
and this warranty stamped upon installation by the installation
center.
e HOW TO CONTACT CUSTOMER SERVICE:
Should the product require service, please call the following number
for your nearest Authorized Alpine Service Center.
CAR AUDIO 1-800-ALPINE-1 (1-800-257-4631)
NAVIGATION 1-888-NAV-HELP (1-888-628-4357)
Or visit our website at; http://www.alpine-usa.com
NOTE:
This equipment has been tested and found to comply with the limits
for a Class 8 digital device, pursuant to Part 15 of the FCC Rules.
These limits are designed to provide reasonable protection against
harmful interference in a residential installation. This equipment
generates, uses and can radiate radio frequency energy and, if not
installed and used in accordance with the instruction, may cause
harmful interference to radio communications.