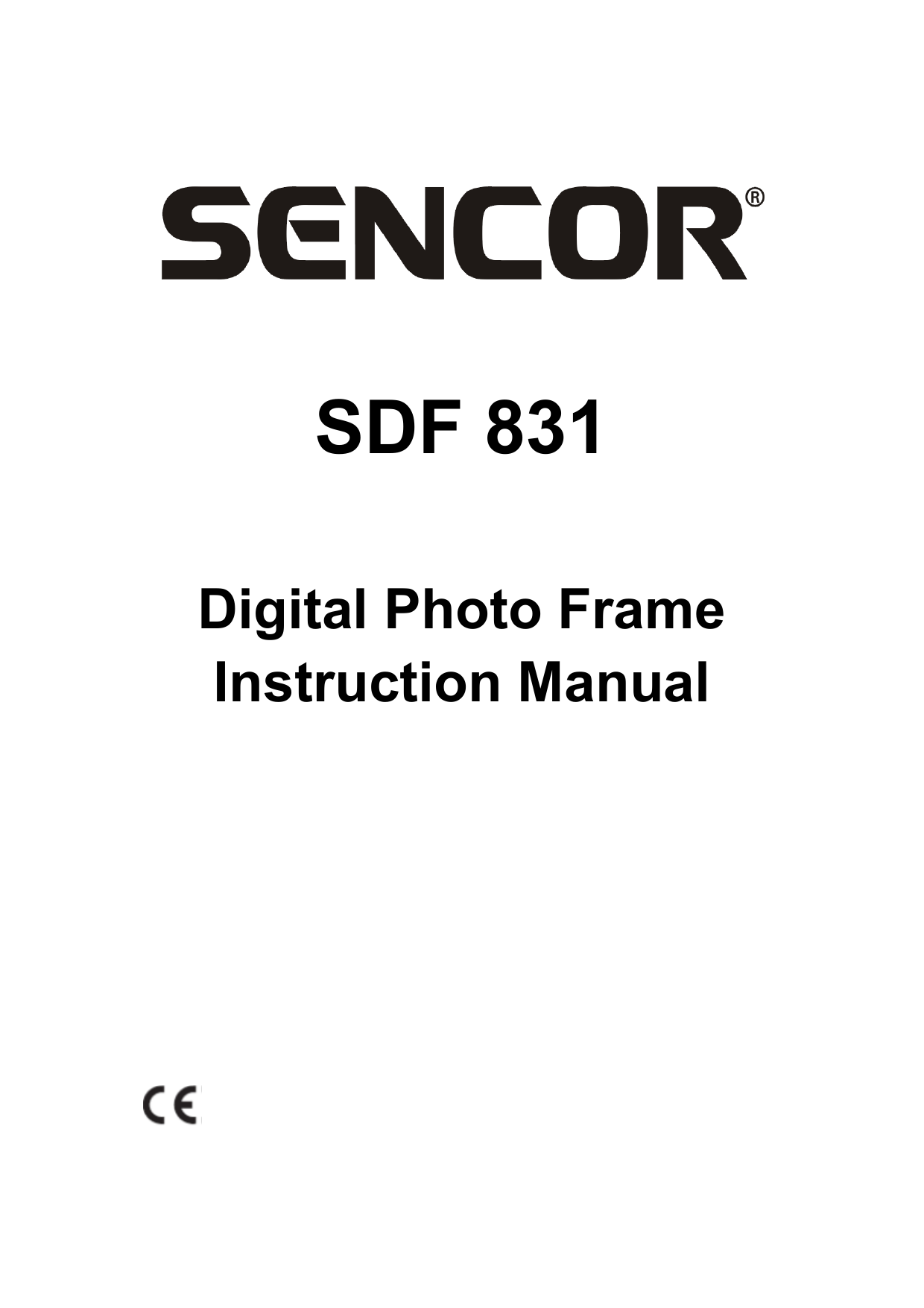 SDF 831
Digital Photo Frame
Instruction Manual
Thank you for purchasing this Digital Photo Frame.
Before using the unit, please read this manual thoroughly, and retain it for
future reference. This manual will help you use many of the useful features that
will make using your Digital Photo Frame viewing more enjoyable.
1. Safety
1.1 Intended use
The digital photo album display photos.
Due to the great variety of products with external memory connection
(USB,SD/MMC,etc.) and their sometimes quite manufacturer-specific functions
we can neither guarantee that all devices will be recognized, nor that all
operating options that are possible in theory will actually work.
1.2 General safety instruction
WARNING
Do not force on the appliance. It will damage the appliance.
CAUTION
Do not spill any liquid on the appliance.
2. Preparation for use
2.1 Unpacking
Unpack the appliance carefully.
Check the package contents as described below. If any item is missing
Please contact your reseller.
Remove the label from the front panel carefully if present.
2.2 Package contents
The following items are including in the received package:
1 Digital photo frame
1 AC/DC adaptor+cable
1 Instruction manual
2.3
Connecting to the mains
Connect the adaptor plug on the adaptor cable to the DC connection.
Connect the mains plug to a wall socket.
3. Functions
1. Power On/Off;
2. Turn up/down
3. Turn left/right
4. Menu
5. Play
4. Operation
4.1
Photo
1) When the digital photo frame is powered on a slideshow of the pictures on
the inserted memory card or USB (if available) will start automatically. (The
screen will show initial screen, then go to calendar first and after 1-2
seconds going to slideshow the picture)
2) If no memory card is inserted, the screen will show the Calendar mode.
3) DPF will start the picture slideshow when the USB flash with pictures is
inserted (same as SD card) and if the SD card or USB flash is insereted
later , then also automatically start the presentation switching from the
calendar mode.
4.2
Calendar
Select the calendar in the main menu.
Press the PLAY button (5) to enter the calendar of "Monthly Calendar". ( if not
press play button, 15seconds after will going to slideshow picture)
Left screen display the calendar& date and right screen show the photos and
times.(please insert the card or USB device first and ensure have picture inside
it) Or press PLAY button to "Digital clock" left screen display clock & date time
and right screen show the photos too and press PLAY button again to "Analog
Clock" will just display analogy clock& time.
4.3
Set up setting
To enter the setting menu, press the PLAY button
To select a menu item, press the UP button or the DOWN button
To adjust a setting, press the LEFT and RIGHT button
To exit to the menu, press the Menu button.
4.3.1 Photo setup
Display Mode: Slideshow, Thumbnail, Browse mode
Slideshow mode
Select the Slideshow in the display mode.
Exit and return to main menu and press the PLAY button (5) to enter to the
PHOTO and then going to Slideshow picture. (after 15seconds will going to
automatically slideshow picture if not press PLAY button) (Effective with
inserted Card or USB).
In slideshow model it displays picture automatically and also can press left or
right button to see the previous or next picture.
Thumbnail mode
Select the Thumbnail in the menu.
To exit the menu, return to main menu and press the PLAY button (5) to enter
the PHOTO and going to display the Thumbnail photos. (Effective with inserted
Card or USB)
15 pieces of thumbnail photos can be display in one page and will show the
picture information at bottom line.
Browse mode
Select the Browse mode in the menu.
Exit and return to main menu and press the PLAY Button (5) to enter to the
PHOTO (Effective with inserted Card or USB)
Just show the current picture if not press left & right button.
Display Ratio: Full Screen, Fit to Screen, Crop to Fill
Slide show time: 5Sec. 15Sec. 30.Sec. 60Sec. 5Min.15Min.
Slideshow Repeat: Repeat, Once,
Slideshow effect: Offers you following Options for the Transition between two
Photos: Random, Snake, Partition, Erase, Blinds, Random lines, Grid, Cross,
Rect, Spiral, Close
4.3.2 Calendar Setup
Display Mode: Monthly Calendar, Digital clock, Analog Clock
Set Date: press the Left or Right button to change the date and year and press
the button of up and down to previous or next setup.
Clock Mode: 24hr, 12hr
Set time: press the Left or Right button to change the time and press the button
of up and down to previous or next setup.
4.3.3 System Setup
Language: EN/CZ/SL/HU/PL
Backlight: Settings from 1-5
Brightness: Settings from 0-5
Contrast: Settings from 0-5
Saturation: Settings from 0-5
Power on: setting automatically turn on: ON/OFF
Auto boot time: setting auto turn on time
Power off: setting automatically turn off: ON/OFF
Auto Shut Time: setting auto turn off time
Auto-Power Frequency: Setting from Mon to Fri. Weekend, Once, Everyday
Default: Back to Factory settings
Version: Software version
System upgrade: Software update
5. Technical Data
Parameter
DPF voltage
Power voltage
USB connection
Flash memory connection
Supported media formats
Screen size
Aspect ratio
Resolution
Brightness
Contrast
Value
5V-1A
100-240V/50-60Hz
USB 2.0 compatible
SD/MMC/MS
JPEG
8"
4: 3
800*600 pixels
250 Cd/m2
600 : 1
EN Disposal of Used Electrical & Electronic Equipment
The meaning of the symbol on the product, its accessory or packaging
indicates that this product shall not be treated as household waste. Please,
dispose of this equipment at your applicable collection point for the recycling of
electrical & electronic equipments waste. In the European Union and Other
European countries which there are separate collection systems for used
electrical and electronic product. By ensuring the correct disposal of this
product, you will help prevent potentially hazardous to the environment and to
human health, which could otherwise be caused by unsuitable waste
handling of this product. The recycling of materials will help conserve
natural resources. Please do not therefore dispose of your old electrical and
electronic equipment with your household waste. For more detailed
information about recycling of this product, please contact your local city office,
your household waste disposal service or the shop where you purchased the
product.