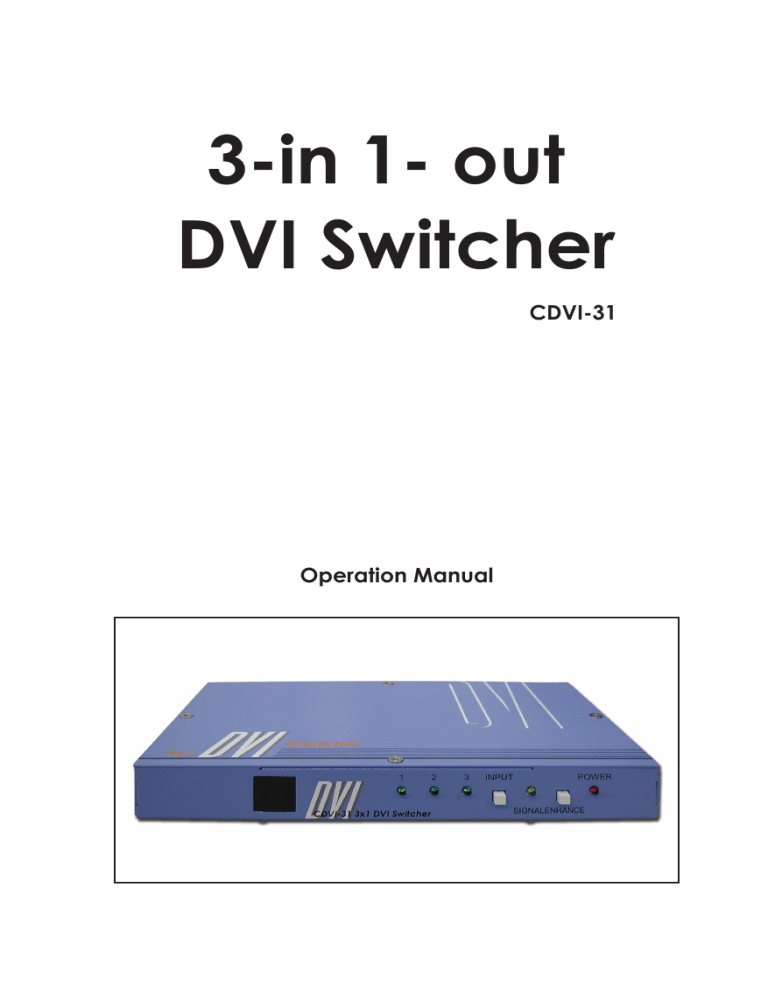 3-in 1- out
DVI Switcher
CDVI-31
Operation Manual
Application
Cypress CDVI-31 DVI Switcher is a high performance digital HD
signal processor that designed for use in switching between various DVI
sources such as satellite receiver, DVD player and PCs for sharing one TV
display.
Features
* HDCP 1.1 and DVI 1.0 compliant
* The unit has the function of signal enhancer to improve the signal quality
after long distance transmission.
* LED indicators
* Ideal for home theater integration.
* Supports high resolution:
PC:VGA, SVGA, XGA, SXGA and UXGA 1600X 1200,&
DTV: 480i, 576i, 480p, 576p, 720p, 1080i and 1080p @ 60Hz
* Remote control
* Easy to install and simple to operate
* Low cost solution for home theater integration
* Plug-and-Play. No software installation
* CDVI-31 can be controlled either through input selection button on the
front panel or using an included infrared remote control.
Package Includes
- The CDVI-31 unit
- IR remote control
- 5VDC power supply with universal plugs
Operation Controls and Functions
Front Panel
1
2
3
2
3
POWER
SIGNALENHANCE
CDVI-31 3x1 DVI Switcher
1
INPUT
4
5
6
1. IR sensor: Infrared remote control sensor.
2. LED 1: When it lights up, it means source 1 is selected.
3. LED 2: When it lights up, it means source 2 is selected.
4. LED 3 : When it lights up, it means source 3 is selected.
5. Signal Enhance: After long distance transmission you can press this button to
enhance the signal.
6. Power: When power LED lights up, the unit works on.
Operation Controls and Functions
Rear Panel
DVI OUT
DVI 3 IN
1
2
DVI 2 IN
DVI 1 IN
3
DC 5V
4
5
1. DVI out: Use a DVI to DVI cable to connect to your display.
2. DVI 3 in: Use a DVI to DVI cable to connect to your source 3.
3. DVI 2 in: Use a DVI to DVI cable to connect to your source 2.
4. DVI 1 in: Use a DVI to DVI cable to connect to your source 1.
5. DC power jack: 5V 2A DC power input.
Remote Control
1. Power: Switch between power ON and Standby.
2. Press button 1 to select source 1.
3. Press button 2 to select source 2.
4 Press button 3 to select source 3.
5. 4~0: Void buttons.
1
4
3
2
5
CR-22
DVI-D Pin Configuration
DVI-Digital (DVI-D): Supports display-only connections between the host computer
and display. This interface is designed for a 12 or 24-pin connection to enable
single or dual-link mode activation.
8
1
9
17
24
DVI-D
Receptacle Connector
Digital-Only Connector Pin Assignments
Pin Signal Assignment
Pin Signal Assignment
T.M.D.S. Data1-
Pin Signal Assignment
17 T.M.D.S. Data0-
1
T.M.D.S Data2-
9
2
T.M.D.S. Data2+
3
4
T.M.D.S. Data2/4 Shield
18 T.M.D.S. Data0+
10 T.M.D.S. Data1+
11 T.M.D.S. Data1/3 Shield 19 T.M.D.S. Data0/5 Shield
T.M.D.S. Data4-
12 T.M.D.S. Data3-
5
T.M.D.S. Data4+
13 T.M.D.S. Data3+
20 T.M.D.S. Data521 T.M.D.S. Data5+
6
7
DDC Clock
14 +5V Power
22 T.M.D.S. Clock Shield
DDC Data
15 Ground (for +5)
23 T.M.D.S. Clock+
8
No Connect
16 Hot Plug Detect
24 T.M.D.S. Clock-
Specifications:
* Frequency bandwidth: 1.65Gbps(Single link)
* Inputs: 3 DVI-I female ports (Single link)
* Output: 1 DVI-I female port (Single link)
* Power supply: 5VDC 2A/ center positive
* Weight: 0.57kgs
* Dimension: 105(W) x20(L) x 25(H)mm
RS-232 Remote Control Protocol
The connection between splitter and remote controller with RS-232 modem cable.
ns definition of modem cable
Splitter
PIN
1
2
3
4
5
6
7
8
9
RS-232 transmission format:
Baud Rate : 9600 bps
Data Bit : 8 Bits
Parity: None
Stop Bit: 1 bit
Definition
NC
T xD
RxD
NC
GND
NC
NC
NC
NC
Remote Controller
PIN
Definition
1
NC
2
R xD
3
TxD
4
NC
5
GND
6
NC
7
NC
8
NC
9
NC
RS-232 command
* The command is combined with a characters and digits.
* This combination command code has to be separated by ASCII character SPACE
* The command will be executed after ASCII character "CR" input
* After ASCII character "CR" is entered, if the command is legal the unit will reply "OK" message
* If the command is illegal, The unit will reply "NG" message
Command Code
PORT 1
PORT 2
PORT 3
SIGNAL 1
SIGNAL 0
POWER 1
POWER 0
Comment
PORT 1 ON
PORT 2 ON
PORT 3 ON
ENABLE SIGNAL ENHANCE
DISABLE SIGNAL ENHANCE
POWER ON
POWER OFF
Connection and Installation
Output
Plasma, LCD
or any monitor
with DVI input
Input 3
STB
Input 2
Input 1
DVD
PC
Trouble Shooting Guide
When there is no picture present, please check:
1. Whether all connectors connect well or not? Or
2. Whether the connecting cable is damaged?

* Your assessment is very important for improving the work of artificial intelligence, which forms the content of this project