Flexible IP-based GSM telemetry solution for professional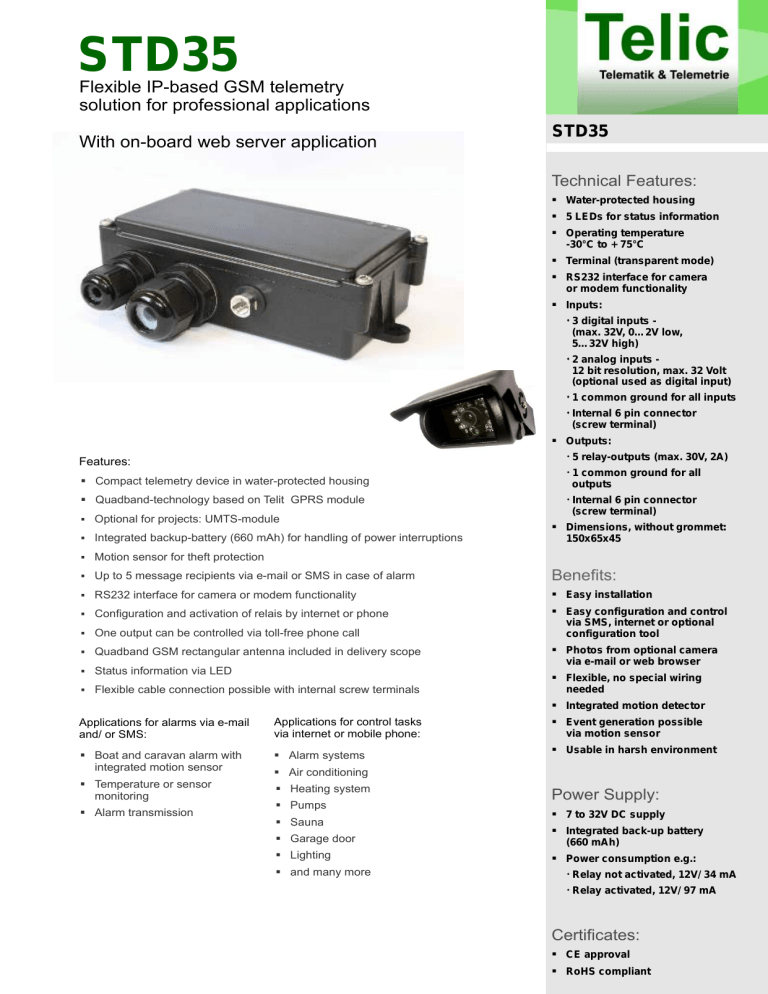 STD35
Flexible IP-based GSM telemetry
solution for professional applications
With on-board web server application
Picotrack
STD35
Technical Features:
§
Water-protected
housing
Technische
Parameter:
§
5 LEDs for status information
§
Operating temperature
-30°C to + 75°C
§
Terminal (transparent mode)
§
RS232 interface for camera
or modem functionality
§
Inputs:
¶
3 digital inputs -
-
(max. 32V, 0…2V low,
5…32V high)
¶
2 analog inputs 12 bit resolution, max. 32 Volt
(optional used as digital input)
¶
1 common ground for all inputs
¶
Internal 6 pin connector
(screw terminal)
Features:
§
Compact telemetry device in water-protected housing
§
Quadband-technology based on Telit GPRS module
§
Optional for projects: UMTS-module
§
Integrated backup-battery (660 mAh) for handling of power interruptions
§
Outputs:
¬
5 relay-outputs (max. 30V, 2A)
¬
1 common ground for all
outputs
¬
Internal 6 pin connector
(screw terminal)
§
Dimensions, without grommet:
150x65x45
§
Motion sensor for theft protection
§
Up to 5 message recipients via e-mail or SMS in case of alarm
Benefits:
§
RS232 interface for camera or modem functionality
§
Easy installation
§
Configuration and activation of relais by internet or phone
§
Easy configuration and control
§
One output can be controlled via toll-free phone call
§
Quadband GSM rectangular antenna included in delivery scope
§
Status information via LED
via SMS, internet or optional
configuration tool
§
Photos from optional camera
via e-mail or web browser
§
Flexible, no special wiring
§
Flexible cable connection possible with internal screw terminals
needed
§
Integrated motion detector
Applications for alarms via e-mail
and/ or SMS:
Applications for control tasks
via internet or mobile phone:
§
Boat and caravan alarm with
integrated motion sensor
§
Alarm systems
§
Temperature or sensor
monitoring
§
Heating system
§
Alarm transmission
§
Event generation possible
via motion sensor
§
Usable in harsh environment
§
Air conditioning
§
Pumps
§
Sauna
§
Garage door
§
Lighting
§
and many more
Power Supply:
§
7 to 32V DC supply
§
Integrated back-up battery
(660 mAh)
§
Power consumption e.g.:
¬
Relay not activated, 12V/ 34 mA
¬
Relay activated, 12V/ 97 mA
Certificates:
§
CE approval
§
RoHS compliant
STD35 - The webserver-based, flexible telemetry solution
SMS/E-mail alarm via GSM/GPRS
Accessories
§
Camera
4-colour display
GSM network provider e.g. Vodafone
Internet
SMTP EMail
- Server
IP
Port
PC
User name
Password
Project-based options
GPRS
APN
User name
Password
STD35
§
Different antennas
such as GPS/ GSM, magnetic or roof mount antennas
§
Configuration and diagnostic tool
For easy installation and control
SMS
Mobile
Phone
§
UMTS module
For higher data transmission rate or for areas where GSM/
GPRS is not accessible
Access from the internet
Telic Products
§
STD 32 is the cost-efficient base for
Web Browser
GSM network provider, e.g. Vodafone
Internet
GPRS
APN
User name
Password
telemetry applications, providing a
ready-to-start hardware with flexible
configuration options of the
embedded software.
e.g. http:// 10.20.30.50
STD35
Fixed IP from GSM network provider
e.g. 10.20.30.50
§
Telic's telematics products include
a standard (SBC3) and a
professional board computer (PBC)
as well as the small and compact
tracking device Picotrack.
User Interface
About Telic
Configuration & control via phone call or SMS:
Telic is a leading German supplier of telematics and telemetry
products. Based on the core technologies GSM and GPS, Telic
develops and manufactures high quality products, designed to
be used in industrial and automotive environment. Telic's strong
partnership with GSM and GPS module manufacturers secures
the competitive edge in GPS, GPRS and UMTS technologies.
§
Toll-free call to activate one relay
§
Configuration / control of outputs via SMS
Use of web-server application to:
§
Change all configurations (basic or advanced)
§
Check the status of the inputs and outputs
§
Retrieve pictures from the connected camera
By using a platform concept, Telic is able to react flexibly and
fast to customers' requirements. This leads to cost-efficient
solutions for system integrators and solution providers.
§
Set the outputs with one mouse click
Configuration and Diagnostic Tool
How to contact us
Telic's PC-based configuration tool supports during the integration
process and offers features such as:
Telic GmbH
Raiffeisenallee 12b
§
Direct connection via RS232
D-82041 Oberhaching/ Germany
§
Configuration of all relevant
parameters
Phone: +49 89 490 2686 - 0
Fax:+49 89 490 2686 - 18
§
Display of current status
Internet: www.telic.de
§
Tracing and monitoring of
device status
E-Mail: [email protected]
§
Diagnostic of the device
during and after installation
§
Software download to
STD35
§
Control of relays
V. 1.1 March 2011
&
Note: Telic GmbH may at any time and without notice make changes or
improvements to the offered products and services.

* Your assessment is very important for improving the work of artificial intelligence, which forms the content of this project