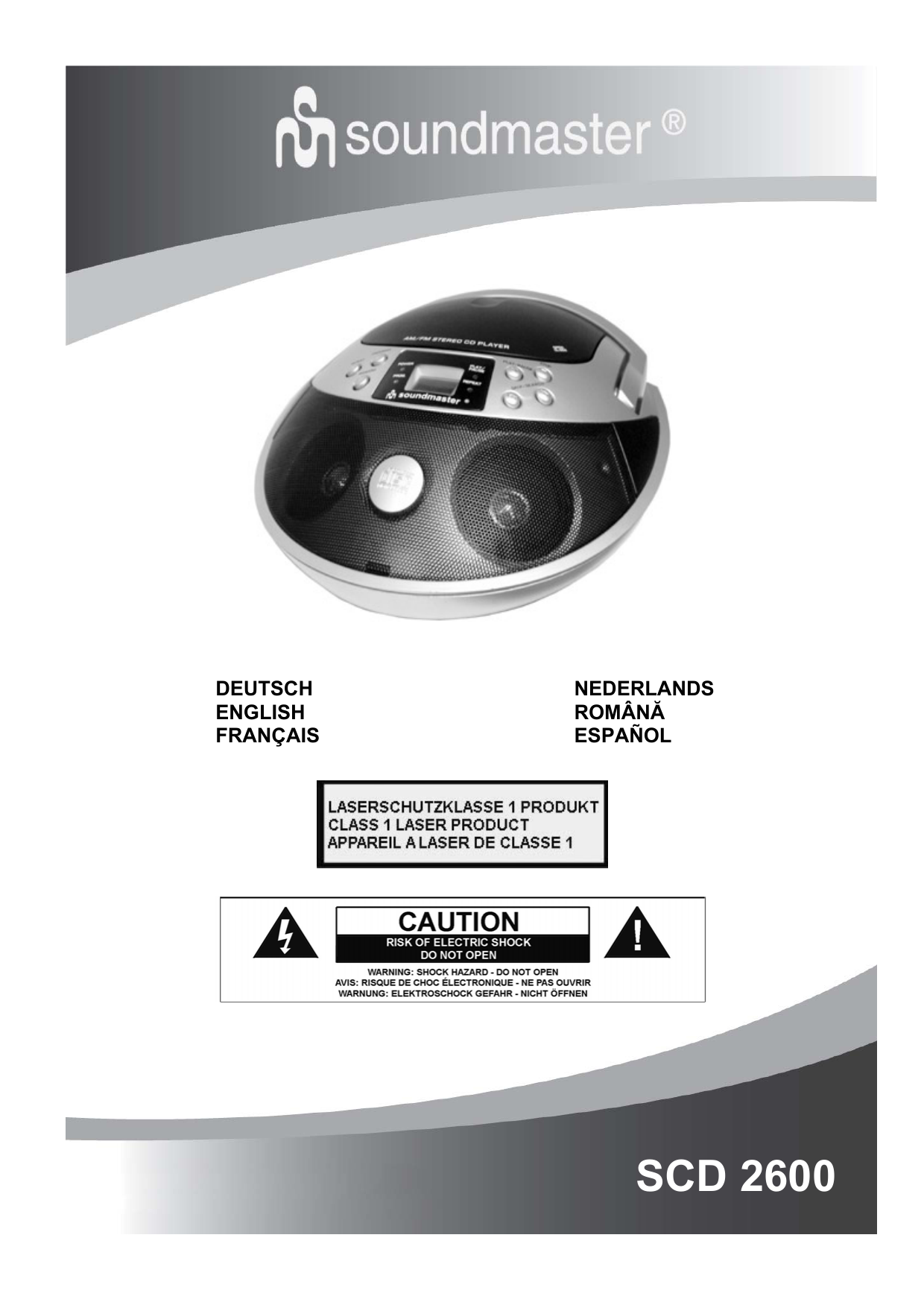 DEUTSCH
ENGLISH
FRANÇAIS
NEDERLANDS
ROMÂNĂ
ESPAÑOL
SCD 2600
ENGLISH
USER
MANUAL
IMPORTANT SAFETY INSTRUCTIONS
• Do not use this apparatus near water.
• Clean only with dry cloth.
• Do not block any ventilation openings at any area of the unit
• Do not install near any heat sources such as radiators, heat registers etc.
• Protect the power cord from being walked on or pinched particularly at plugs, convenience receptacles, and the point
where they exit from the apparatus.
• Unplug this apparatus during lightning storms or when unused for long periods of time.
• Refer all servicing to qualified service personnel. Servicing is required when the apparatus has been damaged in any
way, such as power-supply cord or plug is damaged, liquid has been spilled or objects have fallen into the apparatus,
the apparatus has been exposed to rain or moisture, does not operate normally, or has been dropped.
Important Battery Precautions
• Any battery may present a risk of fire, explosion, or chemical burn if abused. Do not try to charge a battery that is not
intended to be recharged, do not incinerate, and do not puncture.
• Non-rechargeable batteries, such as alkaline batteries, may leak if left in your product for a long period of time.
Remove the batteries from the product if you are not going to use it for a month or more.
- Do not mix old and new batteries.
- Do not mix alkaline, standard (carbon-zinc), or rechargeable (Ni-CAD, Ni-MH, etc) batteries.
• Batteries shall not be exposed to excessive heat such as sunshine, fire or the like.
• Please help to protect the environment by recycling or disposing of batteries according to federal, state, and local
regulations.
WARNING: TO PREVENT FIRE OR ELECTRICAL SHOCK HAZERD, DO NOT EXPOSE THIS PRODUCT TO RAIN
OR MOISTURE.
Useful advice
· This system is fitted with a laser. To avoid accidents, it is to be opened by qualified technicians only.
· Never leave the CD compartment door open as dust could cover the laser lens and/or the CD compartment door
could be bumped into accidentally.
· Do not place the system near wet areas such as bathooms and pool side. Avoid storing the system at humid places
or near abnormally heated areas.
· Power is continuously supplied to the system. To disconnect power completely, unplug the power cord from the
power outlet.
· Ensure minimum distance around the apparatus for sufficient ventilation. The ventilation should not be impeded by
covering the ventilation openings with items, such as newspaper, etc.
· The apparatus shall not be exposed to dripping or splashing and that no objects filled with liquids, such as vases,
shall be placed on the apparatus.
AC power connection
Ensure your local power is 230V 50Hz, then plug the power supply cord into the AC power jack (16) on the back of the
unit, and into an AC power supply outlet that accepts the plug supplied with your unit.
Battery power (use only Alkaline batteries with 0% mercury & cadmium !!)
You can insert 6pcs C-size batteries (not included) and you can take your stereo just about anywhere.
· Open the battery compartment door on the bottom of the unit.
· Insert batteries reg. the engraved diagram located on the battery compartment door. Note that the AC line cord
must be unplugged from the jack (16) on the back of the unit by operating unit with batteries !!!
ENGLISH
Important battery information
· Remove the batteries to avoid leakage if you do not use your system for more than one month.
· Discard leaky batteries immediately as leaking batteries may cause skin bums or other personal injuries.
Dispose of batteries in the proper manner, according to provincial and local regulations.
· Any battery may leak electrolyte under the following circumstances:
- if mixed with a different battery type,
- if inserted incorrectly,
- if all batteries are not replaced at the same time,
- if disposed of in fire,
- if an attempt is made to charge a battery not intended to be recharged
· Be sure to remove batteries when storing the set for more than 30 days. Leaky batteries can badly damage the
system. Be sure to dispose of leaky, weak or dead batteries properly according to federal, state, and local regulations.
To prevent injury or damage, do not reverse batteries and do not mix battery type.
Location of controls
1. CD-door
4. Power indicator
7. LED display
10. CD skip >>|
13. Play/pause indicator
16. AC jack
19. FM rod antenna
2. PROG.
5. RANDOM
8. Repeat indicator
11. CD Play / pause
14.Tuning radio
17. Function selector
20. Line-in jack
3. REPEAT
6. Program indicator
9. CD skip |<<
12. CD stop
15. Radio band selector
18. Volume control
ENGLISH
Function of controls
1. CD DOOR – press on right corner to open and close
2. PROG. – to enter program mode
3. Repeat – to enter repeat mode one/all tracks
4. Power indicator – indicated unit in on-mode
5. RANDOM – to enter random model (playing CD tracks in random order)
6. Prog. Indicator – indicates unit in program mode
7. LED display – show CD-track
8. Repeat indicator – indicates unit in repeat mode
- skip/search backwards
9. CD skip
10. CD skip
- skip/search forward
11. CD Play / Pause
12. CD Stop
13. Play/pause indicator
14. Tuning control – to set radio frequency
15. Band selector – to set AM or FM
16. AC JACK – to connect power cord
17. Function selector – to set functions
18. Volume control – to set volume level
19. FM rod antenna – must be fully extended for good reception
20. LINE-IN JACK – to connect an external audio device (e.g. MP3 player)
LINE-IN
1. Slide the function selector (17) to LINE-IN/CD Position.
2. Connect the external player to the LINE-IN jack (20) with an audiocable (not included).
3. Adjust the external player to mid-range volume and adjust the master volume by rotating Volume
control (18) on the unit.
Do not turn the volume of the external player may affect the sound quality.
For other playback operations, control them on your player.
RADIO
Fully extend the rod-antenna (19) in FM mode / AM mode complete unit must be turned !
1. Slide the function selector (17) to RADIO position.
2. Slide the Band selector (15) to select FM or AM band.
3. Rotate the tuning control (14) to tune down or up the radio frequency,
When the reception is good you receive FM Stereo.
CD-player
This unit is compatible with audio CD-R/RW discs.
Slide the function selector (17) to LINE-IN/CD Position
Loading disc
1. Open the CD door (1)
2. Place the CD on the spindle with the lock the disc in place.
3. Close the CD door. The total number of tracks will be shown after a few seconds on display
ENGLISH
Play and pause
1. In stop mode, press
(11) to begin CD playback.
2. During CD playback, press
(11) to pause mode. Press again to resume playback
Skip and search
1. Press
2. Press and hold
(9 / 10) to skip to the previous or next track respectively.
(9/10) to search quickly current track backward or forward respectively.
Stop playback
Press
(12) to stop playback.
Play mode
Press REPEAT (3) to select among REPEAT mode (repeat current track/repeat all).
Selection made is indicated by icons on display.
Programming
1. In stop mode, press PROG (2) to enter program setting mode.
The program location and program icon flash on the display.
2. Press
(9/10) to select the track you want to program.
3. Press PROG (2) again to confirm your selection and access the next program location.
4. Repeat steps 2 to 3 to program to a maximum of 20 tracks.
5. Press
(11) to start program playback (PROG icon lights up).
Press
(12) to return to stop mode.
Clearing program list
Your program will be erased by open the CD door or press
Switching off the unit from any mode
Set selector (17) to position OFF
Technical specifications
Class 1 Laser
FM / UKW frequency
AM / MW frequency
DC 9V
AC
Powerconsumption
Weight
87,5 – 108 MHz
530 – 1600 KHz
6 pcs batteries 1,5V size UM2/C
230V 50Hz
15W
1,7Kg without batteries
Copyrights by Woerlein GmbH, D-90556 Cadolzburg, Germany
Any technical changes without any further announcement
(12) while the program playback is stopped.