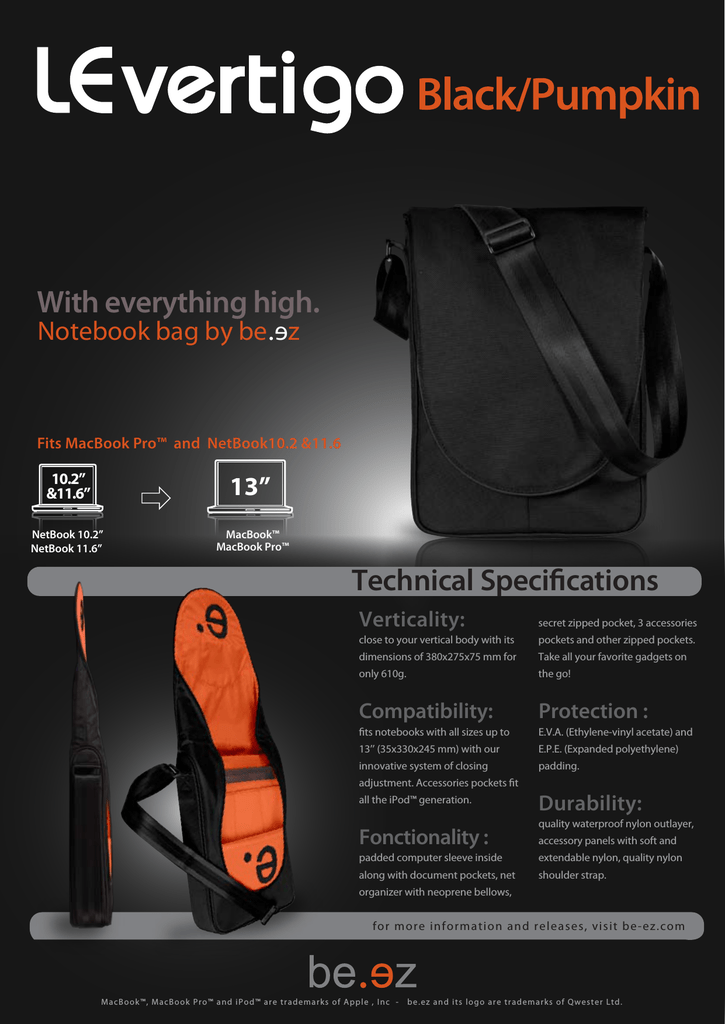 With everything high.
Notebook bag by be ez
Fits MacBook Pro™ and NetBook10.2 &11.6
10.2"
&11.6"
13"
NetBook 10.2"
NetBook 11.6"
MacBook™
MacBook Pro™
Technical Specifications
Verticality:
secret zipped pocket, 3 accessories
close to your vertical body with its
pockets and other zipped pockets.
dimensions of 380x275x75 mm for
Take all your favorite gadgets on
only 610g.
the go!
Compatibility:
Protection :
fits notebooks with all sizes up to
E.V.A. (Ethylene-vinyl acetate) and
13'' (35x330x245 mm) with our
E.P.E. (Expanded polyethylene)
innovative system of closing
padding.
adjustment. Accessories pockets fit
all the iPod™ generation.
Fonctionality :
Durability:
quality waterproof nylon outlayer,
accessory panels with soft and
padded computer sleeve inside
extendable nylon, quality nylon
along with document pockets, net
shoulder strap.
organizer with neoprene bellows,
for more information and releases, visit be-ez.com
MacBook™, MacBook Pro™ and iPod™ are trademarks of Apple , Inc -
be.ez and its logo are trademarks of Qwester Ltd.

* Your assessment is very important for improving the work of artificial intelligence, which forms the content of this project