Panasonic TY-EW3D2ME Datasheet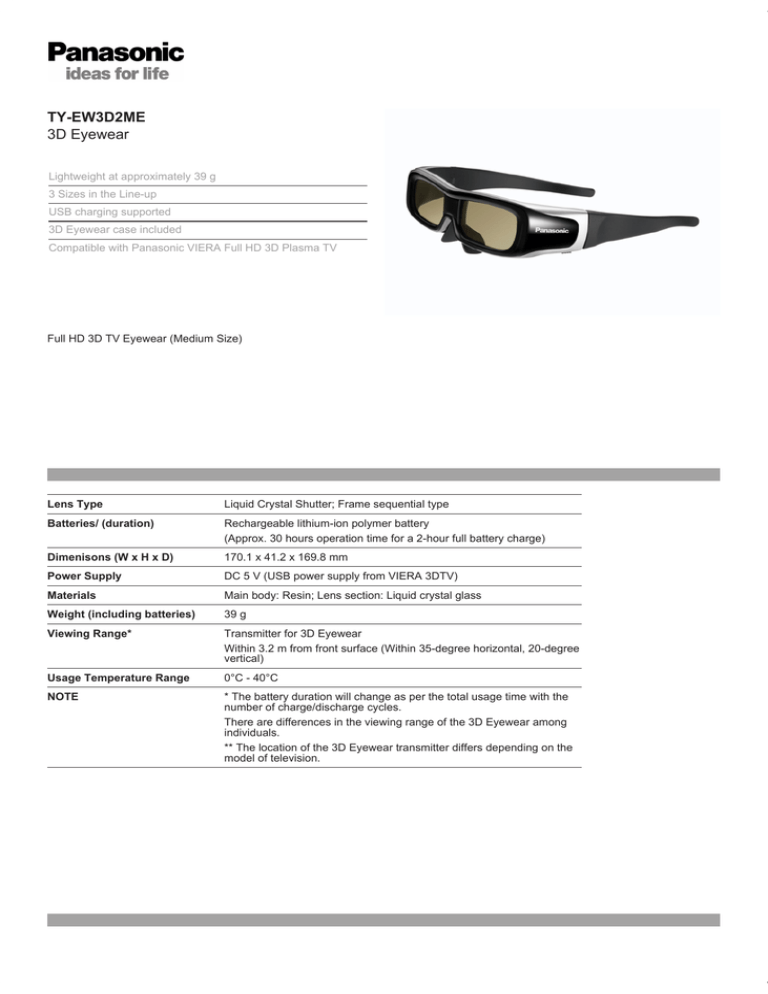 TY-EW3D2ME
3D Eyewear
Lightweight at approximately 39 g
3 Sizes in the Line-up
USB charging supported
3D Eyewear case included
Compatible with Panasonic VIERA Full HD 3D Plasma TV
Full HD 3D TV Eyewear (Medium Size)
Lens Type
Liquid Crystal Shutter; Frame sequential type
Batteries/ (duration)
Rechargeable lithium-ion polymer battery
(Approx. 30 hours operation time for a 2-hour full battery charge)
Dimenisons (W x H x D)
170.1 x 41.2 x 169.8 mm
Power Supply
DC 5 V (USB power supply from VIERA 3DTV)
Materials
Main body: Resin; Lens section: Liquid crystal glass
Weight (including batteries)
39 g
Viewing Range*
Transmitter for 3D Eyewear
Within 3.2 m from front surface (Within 35-degree horizontal, 20-degree
vertical)
Usage Temperature Range
0°C - 40°C
NOTE
* The battery duration will change as per the total usage time with the
number of charge/discharge cycles.
There are differences in the viewing range of the 3D Eyewear among
individuals.
** The location of the 3D Eyewear transmitter differs depending on the
model of television.

* Your assessment is very important for improving the work of artificial intelligence, which forms the content of this project