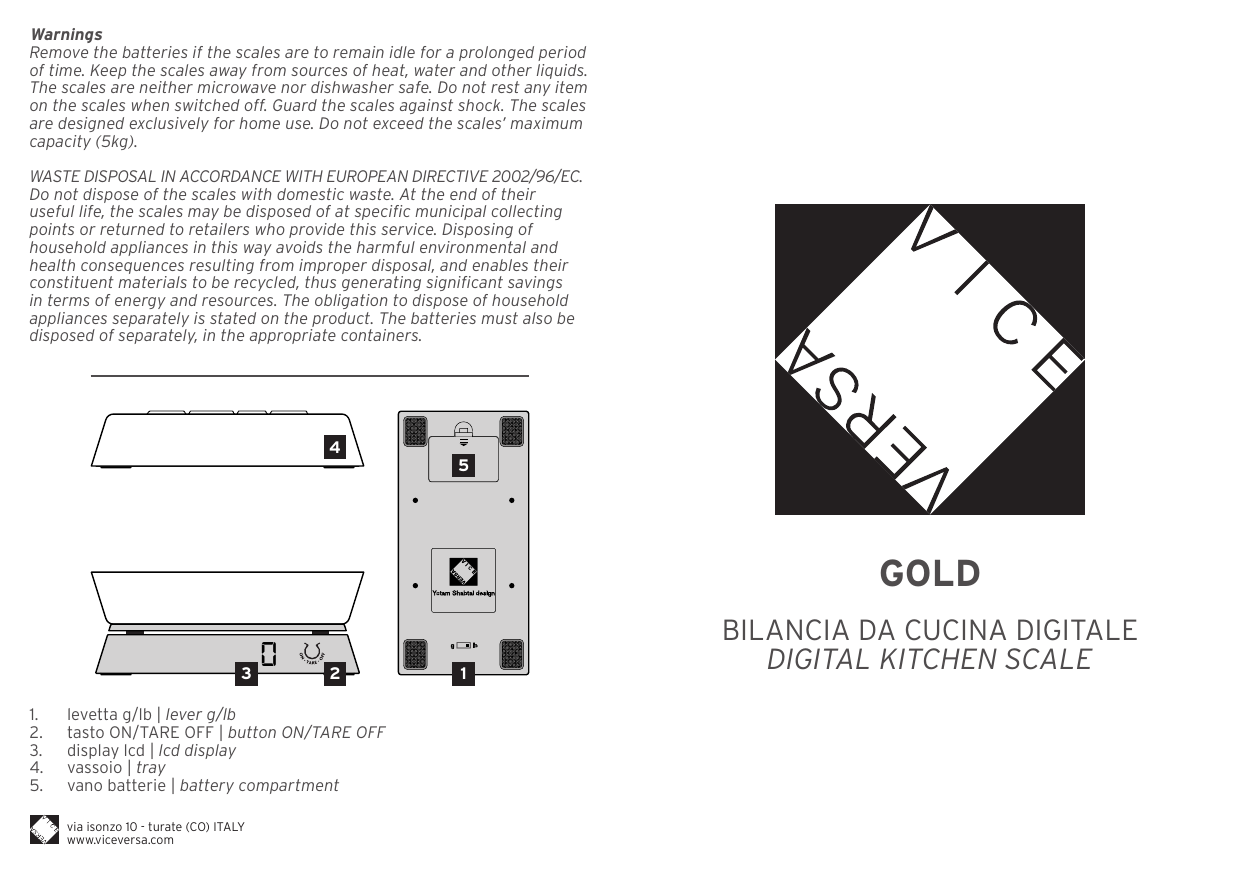 Warnings
Remove the batteries if the scales are to remain idle for a prolonged period
of time. Keep the scales away from sources of heat, water and other liquids.
The scales are neither microwave nor dishwasher safe. Do not rest any item
on the scales when switched off. Guard the scales against shock. The scales
are designed exclusively for home use. Do not exceed the scales' maximum
capacity (5kg).
WASTE DISPOSAL IN ACCORDANCE WITH EUROPEAN DIRECTIVE 2002/96/EC.
Do not dispose of the scales with domestic waste. At the end of their
useful life, the scales may be disposed of at specific municipal collecting
points or returned to retailers who provide this service. Disposing of
household appliances in this way avoids the harmful environmental and
health consequences resulting from improper disposal, and enables their
constituent materials to be recycled, thus generating significant savings
in terms of energy and resources. The obligation to dispose of household
appliances separately is stated on the product. The batteries must also be
disposed of separately, in the appropriate containers.
4
5
GOLD
0
3
1.
2.
3.
4.
5.
2
levetta g/lb | lever g/lb
tasto ON/TARE OFF | button ON/TARE OFF
display lcd | lcd display
vassoio | tray
vano batterie | battery compartment
via isonzo 10 - turate (CO) ITALY
www.viceversa.com
1
BILANCIA DA CUCINA DIGITALE
DIGITAL KITCHEN SCALE
BILANCIA DA CUCINA DIGITALE GOLD
ISTRUZIONI E AVVERTENZE
Leggere con attenzione prima dell'utilizzo. In nessun caso, anche da spento, l'apparecchio deve essere utilizzato da bambini.
Conservate queste istruzioni e non dimenticate di consegnarle a chi eventualmente utilizzerà la bilancia dopo di voi.
Informazioni tecniche:
• capacità: 5 Kg
• precisione: 1 g
• misurazione in: g/lb
• display: lcd
•
•
•
•
spegnimento automatico/manuale
funzione tara
avviso di esaurimento batterie
alimentazione: batterie DC 4,5 v (3xAAA)
Messaggi dal display:
• Ol - il peso eccede la capacità
• Err - malfunzionamento (attenzione: la bilancia deve sempre
appoggiare su una superficie piana)
• lo - batterie in esaurimento (sostituirle appena possibile)
Istruzioni per l'utilizzo
Aprire il vano batterie e inserire le batterie nel giusto verso di polarità.
Posizionare la bilancia su una superficie piana e solida: superfici soffici o
non piane possono compromettere la misurazione o generare messaggi di
errore. Se si utilizza il vassoio occorre posizionarlo ora sulla bilancia, prima
dell'inizio della misurazione (la bilancia può essere utilizzata con o senza
vassoio). Premere il pulsante ON/TARE OFF: dopo la comparsa del simbolo
"----" verrà visualizzato lo "0".
A questo punto si può procedere con la misurazione.
Se si desidera cambiare unità di misura, selezionare g/lb.
Funzione tara: il tasto ON/TARE OFF azzera il peso esistente e la misurazione parte da "0".
Spegnimento automatico: dopo 30 secondi di inattività il display si spegne;
per riaccenderlo premere nuovamente ON/TARE OFF.
Spegnimento manuale: azzerare la bilancia premendo il tasto ON/TARE
OFF, visualizzare lo "0" e premerlo nuovamente.
Avvertenze
Rimuovere le batterie se non si intende utilizzare la bilancia per un periodo
di tempo prolungato. Tenere lontano da fonti di calore, dall'acqua e da altri
liquidi. Non introdurre nel microonde o nella lavastoviglie. Non appoggiare
nulla sulla bilancia spenta. Preservare la bilancia da ogni possibile impatto.
Utilizzare solo per uso domestico. Non eccedere con il peso la massima
capacità (5 kg).
AVVERTENZE PER IL CORRETTO SMALTIMENTO DEL PRODOTTO
AI SENSI DELLA DIRETTIVA EUROPEA 2002/96/EC.
Alla fine della sua vita utile il prodotto non deve esser smaltito insieme ai
rifiuti urbani: può essere consegnato presso gli appositi centri di raccolta
differenziata predisposti dalle amministrazioni comunali, oppure presso i
rivenditori che forniscono questo servizio.
Smaltire separatamente un elettrodomestico consente di evitare le possibili conseguenze negative per l'ambiente e per la salute derivanti da un suo
smaltimento inadeguato e permette di recuperare i materiali di cui è composto al fine di ottenere un significativo risparmio di energia e di risorse.
L'obbligo di smaltire separatamente gli elettrodomestici è riportato sul
prodotto stesso. Anche le batterie devono essere smaltite separatamente,
negli appositi contenitori.
DIGITAL KITCHEN SCALE GOLD
WARNINGS AND INSTRUCTIONS
Read the instructions carefully before use. Keep out of the reach of
children at all times, even when switched off.
Keep the instructions for future reference and make them available to
anyone using the scales after you.
Main features:
• capacity: 5 Kg
• precision: 1 g
• unit switch: g/lb
• display: lcd
•
•
•
•
auto/manual power off
tare function
low power display
batteries: DC 3 v (2xAAA)
On display can appear:
• Ol - weight exceeds capacity (5 Kg)
• Err - malfunction (N.B. always place the scales on a flat surface)
• lo - battery low (replace asap)
Instructions for use
Open the battery compartment and insert the batteries, making sure they
correspond to the polarities in the compartment. Place the scales on a
hard, flat surface, as soft, uneven surfaces may affect accuracy or generate
errors. If you are using the tray, place it onto the scales now, before
weighing (the scales can be used either with or without the tray).
Press ON/TARE OFF: the symbol "----" is displayed, after which "0" is
displayed. You can now start weighing. To change unit of measurement,
select g/lb. Tare function: press ON/TARE OFF to cancel any existing
measurement and display "0". Automatic power off: the display powers off
if the scales remain idle for 30 seconds; to switch them back on again press
ON/TARE OFF. Manual power off: press ON/TARE OFF to cancel any existing
measurement and display "0", then press it again.

* Your assessment is very important for improving the work of artificial intelligence, which forms the content of this project