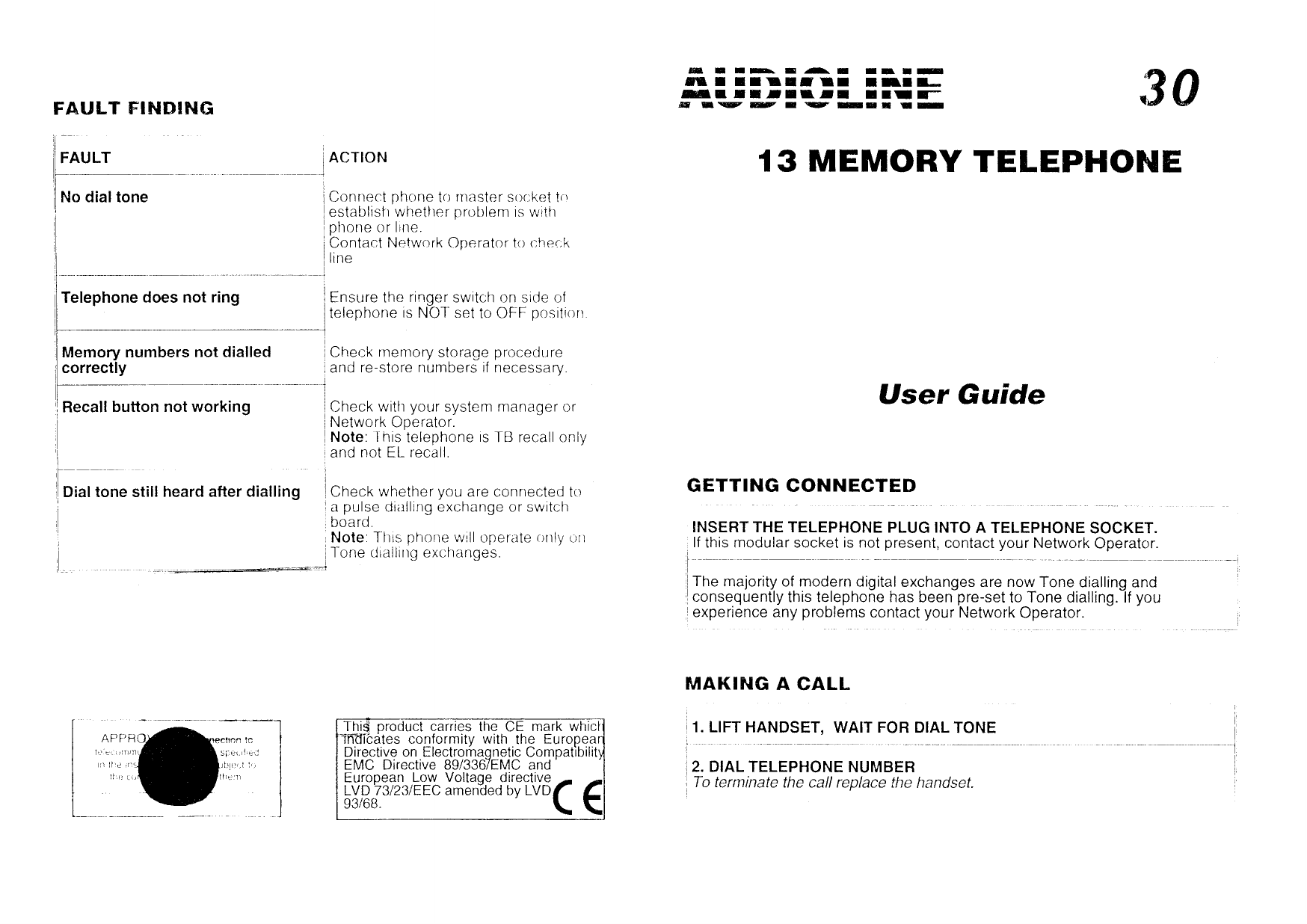 FAULT FINDING
FAULT
No dial tone
Telephone does not ring
f Memory numbers not dialled
correctly
: Recall button not working
Dial tone still heard after dialling
©
APPRO
toe corr ВНИИ
ectron to
BA specified
ACTION
Connect phone to master socket to
establish whether problem is with
phone or line.
Contact Network Operator to check
line
Ensure the ringer switch on side of
telephone is NOT set to OFF position.
Check memory storage procedure
and re-store numbers If necessary.
Check with your system manager or
Network Operator.
Note: [his telephone is TB recall only
and not EL recall.
Check whether you are connected to
: a pulse dialling exchange or switch
board.
: Note: This phone will operate onty on
Tone dialling exchanges.
This product carries the CE mark which
| ihdicates conformity with the European
Directive on Electromagnetic Compatibility
EMC Directive 89/336/EMC and
European Low Voltage directive
LVD 73/23/EEC amended by LVD
93/68.
EA WR OWE EE. EN AOR. NE BN EA Be EEE
Ба В НН FAN...
ASU NE NEHER SN MEE
AN UN UD WED" El WT SES Ww aes
30
13 MEMORY TELEPHONE
User Guide
GETTING CONNECTED
INSERT THE TELEPHONE PLUG INTO A TELEPHONE SOCKET.
|
If this modular socket is not present, contact your Network Operator.
| The majority of modern digital exchanges are now Tone dialling and
'consequently this telephone has been pre-set to Tone dialling. If you
: experience any problems contact your Network Operator.
MAKING A CALL
1. LIFT HANDSET, WAIT FOR DIAL TONE
12. DIAL TELEPHONE NUMBER
. To terminate the call replace the handset.
LOCATION OF CONTROLS
Hanger Hook
Used to rest handset
during a call when the
phone is wall mounted.
Receiver
Hanger Hook «
Slide upwards and
remove. Then
re-insert with lip
facing upwards.
7
-….-t
Direct Memory
Location Buttons
Memory —
index Card
к
у
Ue
|
|
a Ringer Switch
Used to adjust the
ringer volume.
Da
| Memory Button
Used in the
indirect memory
dialling sequence.
N Store Button
Used In memory
storage sequence.
Recall Button
Used to access
Mute Button
Used to temporarily
mute a telephone
conversation
network services
or for PABX use.
Redial Button
Used to redial
the last number
called.
APPROVED USAGE
For use under the following conditions: The Telephone must not be
(a)Standard Telephone facility for
connection to the Public Switched
Telephone Network (ho TI) and
compatible P.B X's (Private Branch
Exchange) which use multi-frequency
signalling.
(b) To be used on extension sockets
connected to a direct exchange line.
For use of the following facilities.
(a) Standard telephone facility.
(b) Storage of telephone numbers for
retrieval by a predetermined code.
(c) Automatic dialling of last number
dialled.
(d) PABX Time break recall.
Any other usage will invalidate the
approval of the apparatus if as a result
it ceases to conform to the standards
against which approval was granted.
connected m the following manner
As an extension to pay phone
IAS a party line with shared service
It cannot be guaranteed that the
apparatus will operate correctly under
ali possible conditions to compatible
PBX's. In case of difficulty please
consult your supplier.
This telephone may be used for the
purpose of making outgoing calls to
the BT emergency 999 service and
the European emergency number 112.
CLEANING, REN
Cleaning
The casing should be cleaned by wiping with a damp cloth.
e Do not use abrasives or spray polish that may enter through holes in the
ear piece and mouthpiece and cause damage.
e Do not place the telephone In direct sunlight or use in extreme humidity.
REN (Ringer Equivalence Number) 1s of significance only if you wish to
connect more than 1 telephone to your telephone line. Your telephone line
has a maximum REN capacity of 4 and a B.T. telephone has a REN of 1
(unless otherwise stated). Your Audioline 30 has a REN of 1, thus it is
feasible to connect 3 more telephones of a value of 1 to your system. You
should not exceed a value of 4 on the complete system, otherwise the volume
of the ringer in any phone will decrease and one telephone may not ring at all.
4 4. PRESS AND RELEASE STORE BUTTON.
MEMORY STORAGE
Your 13 most frequently used numbers (up to 16 digits) can be stored In the
Memory.
3 1n the direct memory buttons and 10 in the keypad digits.
Memory Storage - direct memory buttons
14. LIFT HANDSET.
2. PRESS AND RELEASE STORE BUTTON.
3. DIAL TELEPHONE NUMBER.
5. PRESS AND > RELEASE EITHER M1, M2 20R M3 BUTTON.
6 REPLACE HANDSET.
| Memory Storage - indirect memory (keypad digits 0-9)
4 LIFT HANDSET. |
2 PRESS AND RELEASE STORE BUTTON.
3 DIAL TELEPHONE NUMBER.
4. PRESS / AND ? RELEASE STORE BUTTON.
5. PRESS AND RELEASE KEYPAD DIGIT 0-9.
6. REPLACE HANDSET.
e if you are storing successive numbers you must always replace the
handset before entering the next number tor storage.
s Make anote of the name ot the owner ot tre telephone number and its
location on the meriory tndex pad
MEMORY DIALLING
Dialling using memory - direct memory buttons
4. LIFT HANDSET.
To terminate the call replace the handset.
| Dialling using memory - indirect memory (keypad digits 0-9)
1. LIFT HANDSET.
2. PRESS MEMORY BUTTON.
| 2. PRESS the appropriate Keypad Digit 0-9
To terminate the call replace the handset.
LAST NUMBER REDIAL
| To Redial the Last Number Called (up to 32 digits).
REDIAL.
1. LIFT HANDSET, WAIT FOR DIAL TONE, THEN PRESS
The number will be retained in memory until another number is
'Сайед.
ADDITIONAL CONTROLS & FACILITIES
Mute
If you wish to talk privately without your caller overhearing. PRESS and
HOLD the MUTE button. To resume your conversation with your caller
release the MUTE button.
Ringer
To adjust the ringing volume of the telephone, move the switch on the right
hand side to either Off-Low-High.
Additional Network Services
Optional services such as call waiting, reminder calls, charge advice, etc,
can be accessed via the Recall button.
For further information contact your Network Operator.
PABX (Private Automatic Branch Exchange) FACILITIES
Recall
The RECALL button can be used to access additional PABX facilities. The
Audioline 30 is pre-set to Time Break Recall.
WALL MOUNTING
The Audioline 30 can be wall mounted. using the template and screws
supplied
Hult instructions for wall mounting the telephone are provided on the template.
Note: When the telephone is wall mounted the receiver hanger hook
must be pushed out and re-inserted the other way round so that the lip
protrudes.

* Your assessment is very important for improving the work of artificial intelligence, which forms the content of this project