PNY FDU16GBHPV210W-EF, FDU8GBHPV210W-EF, FDU32GBHPV210W-EF, FDU4GBHPV210W-EF, P-FD2GB-HPV210W-BX Datasheet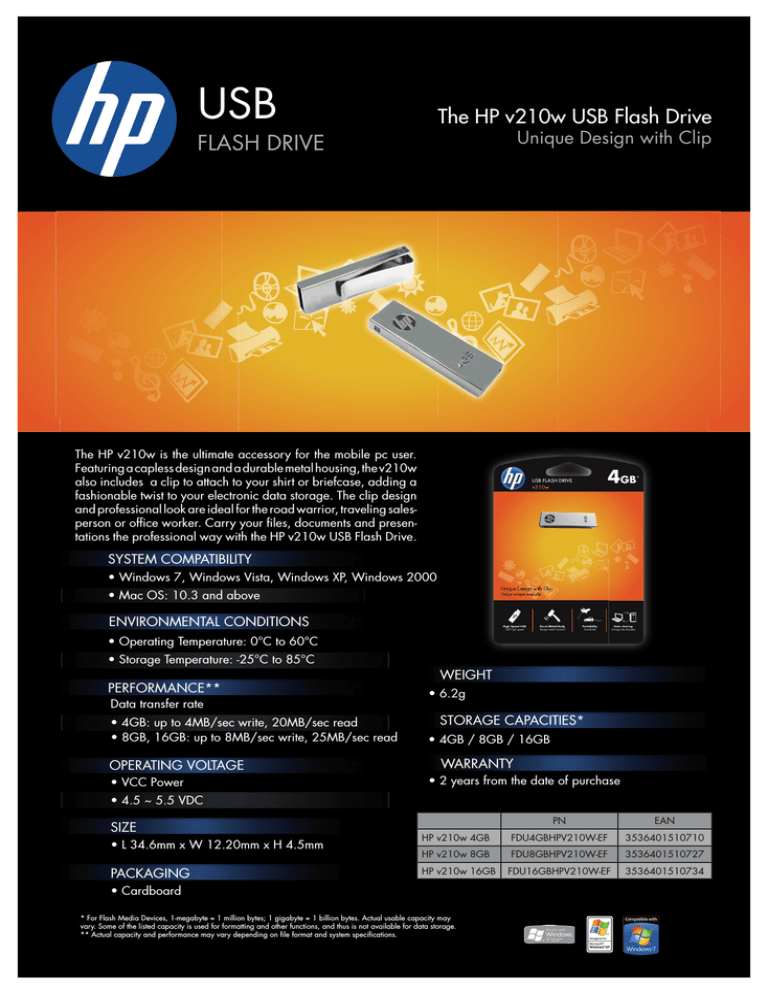 USB
The HP v210w USB Flash Drive
Unique Design with Clip
FLASH DRIVE
The HP v210w is the ultimate accessory for the mobile pc user.
Featuring a capless design and a durable metal housing, the v210w
also includes a clip to attach to your shirt or briefcase, adding a
fashionable twist to your electronic data storage. The clip design
and professional look are ideal for the road warrior, traveling salesperson or office worker. Carry your files, documents and presentations the professional way with the HP v210w USB Flash Drive.
SYSTEM COMPATIBILITY
• Windows 7, Windows Vista, Windows XP, Windows 2000
• Mac OS: 10.3 and above
ENVIRONMENTAL CONDITIONS
• Operating Temperature: 0°C to 60°C
• Storage Temperature: -25°C to 85°C
PERFORMANCE**
Data transfer rate
• 4GB: up to 4MB/sec write, 20MB/sec read
• 8GB, 16GB: up to 8MB/sec write, 25MB/sec read
OPERATING VOLTAGE
• VCC Power
WEIGHT
• 6.2g
STORAGE CAPACITIES*
• 4GB / 8GB / 16GB
WARRANTY
• 2 years from the date of purchase
• 4.5 ~ 5.5 VDC
SIZE
• L 34.6mm x W 12.20mm x H 4.5mm
PACKAGING
PN
EAN
HP v210w 4GB
FDU4GBHPV210W-EF
3536401510710
HP v210w 8GB
FDU8GBHPV210W-EF
3536401510727
FDU16GBHPV210W-EF
3536401510734
HP v210w 16GB
• Cardboard
* For Flash Media Devices, 1-megabyte = 1 million bytes; 1 gigabyte = 1 billion bytes. Actual usable capacity may
vary. Some of the listed capacity is used for formatting and other functions, and thus is not available for data storage.
** Actual capacity and performance may vary depending on file format and system specifications.

* Your assessment is very important for improving the work of artificial intelligence, which forms the content of this project