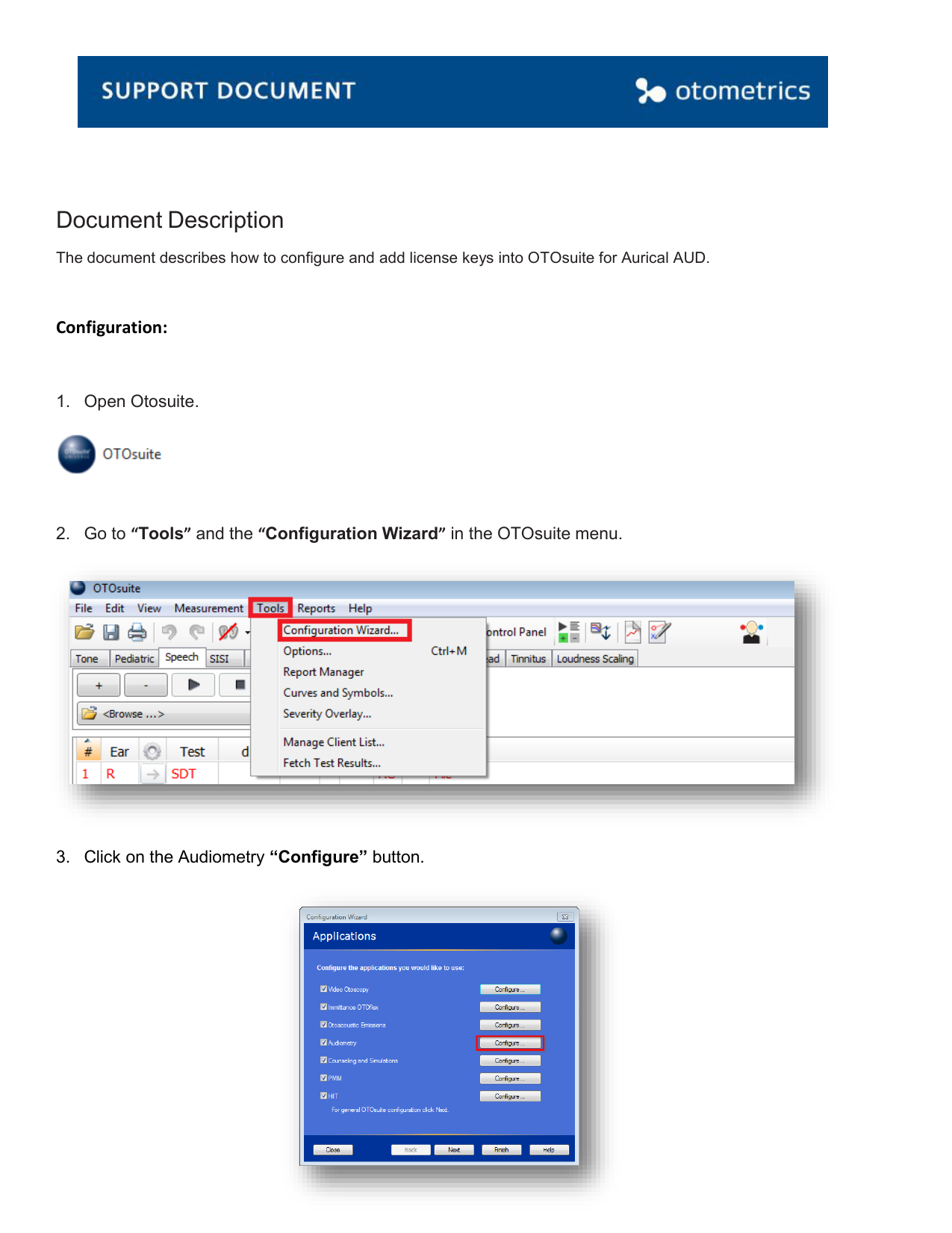 Document Description
The document describes how to configure and add license keys into OTOsuite for Aurical AUD.
Configuration:
1. Open Otosuite.
2. Go to "Tools" and the "Configuration Wizard" in the OTOsuite menu.
3. Click on the Audiometry "Configure" button.
4.
Check the box "My device is turned on and ready to be found". Click the "Search" button and wait until the
connected Aurical Aud shows up on the list. Select the Aurical Aud to connect (highlighted in blue).
Don´t select either the T1 or T2.
Click "Next"
5. Enter the license information from the supplied license document into "My Customer Key" and type in each of the
supplied "Application Keys" next to each OTOsuite function that has to be activated . A green check mark will indicate
that the information is correctly typed in.
If any Application Key is added to an existing license(s), make sure that the Customer Key on the license paper match
what is typed into the License Keys window.
NOTE: Customer and Application keys are optional and not required to operate audiometer. These keys may not be
delivered with a new audiometer.
6. Click "Next".
7. Select the various "Test Types" that has to be shown in the OTOsuite toolbar.
8. Settings for the Maximum output level (HL) for the Bone connector. (Normally not changed).
Click "Next".
9. Settings for the Masking and Air-Bone Gab criteria (Normally not changed).
Click "Next".
10. Settings for the Depth and Rate Warble settings (Normally not changed).
Click "Next".
11. Settings in "Preferences" are normally not changed. Click "Next".
12. When using VRA devices, make sure that the correct model is selected from the drop down list.
Click "Finish" to exit the OTOsuite configuration.
13. Click "Next".
14. Preferences settings when OTOsuite is used stand-alone.
15. Preferences settings when OTOsuite is used inside of NOAH. Click "Next".
16. Select "No, I will enter Client details in OTOsuite or NOAH compatible system".
17. If the "Protect User Tests" is selected, it will not be possible to save OTOsuite start up setting, and the user test
settings.
Sp e cif ica t io n s a r e su b je ct t o ch a n g e wit h o u t n o t ice . Co p yr ig h t © G N O t ome t r ics A/ S. Pa r t n o 6 0- 6 1 -0 0 4 1 /0 1 .
18. Select "Do not connect to any database. Data is saved in the file system". Click "Finish" to exit the configuration.

* Your assessment is very important for improving the work of artificial intelligence, which forms the content of this project