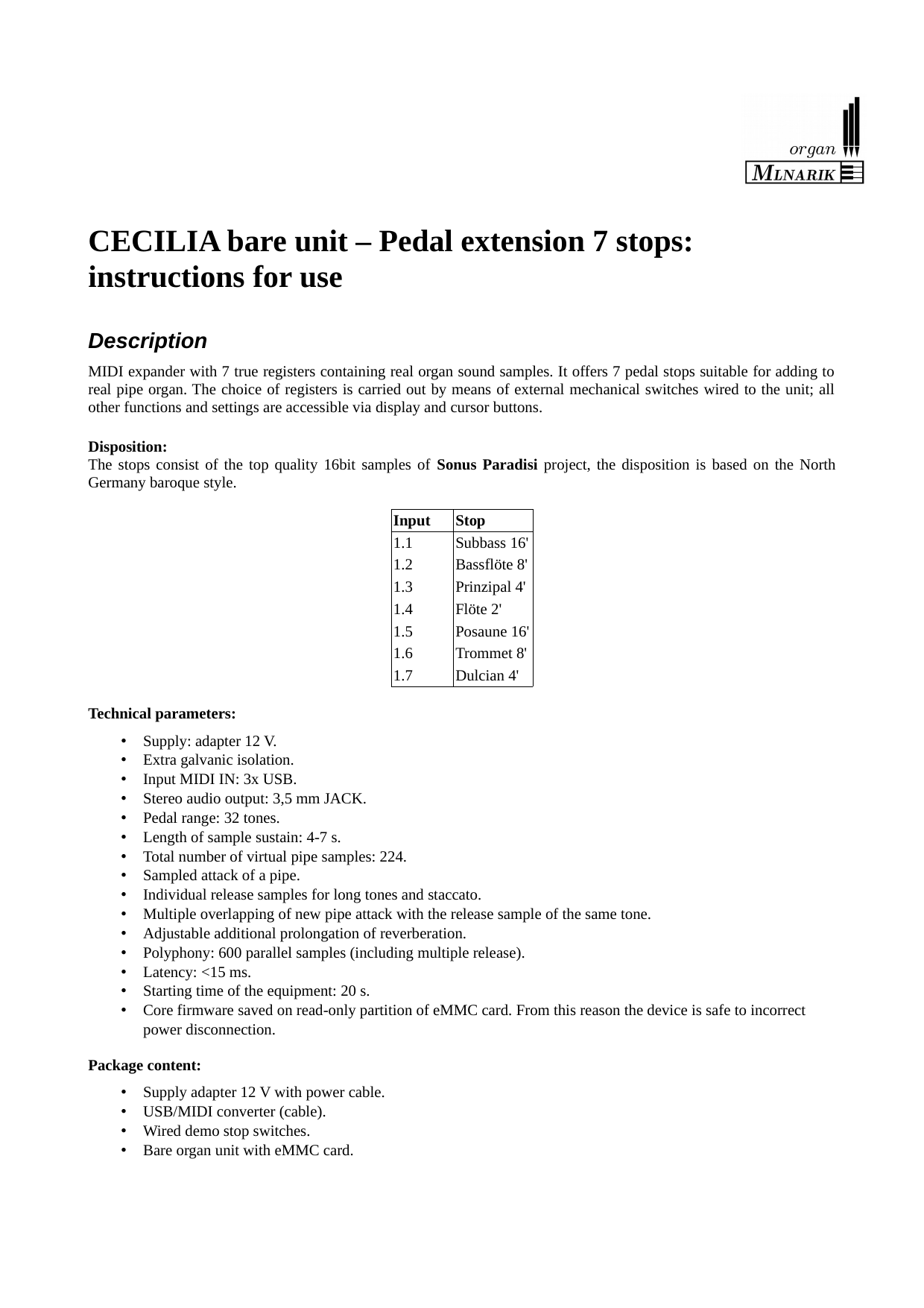 CECILIA bare unit – Pedal extension 7 stops:
instructions for use
Description
MIDI expander with 7 true registers containing real organ sound samples. It offers 7 pedal stops suitable for adding to
real pipe organ. The choice of registers is carried out by means of external mechanical switches wired to the unit; all
other functions and settings are accessible via display and cursor buttons.
Disposition:
The stops consist of the top quality 16bit samples of Sonus Paradisi project, the disposition is based on the North
Germany baroque style.
Input
1.1
1.2
1.3
1.4
1.5
1.6
1.7
Stop
Subbass 16'
Bassflöte 8'
Prinzipal 4'
Flöte 2'
Posaune 16'
Trommet 8'
Dulcian 4'
Technical parameters:
•
•
•
•
•
•
•
•
•
•
•
•
•
•
•
Supply: adapter 12 V.
Extra galvanic isolation.
Input MIDI IN: 3x USB.
Stereo audio output: 3,5 mm JACK.
Pedal range: 32 tones.
Length of sample sustain: 4-7 s.
Total number of virtual pipe samples: 224.
Sampled attack of a pipe.
Individual release samples for long tones and staccato.
Multiple overlapping of new pipe attack with the release sample of the same tone.
Adjustable additional prolongation of reverberation.
Polyphony: 600 parallel samples (including multiple release).
Latency: <15 ms.
Starting time of the equipment: 20 s.
Core firmware saved on read-only partition of eMMC card. From this reason the device is safe to incorrect
power disconnection.
Package content:
•
•
•
•
Supply adapter 12 V with power cable.
USB/MIDI converter (cable).
Wired demo stop switches.
Bare organ unit with eMMC card.
Module functions:
• Loudness level indication in the real time, limitation display.
• Safe limitation – the exceeding limitation results gradually in the decreasing sound quality, but no sudden
disturbing effects (cracking…) occur.
• Setting of the total loudness, setting of individual registers´ loudness.
• Setting of true tone height (pitch shift) continually (± one semitone).
• Three types of tuning: equal, ¼ coma middle tone, Young well tempered tuning.
• Several types of reverb: there is possibility to use samples without naturally sampled release, with sampled
release and to enhance reverberation with artificial algorithm in several levels.
• Setting of an arbitrary intonation deviation of virtual pipes from their nominal values. Using smaller intonation
deviations, a more realistic sound can be obtained. During the switching on of the module, the distribution of
deviations in each specimen changes randomly within the given tolerance limits.
• Function "dynamic pressure". Particularly in the case of smaller organs, fine changes in pressure during the
play dependent on the actual air consumption are typical and result in the deviations of intonation. The module
contains the algorithm with optional parameters simulating these pressure changes.
• Automatic matching of MIDI channels via "MIDI listen" function.
• "MIDI learn" functions for all stops and couples. It is possible to use individual stops or their combinations
using external MIDI device. Moreover there is a possibility to use any key from a playing manual (e.g. upper
octave of a keyboard) to toggle stops or their combinations.
• Restoration of manufacture setting – all optional parameters can be rewritten by the original values of
manufacturer, if necessary.
Switching on
The equipment is powered from DC 12 V/1 A. Power source has to be wired to the terminal plate "Supply DC power"
(figure above). Beware of the right polarity. MCU power terminal plate is for supplying of a microcomputer unit
(wired by manufacturer). After the power has been connected, the LED in the front panel lights up (power indicator).
Within several seconds the sound samples are recorded and the inscription "Reading samples, please wait…" appears
at the display. The module is ready as long as the inscription "Level" appears on the display.
Connection of audio output, stop switches, MIDI equipment and setting
MIDI channels
The unit is intended for one main MIDI device (pedalboard). As the module enables the automatic selection of MIDI
channels, it is not necessary to know the corresponding channel number.
1. Connect earphones or amplifier to JACK 3,5 stereo audio output (on the microcomputer unit). This
microcomputer has a galvanic isolated power; thus, when the amplifier is used, the effect of earth loop remains
suppressed.
2. Connect USB/MIDI converter or other USB MIDI device to any USB connector on the microcomputer.
3. Connect some MIDI device (pedalboard). Is possible to connect more devices (stop controller...) through USB.
The organ unit makes automatic mixing of MIDI messages from more sources. The unit also supports
"hotplug" (connecting of new MIDI devices during operation).
4. Stops are controlled via simple eternal switches. Each pair of pins of every input connector can to be wired to
the switch. There are max. 24 inputs on the board. For this pedal expander only the first 7 input positions are
used. When the pair of pins at particular input position is connected, the stop is ON. Is possible to invert this
behaviour of all input terminals. For this purpose a simple jumper is used (figure above). Except of the external
5.
6.
switches, all stops (and their combinations) are possible to control via any MIDI message.
In the menu, choose "Set MIDI" and press "OK". After the OK button has been pressed, the inscription
"Press a … tone" appears – it means that the system is waiting for the MIDI message.
Press any tone on the pedalboard – the corresponding MIDI channel is stored into equipment memory. As long
as the inscription "Press a tone" lights, it means that no MIDI message has been received. Check the
connection of MIDI cable up and verify the right setting of your keyboard for MIDI transmission.
Use of the module
After the MIDI channels have been set, the module is ready to play. In the basic state, the inscription "Level" appears
on the display and, with the help of indicator in the lower line, the total sound level is indicated dynamically. In the case
of too high setting of total loudness and many switched on registers, the limitation can be reached. This state is
indicated by "!!!!!!!!!!!!" sign on the display. The limitation manifests itself by a deterioration of the sound quality and
should not be reached too often; thus, the setting of loudness level should meet this condition. On the other hand, an
occasional occurrence of limitation is hardly to notice.
After the "OK" button has been pressed, the items of menu (functions) are accessible. By means of horizontal cursor
arrows, the chosen item is set; its value is set by means of vertical arrows. A rapid change of the value can be carried out
by holding the vertical arrow. Particular sub-menu (when present) is accessible by "OK" button. For return to the basic
level, "esc" button is used. The setting of all functions takes place in the real time and can be changed during the play.
Actual values of setting are immediately stored in the equipment memory and, thus, they are valid after the repeated
switching on. The restoration of all parameters to the original values given by manufacturer is quite simple.
Description of menu items
1.
2.
3.
4.
5.
6.
7.
8.
"Pitch (cents)": setting of the height of total tuning in cent units (-99 – +99).
"Master vol. (%)": total loudness level (0 – 100).
"Temperament": tuning type (equal, ¼ coma middle tone, Young well tempered tuning).
"Randomize tuning": setting of tuning tolerance of pipes in cents. Within the framework of this tolerance,
virtual pipes are put out of tune randomly (0 – 100).
"Reverb level": (0-8) – when set "0", sampled release is disabled. It is convenient for spaces with good
natural acoustic. Degree "1" enables natural sampled release for every pipe. The next levels are adding extra
reverberation using mathematical model.
"Dynamic pressure"
1. "Dynam. pr. size": setting of the time constant of dynamic pressure effect (0 – 100). The effect is
switched off as long as this item is set on zero. Too high values can deteriorate the reality of this effect.
2. "Dynam. pr. depth": setting of the frequency response of dynamic pressure effect (0 – 100). The effect is
switched off as long as this item is set on zero. Too high values can deteriorate the reality of this effect.
"Stops volume"
1. "Vol.HW:Subbass16": setting of loudness level of individual stops (0 – 100).
2. …
3. …
"Set MIDI"
1. "Set channel?": setting of master MIDI channel.
9.
2. "MIDI:HW-Subbass16?": setting of control MIDI message to control particular stop/couple.
3. …
27. "Reset con. MIDI?": reset control MIDI setting for individual stops/couples.
"Restore setting": restore of original setting – the values of all items will be replaced by manufacturer setting.
Setting of control MIDI for individual stops/couples
It is possible to control every stop/couple by any MIDI message. Every stop has its menu item for this purpose (see
menu structure above). By vertical arrays is possible to choose activities "listen stop ON", "listen stop OFF" or
"disable MIDI" (to reset control MIDI of particular stop). After pressing "OK" the device is listening some MIDI
message. When the first MIDI message comes, it is paired to particular activity. Two different MIDI messages can be
used for stop ON or stop OFF. When the both activities get the same MIDI message, the message is automatically used
for toggling the stop ON/OFF.
One MIDI message can control more stops/couples simultaneously. It is convenient for simple stop combinations. After
assigning more stops to one MIDI message toggling them, switching all stops off by "G.C." button is necessary. It
prevents the state, when the same button (key) is toggling some stops on and the other stops off in one moment.
Switching off
The module is switched off using "OFF" button. Press the button for several seconds, the inscription "Unplug device"
appears. Then, unplug the module from the power supply. We don't recommend to disconnect the equipment from the
power supply without previous safe switching off by the button – user setting can be deleted. On the other hand, the
system will be stable and default setting can be restored simply.
WARNING:
The unit shall not be switched on without supervision; before you leave, unplug it from the
power supply.