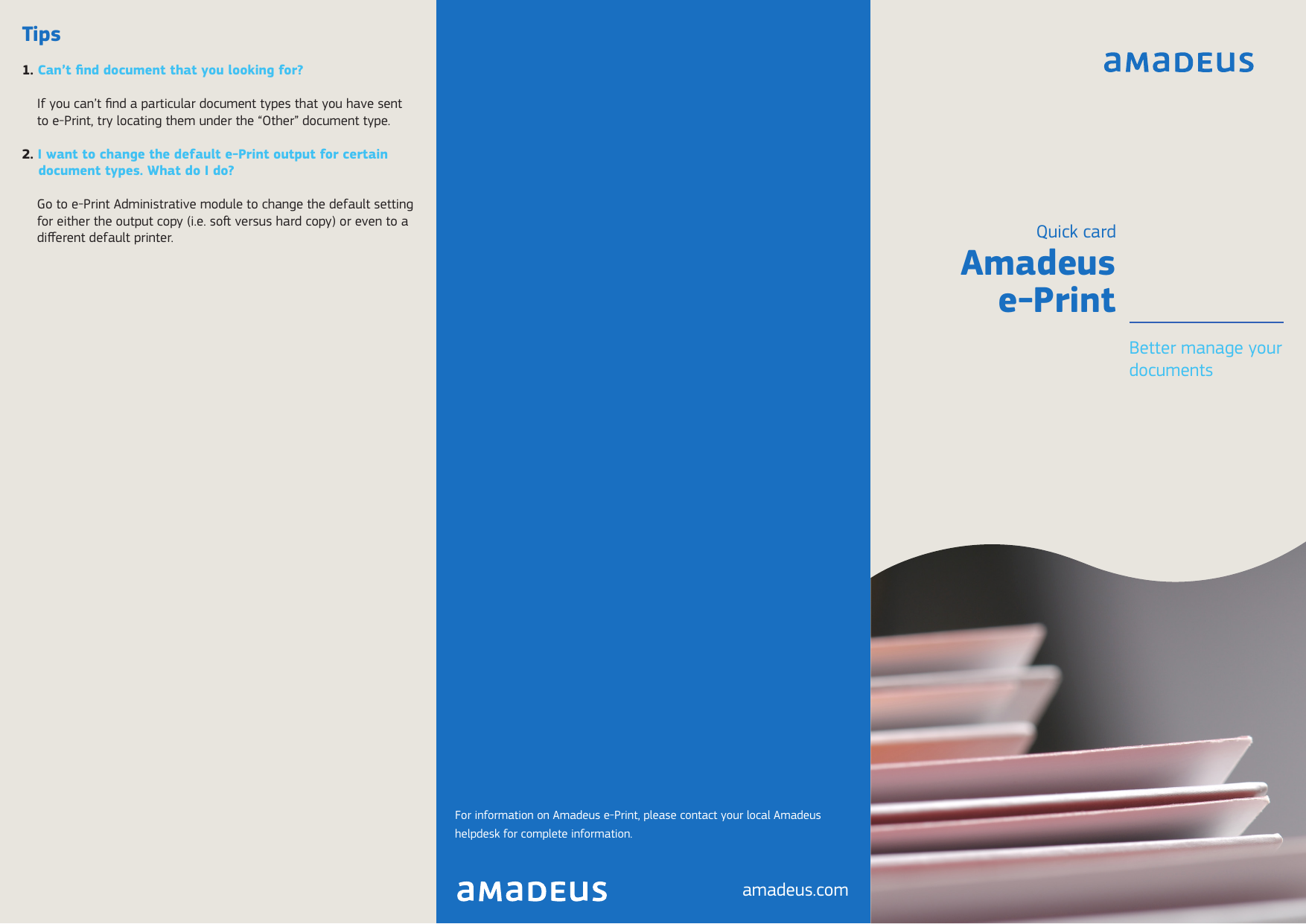 Tips
1. Can't find document that you looking for?
If you can't find a particular document types that you have sent
to e-Print, try locating them under the "Other" document type.
2. I want to change the default e-Print output for certain
document types. What do I do?
Go to e-Print Administrative module to change the default setting
for either the output copy (i.e. soft versus hard copy) or even to a
different default printer.
Quick card
Amadeus
e-Print
Better manage your
documents
For information on Amadeus e-Print, please contact your local Amadeus
helpdesk for complete information.
amadeus.com
Amadeus e-Print
Step 4: Enter your Search filter criteria and click "Search".
Amadeus e-Print is a tool that not only improves Amadeus travel
agencies operation efficiency but also saves the company money
and the environment by reducing the paper consumption and the
printing cost.
Administrative module
Upon installing the e-Print Administrative module, click on the "Soft
Copy Format" tab or/and "Hard Copy Format" tab to define the
desired document types output as well as alternative printer.
How to use e-Print Search module
Ensure that you have done your e-Print Search module set-up.
Step 5: Review multiple Search Results using Preview panel
Step 1: Launch your e-Print Search module from your desktop.
_ Locate your e-Print Search module icon on your desktop and click
to start.
Step 2: Determine the document types that you are trying to
search or retrieve from e-Print. E.g. PNR print-out, Copy of your
Agent Coupon, your customer EITR (Electronic Itinerary Receipt), etc.
Step 3: Select from Document Type drop-down your desired
document.
Search module – Setting up
Step 1: Launch your e-Print Search module from your desktop.
Step 2: Link your e-Print Search module to your agency e-Print
document folder.
_ Click "Output Directory" and select the source of your e-Print
document folder. You only need to do this once and you can start
using your e-Print.
*Do contact your agency system administrator should you are unsure how to
complete this step.
Step 6: You can either Save, Print or Email. Upon locating your
desired document, you can easily save a copy of the document to
your computer or print a hard copy to your designated printer or
attached document directly to your Email.

* Your assessment is very important for improving the work of artificial intelligence, which forms the content of this project