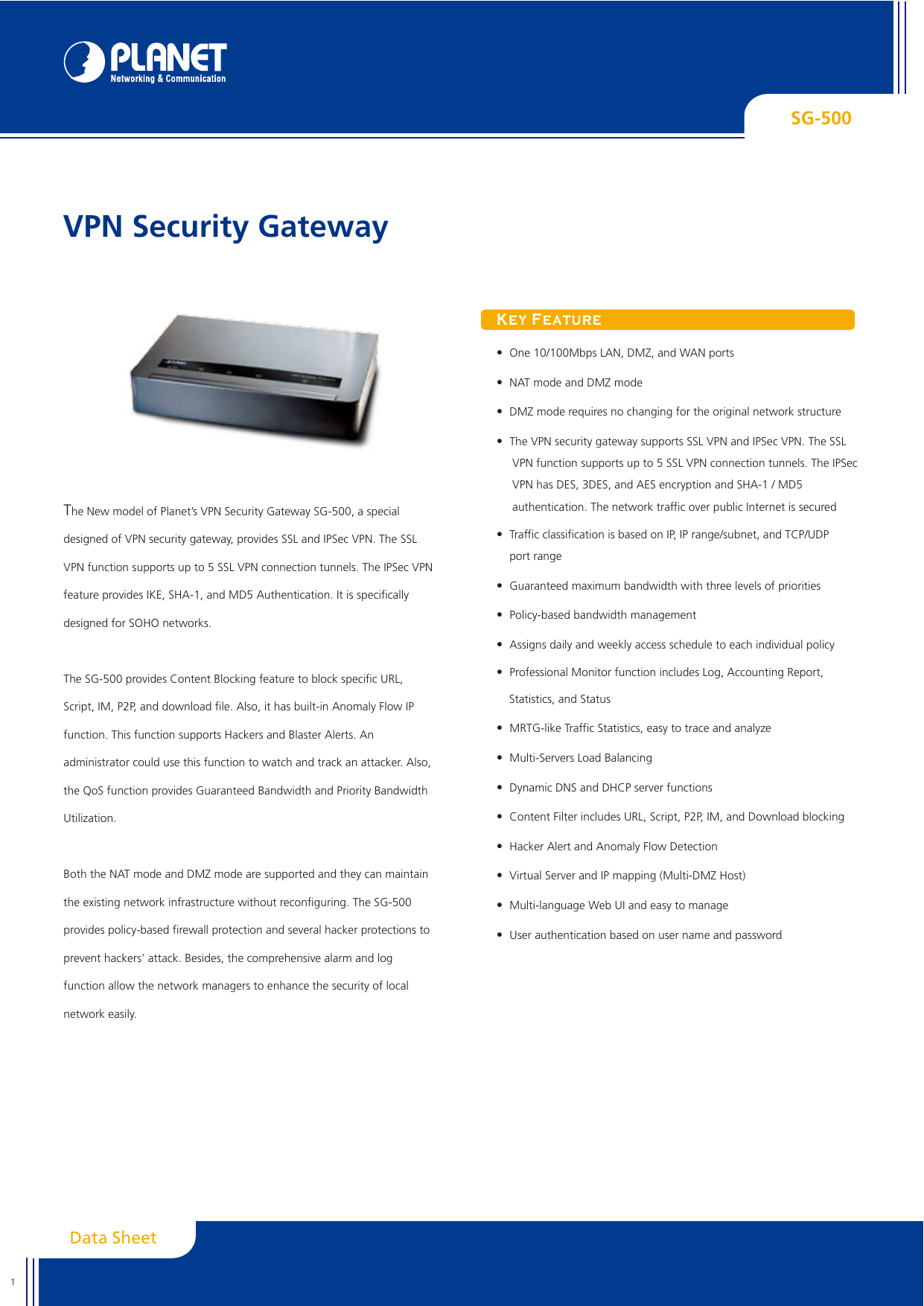 SG-500
VPN Security Gateway
Key Feature
• One 10/100Mbps LAN, DMZ, and WAN ports
• NAT mode and DMZ mode
• DMZ mode requires no changing for the original network structure
• The VPN security gateway supports SSL VPN and IPSec VPN. The SSL
VPN function supports up to 5 SSL VPN connection tunnels. The IPSec
VPN has DES, 3DES, and AES encryption and SHA-1 / MD5
The New model of Planet's VPN Security Gateway SG-500, a special
designed of VPN security gateway, provides SSL and IPSec VPN. The SSL
VPN function supports up to 5 SSL VPN connection tunnels. The IPSec VPN
feature provides IKE, SHA-1, and MD5 Authentication. It is specifically
designed for SOHO networks.
authentication. The network traffic over public Internet is secured
• Traffic classification is based on IP, IP range/subnet, and TCP/UDP
port range
• Guaranteed maximum bandwidth with three levels of priorities
• Policy-based bandwidth management
• Assigns daily and weekly access schedule to each individual policy
The SG-500 provides Content Blocking feature to block specific URL,
Script, IM, P2P, and download file. Also, it has built-in Anomaly Flow IP
function. This function supports Hackers and Blaster Alerts. An
• Professional Monitor function includes Log, Accounting Report,
Statistics, and Status
• MRTG-like Traffic Statistics, easy to trace and analyze
administrator could use this function to watch and track an attacker. Also,
• Multi-Servers Load Balancing
the QoS function provides Guaranteed Bandwidth and Priority Bandwidth
• Dynamic DNS and DHCP server functions
Utilization.
• Content Filter includes URL, Script, P2P, IM, and Download blocking
• Hacker Alert and Anomaly Flow Detection
Both the NAT mode and DMZ mode are supported and they can maintain
• Virtual Server and IP mapping (Multi-DMZ Host)
the existing network infrastructure without reconfiguring. The SG-500
• Multi-language Web UI and easy to manage
provides policy-based firewall protection and several hacker protections to
• User authentication based on user name and password
prevent hackers' attack. Besides, the comprehensive alarm and log
function allow the network managers to enhance the security of local
network easily.
Data Sheet
1
SG-500
Specification
Product
VPN Security Gateway
Model
Hardware Specification
Connections
WAN
LAN
DMZ
Button
System LED
Power
Operating Environment
Dimension W x D x H
Regulatory
Software
Maximum Controlled Concurrent Session
New Session / Second
SSL VPN Tunnels
IPSec VPN Tunnels (Connection / Configure)
Management
Operation Mode
WAN Connection Type in NAT Mode
Traffic Classification
Bandwidth Allocation
SG-500
Log
Statistics
Firewall Security
Hacker Alert and Anomaly Flow Detection
Alarm
Other Functions
1 x 10/100Base-TX
1 x 10/100Base-TX, Auto-MDI/MDI-X
1 x 10/100Base-TX, Auto-MDI/MDI-X
Reset button for hardware reset / factory default
PWR, WAN, LAN, DMZ
12V DC, 1.5A
Temperature: 0~50 degree C, Relative Humidity: 5%~90%
230 x 150 x 40 mm
FCC, CE Mark
20,000
1,000
Up to 5 tunnels
100/200
Web UI (English, Traditional Chinese, Simplified Chinese)
DMZ_NAT, DMZ_Transparent, NAT
PPPoE, DHCP, and Fixed IP
IP, IP subnet, TCP/UDP port
Policy rules with Inbound/Outbound traffic management
Guaranteed and maximum bandwidth
Scheduled in unit of 30 minutes
3 Priorities
Traffic Log, Event Log, Connection Log, Log backup by mail or syslog server
WAN port statistics and policy statistics with graph display
Policy-based access control, Stateful Packet Inspection (SPI), Scheduled in unit of 30 minutes
Detect SYN Attack, Detect ICMP Flood, Detect UDP Flood, Detect Ping of Death Attack, Detect
Tear Drop Attack, Detect IP Spoofing Attack, Filter IP Route Option, Detect Port Scan Attack,
Detect Land Attack, Virus-Infected Blocking, E-Mail Alert Notification, NetBIOS Notification
Traffic alarm for user-defined traffic level
Event alarm for hacker attack
The alarm message can sent to administrators by e-mail
Upgradeable Firmware through Web
NTP support
Backup and Restore Configuration through Web
Dynamic DNS support
Multiple NAT and multiple DMZ (mapped IP) support
Multiple server load balancing
Applications
VPN Security Gateway
Remote Access Clients
The SG-500 provides SSL and IPSec VPN. The SSL VPN function
supports up to 5 SSL VPN connection tunnels. Remote access
clients could build the VPN tunnels by SSL VPN function easily.
IAS Server
File Server
PDA
SSL VPN Tunnels
Internet
SG-500
Web Server
Notebook
Firewall
PC
Certificate Server
Ordering Information
SG-500
Data Sheet
2
VPN Security Gateway
PLANET Technology Corporation
11F, No. 96, Min Chuan Road, Hsin Tien, Taipei, Taiwan R.O.C.
Tel: 886-2-2219-9518
Fax: 886-2-2219-9528
Email: [email protected]
www.planet.com.tw
VoIP Gateway: vip.planet.com.tw
08-07
C-SG500-1
PLANET reserves the right to change specifications without prior notice. All brand names and trademarks are property or
their respective owners. Copyright©2007 PLANET Technology Corp. All rights reserved.