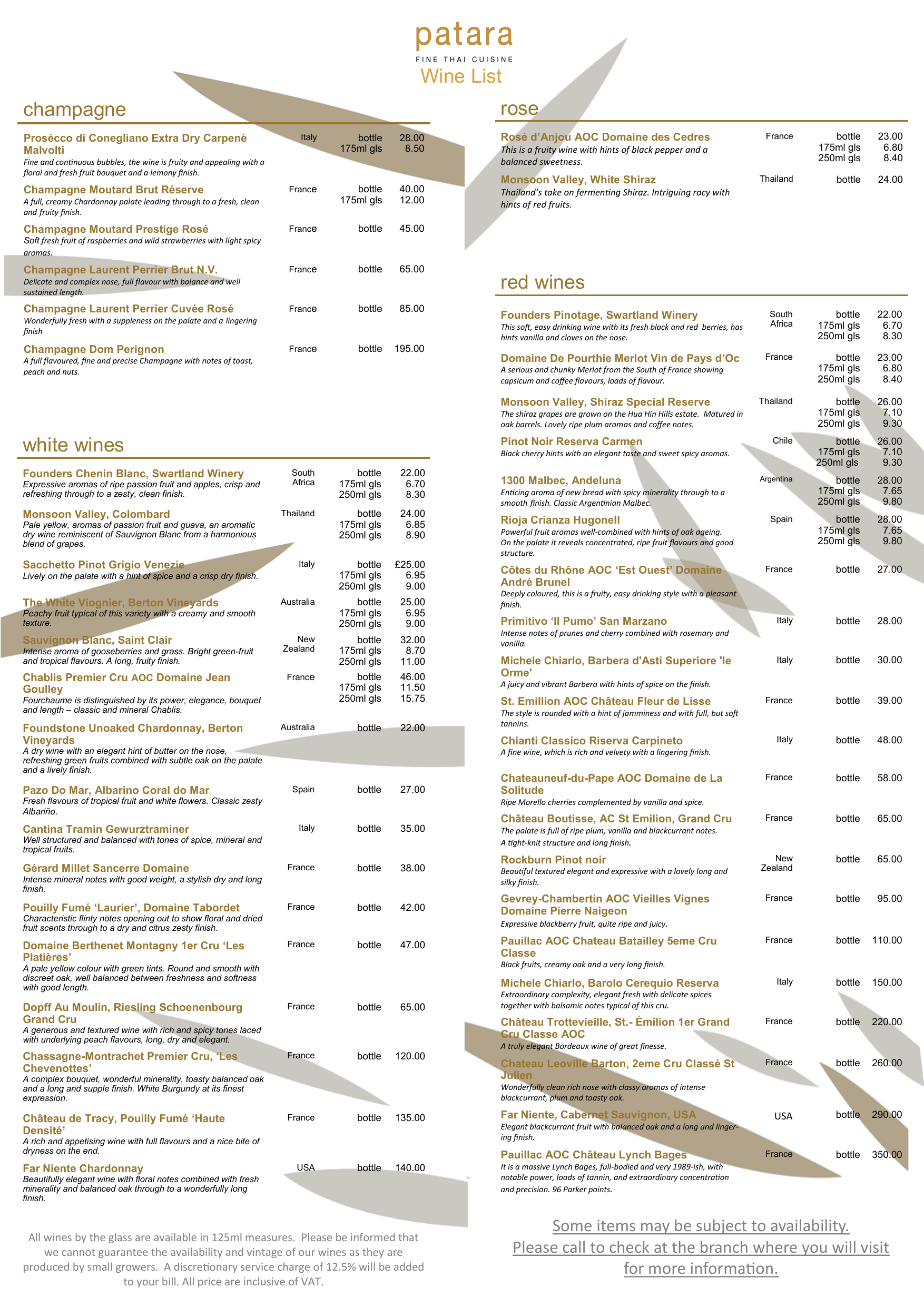 Wine List
rose
champagne
Prosécco di Conegliano Extra Dry Carpenè
Malvolti
bottle
175ml gls
28.00
8.50
France
bottle
175ml gls
40.00
12.00
France
bottle
45.00
France
bottle
65.00
France
bottle
85.00
Italy
Fine and continuous bubbles, the wine is fruity and appealing with a
floral and fresh fruit bouquet and a lemony finish.
Champagne Moutard Brut Réserve
A full, creamy Chardonnay palate leading through to a fresh, clean
and fruity finish.
Champagne Moutard Prestige Rosé
Rosé d'Anjou AOC Domaine des Cedres
France
bottle
175ml gls
250ml gls
23.00
6.80
8.40
Thailand
bottle
24.00
South
Africa
bottle
175ml gls
250ml gls
22.00
6.70
8.30
France
bottle
175ml gls
250ml gls
23.00
6.80
8.40
Thailand
bottle
175ml gls
250ml gls
26.00
7.10
9.30
Chile
bottle
175ml gls
250ml gls
26.00
7.10
9.30
Argentina
bottle
175ml gls
250ml gls
28.00
7.65
9.80
Spain
bottle
175ml gls
250ml gls
28.00
7.65
9.80
France
bottle
27.00
Italy
bottle
28.00
Italy
bottle
30.00
France
bottle
39.00
Italy
bottle
48.00
France
bottle
58.00
France
bottle
65.00
New
Zealand
bottle
65.00
France
bottle
95.00
France
bottle
110.00
Italy
bottle
150.00
France
bottle
220.00
France
bottle
260.00
USA
bottle
290.00
France
bottle
350.00
This is a fruity wine with hints of black pepper and a
balanced sweetness.
Monsoon Valley, White Shiraz
Thailand's take on fermenting Shiraz. Intriguing racy with
hints of red fruits.
Soft fresh fruit of raspberries and wild strawberries with light spicy
aromas.
Champagne Laurent Perrier Brut N.V.
Delicate and complex nose, full flavour with balance and well
sustained length.
Champagne Laurent Perrier Cuvée Rosé
Wonderfully fresh with a suppleness on the palate and a lingering
finish
Champagne Dom Perignon
red wines
Founders Pinotage, Swartland Winery
This soft, easy drinking wine with its fresh black and red berries, has
hints vanilla and cloves on the nose.
France
bottle
195.00
A full flavoured, fine and precise Champagne with notes of toast,
peach and nuts.
Domaine De Pourthie Merlot Vin de Pays d'Oc
A serious and chunky Merlot from the South of France showing
capsicum and coffee flavours, loads of flavour.
Monsoon Valley, Shiraz Special Reserve
The shiraz grapes are grown on the Hua Hin Hills estate. Matured in
oak barrels. Lovely ripe plum aromas and coffee notes.
white wines
Founders Chenin Blanc, Swartland Winery
Expressive aromas of ripe passion fruit and apples, crisp and
refreshing through to a zesty, clean finish.
Monsoon Valley, Colombard
Pinot Noir Reserva Carmen
Black cherry hints with an elegant taste and sweet spicy aromas.
bottle
175ml gls
250ml gls
22.00
6.70
8.30
1300 Malbec, Andeluna
bottle
175ml gls
250ml gls
24.00
6.85
8.90
Rioja Crianza Hugonell
Italy
bottle
175ml gls
250ml gls
£25.00
6.95
9.00
Australia
bottle
175ml gls
250ml gls
25.00
6.95
9.00
South
Africa
Thailand
Pale yellow, aromas of passion fruit and guava, an aromatic
dry wine reminiscent of Sauvignon Blanc from a harmonious
blend of grapes.
Sacchetto Pinot Grigio Venezie
Lively on the palate with a hint of spice and a crisp dry finish.
The White Viognier, Berton Vineyards
Peachy fruit typical of this variety with a creamy and smooth
texture.
Sauvignon Blanc, Saint Clair
Intense aroma of gooseberries and grass. Bright green-fruit
and tropical flavours. A long, fruity finish.
Chablis Premier Cru AOC Domaine Jean
Goulley
New
Zealand
France
Fourchaume is distinguished by its power, elegance, bouquet
and length – classic and mineral Chablis.
Foundstone Unoaked Chardonnay, Berton
Vineyards
Australia
bottle
175ml gls
250ml gls
32.00
8.70
11.00
bottle
175ml gls
250ml gls
46.00
11.50
15.75
bottle
22.00
Spain
bottle
27.00
Italy
bottle
35.00
Gérard Millet Sancerre Domaine
France
bottle
38.00
Pouilly Fumé 'Laurier', Domaine Tabordet
France
bottle
42.00
Well structured and balanced with tones of spice, mineral and
tropical fruits.
Intense mineral notes with good weight, a stylish dry and long
finish.
Characteristic flinty notes opening out to show floral and dried
fruit scents through to a dry and citrus zesty finish.
Primitivo 'Il Pumo' San Marzano
Intense notes of prunes and cherry combined with rosemary and
vanilla.
Michele Chiarlo, Barbera d'Asti Superiore 'le
Orme'
A juicy and vibrant Barbera with hints of spice on the finish.
St. Emillion AOC Château Fleur de Lisse
The style is rounded with a hint of jamminess and with full, but soft
tannins.
Chateauneuf-du-Pape AOC Domaine de La
Solitude
Château Boutisse, AC St Emilion, Grand Cru
The palate is full of ripe plum, vanilla and blackcurrant notes.
A tight-knit structure and long finish.
Rockburn Pinot noir
Beautiful textured elegant and expressive with a lovely long and
silky finish.
Gevrey-Chambertin AOC Vieilles Vignes
Domaine Pierre Naigeon
Expressive blackberry fruit, quite ripe and juicy.
France
bottle
47.00
Pauillac AOC Chateau Batailley 5eme Cru
Classe
Black fruits, creamy oak and a very long finish.
A pale yellow colour with green tints. Round and smooth with
discreet oak, well balanced between freshness and softness
with good length.
Michele Chiarlo, Barolo Cerequio Reserva
Dopff Au Moulin, Riesling Schoenenbourg
Grand Cru
France
Chassagne-Montrachet Premier Cru, 'Les
Chevenottes'
France
bottle
65.00
Extraordinary complexity, elegant fresh with delicate spices
together with balsamic notes typical of this cru.
Château Trottevieille, St.- Émilion 1er Grand
Cru Classe AOC
A generous and textured wine with rich and spicy tones laced
with underlying peach flavours, long, dry and elegant.
bottle
120.00
A complex bouquet, wonderful minerality, toasty balanced oak
and a long and supple finish. White Burgundy at its finest
expression.
A truly elegant Bordeaux wine of great finesse.
Chateau Leoville Barton, 2eme Cru Classé St
Julien
Wonderfully clean rich nose with classy aromas of intense
blackcurrant, plum and toasty oak.
France
bottle
135.00
bottle
140.00
A rich and appetising wine with full flavours and a nice bite of
dryness on the end.
Far Niente Chardonnay
Deeply coloured, this is a fruity, easy drinking style with a pleasant
finish.
Ripe Morello cherries complemented by vanilla and spice.
Cantina Tramin Gewurztraminer
Château de Tracy, Pouilly Fumé 'Haute
Densité'
Côtes du Rhône AOC 'Est Ouest' Domaine
André Brunel
A fine wine, which is rich and velvety with a lingering finish.
Fresh flavours of tropical fruit and white flowers. Classic zesty
Albariño.
Domaine Berthenet Montagny 1er Cru 'Les
Platières'
Powerful fruit aromas well-combined with hints of oak ageing.
On the palate it reveals concentrated, ripe fruit flavours and good
structure.
Chianti Classico Riserva Carpineto
A dry wine with an elegant hint of butter on the nose,
refreshing green fruits combined with subtle oak on the palate
and a lively finish.
Pazo Do Mar, Albarino Coral do Mar
Enticing aroma of new bread with spicy minerality through to a
smooth finish. Classic Argentinian Malbec.
Far Niente, Cabernet Sauvignon, USA
Elegant blackcurrant fruit with balanced oak and a long and lingering finish.
Pauillac AOC Château Lynch Bages
USA
Beautifully elegant wine with floral notes combined with fresh
minerality and balanced oak through to a wonderfully long
finish.
All wines by the glass are available in 125ml measures. Please be informed that
we cannot guarantee the availability and vintage of our wines as they are
produced by small growers. A discretionary service charge of 12.5% will be added
to your bill. All price are inclusive of VAT.
It is a massive Lynch Bages, full-bodied and very 1989-ish, with
notable power, loads of tannin, and extraordinary concentration
and precision. 96 Parker points.
Some items may be subject to availability.
Please call to check at the branch where you will visit
for more information.